[Retail/Service Industry]
Customers plan to use AI and surveillance cameras
to achieve sophisticated store operation.
Customer Challenges
To address declining labor force as one of major social issues, many companies are accelerating automation by using AI and robots. Retail and service industries are also pursuing full automation in waiting on customers, but they do not seem to have found optimal solutions yet. Deployment of infrastructure for store operation by extensively leveraging ICT is one of major challenges in their proactive multi-store development.
SDx+M can immediately resolve these challenges!
We offer a combination of surveillance cameras, cloud and AI, achieving sophisticated marketing and crime prevention. With SDx, we also deploy ICT infrastructure connecting customer HQ, global sites and multiple stores mutually. This enhanced ICT infrastructure can consolidate a wide variety of systems and devices and enables integrated management and utilization of all these resources.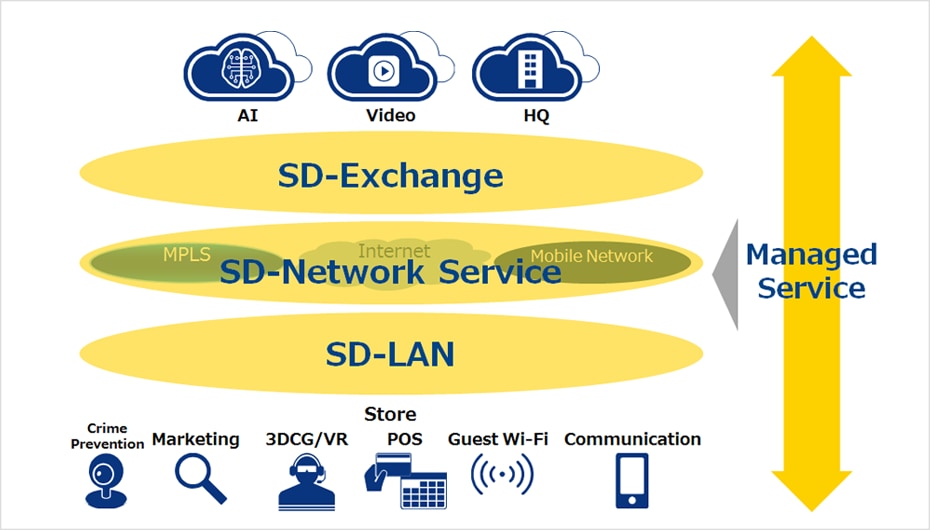 Customer Benefits
With extensive use of AI, customers can push forward with their initiatives towards full automation in waiting on customers and marketing activities. One-stop management of ICT infrastructure using SDx+M considerably saves labor required for operational management and promotes effective utilization of human recourses.
Example of Combined Services/Solutions

Relevant Services
Relevant Solutions