Diversity
Top Message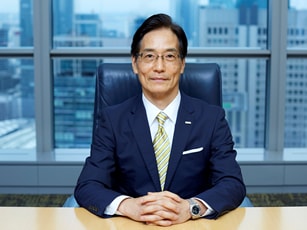 NTT Communications is deeply committed to serving customers as an irreplaceable ICT partner that contributes to innovation in both business and daily life, delivering secure, highly reliable ICT services that leverage the very latest technologies.
To consistently satisfy customers' ever-varying needs, we strongly believe in creating and nurturing work environments in which that employees of different personalities and backgrounds can share wide-ranging ideas and value perceptions while always respecting individual differences.
To this end, we established the NTT Communications' Diversity Office in 2008 to help ensure a corporate culture that encourages employees to fully pursue their abilities regardless of gender, age, birthplace, nationality, religion or physical capability. In addition, we are always looking to leverage ICT in ways that allow employees to achieve innovative new workstyles.
Diversity and inclusion are the guiding principles behind NTT Communications' philosophy of pursuing a broad-based workforce in which employees draw on their differences to maximize individual abilities for greater collective strength. Going forward, these principles will continue to fuel NTT Communications' drive to remain the ICT partner of choice among customers worldwide.
Toru Maruoka
President & CEO
Representative Member of the Board of the Company
NTT Communications Corporation
Diversity Initiatives
NTT Communications promotes various initiatives to encourage all employees to fully realize their potential regardless of gender, age, birthplace, nationality, religion or disability.
1. Fully realizing women's potential
NTT Communications supports women's career development by promoting a range of initiatives to nurture their success at all career stages, including providing leadership training, holding networking events to foster mentoring relationships between experienced and younger staff, and establishing system to support employee with child care needs.
2. Maintaining job satisfaction
To allow every employee to shine, NTT Communications strives to support professional development regardless of age through programs like Career Design Training, which helps veteran employees successfully adapt to changes in the business environment.
3. Fostering the skills for global business
NTT Communications has 11,900 employees spread over 110 cities in over 40 countries/regions across the globe, all working together as part of the Global One Team. To develop a diverse workforce capable of success on the international stage, we actively promote personnel exchanges with Group companies overseas.
4. Fully realizing the potential of employees with disabilities
NTT Communications does not limit the occupations employees with disabilities can choose and strives to equip working environments where they can fully realize their potential.
In addition, to support each employee's individual workstyle, NTT Communications has prepared a remote work environment that allows all the employees to conveniently do business on the go and from home by thin client PCs, smart phones and tablets.