Human Resources

A future rich in diversity based on mutual respect and enhancement and
where everyone can shine in their own way and play a valuable role in society.
For the NTT Communications Group to achieve sustainable growth, it is essential that we create a highly diverse working environment in which employees feel respected, inspire one another, and are able to demonstrate their abilities in response to society's expectations. We believe in ensuring the well-being of every employee by promoting unique initiatives in workstyle reform and human resource development that are intended to recognize diversity as a strength, while maximizing our competitive edge in the use of advanced ICT. We want to develop a sustainable society by actively applying the knowledge and skills accumulated in the course of our efforts as our contribution to society.
◆ Priority Activities
◆ Priority Activities
Human Resource Development
Our Approach
Our basic policy is to promote human resource development from the perspective of achieving growth for both employees and the business, thereby creating a virtuous cycle of mutual growth. We are particularly preparing for intensified competition following the acceleration of digital transformation (DX), by promoting measures that emphasize the development of personnel capable of driving DX, such as the ODYSSEY open platform for training new employees. We will seek to strengthen sustainable, mutually beneficial relationships with employees by establishing an autonomous learning environment that encourages proactive self-investment by employees.
◆

Human Resources Development Program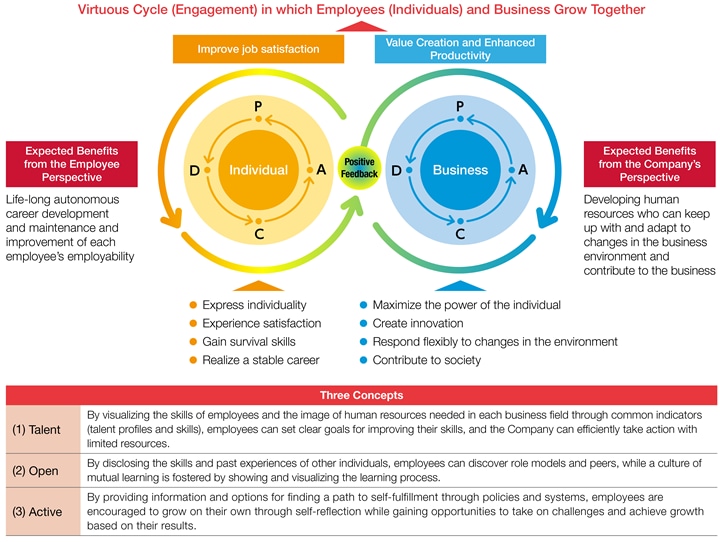 ◆ Priority Activities
Promotion of Diversity and Inclusion
Our Approach
Under our Promotion of Diversity Fundamental Policy, NTT Communications is committed to creating workplaces and implementing hiring activities that allow personnel with diverse backgrounds to work to the best of their ability, regardless of gender, sexual orientation or sexual identity, age, birthplace, nationality, or disability. In order to respond to diversifying customer needs, we are creating a working environment that encourages employees with different personalities and backgrounds to work together. This maximizes their abilities as they deliberate over values and generate ideas that open up new business opportunities.
Based on the firm belief that promoting diversity is essential for the sustainable development of our business, we seek to exemplify diversity and inclusion by realizing our medium-term vision, which upholds goals such as creating working environments that make it easier for female employees to design their life plans; closing the gap between the ratio of women and men taking childcare leave; developing systems that enable employees to work with vigor, regardless of where they work, while boosting motivation and vitality; and thoroughly implementing occupational safety and health as well as employee health management.
Diversity Promotion
◆

Diversity Promotion
・Foster a corporate culture that leverages employee diversity to achieve targets stated in management strategies
・Continue to create environments that allow employees to perform at their full potential to develop human resources who further their own transformation and creativity
◆

Diversity and Inclusion Trends

◆ Priority Activities
Respect for Human Rights
Our Approach
To enrich corporate culture founded on respect for human rights, NTT Communications has been promoting human rights education by establishing a Basic Policy on Human Rights Education.
Given the broad recognition of the importance of addressing human rights risks that arise across the value chain, companies have recently been subject to growing public demand for creating human rights protection frameworks that are closely aligned with the nature of each business and addressing diverse human rights risks. NTT Communications has been working to ensure respect for human rights by establishing the Rules for Preventing Harassment under its Basic Policy. In addition to providing training for all full-time and temporary employees, we have set up contact points for reporting human rights issues and are conducting human rights due diligence. We intend to establish a corporate constitution that does not tolerate any form of discrimination and to create bright and vibrant workplaces by pursuing such proactive human rights education activities.
Basic Policy on Human Rights Education
As a company that develops business on a global basis, NTT Communications places the utmost importance on solving human rights issues, including discrimination, as a part of its efforts to build a rich corporate culture that respects human rights. As we strive to maintain a corporate constitution that does not tolerate any form of discrimination, we are working to find solutions to human rights and discrimination issues through every facet of our day-to-day business activities.