[Manufacturing/Distribution Industry]
Customers demand to optimize their communication costs
by using connectivity to clouds via optimal networks
in response to the quality requirements of applications.
Customer Challenges
They now use a wide variety of devices such as PC, smartphone, tablet and IoT device as their use cases of cloud/SaaS are increasingly diversifying. This diversification increases their total traffic volume, thereby causing network congestion and adversely affecting their business operations.
SDx+M can immediately resolve these challenges!
SDx+M enables seamless connections among not just customers' global sites such as office and plant but also a huge number of smart/IoT devices by combining various circuits including VPN (MPLS), the Internet and mobile network. The Service also realizes flexible and agile control over them. With SDx+M, communication traffic can be flexibly distributed to optimal networks such as VPN and the Internet depending on the devices/clouds/applications which customers use, thereby avoiding network congestion.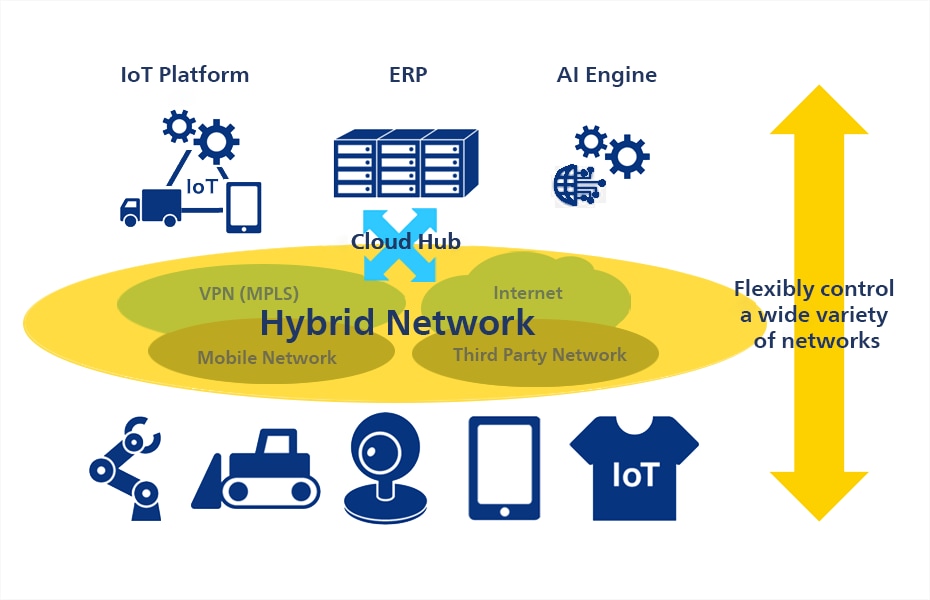 Customer Benefits
Distribution of traffic prevents network congestion, thereby optimizing customers' total communication costs.
Example of Combined Services/Solutions

Relevant Services
Relevant Solutions