Contributions to Society

New ICT is being created every day, and the paradigm of economic activity is constantly shifting. As a leading global ICT company, the NTT Communications Group seeks not only to produce highly dependable,high-quality communications infrastructure in its daily operations, but it is also focused on helping solve social issues by providing society and its customers with cutting-edge technologies. Moreover, we are constantly exploring ways to apply ICT for the benefit of society.
By taking a multi-faceted approach in our core initiatives, we aim to help create a better future while prospering in unison with various communities throughout society.
◆ CSR Priority Activities
Innovation that Supports a Networked Society
Our Approach
As the pace of ICT and digital technologies quickens, we are also seeing ever wider opportunities that will enable us to contribute to society through innovative ICT products and services.
The use of cloud services has spread to general applications for daily lives and business, and the development of various types of cloud services and the advances being made in data center service networks have become a major thread in the contributions we have made through our businesses over the past few years.
With AI (artificial intelligence) and IoT (Internet of Things) also having rapidly gained attention in recent years, we are actively facing the challenges of developing innovative ICT services to provide secure and convenient everyday lifestyles to people in all walks of society.
We believe SDG 9 "Industry, Innovation and Infrastructure" holds great significance for our stance and activities in these areas. Going forward,we will examine CSR targets based on this while continuously seeking to contribute by bringing to fruition innovative products and services.
Primary Concept
The CSR Committee reviews activities under the CSR Priority Activity "Innovation that Supports a Networked Society,"verifies achievements, and pursues initiatives for further improving activities in conjunction with the department charged with implementing each initiative.
The CSR Priority Activities are closely connected to the global growth strategies that we are currently promoting. Our corporate vision, "Vision 2020," is intended to generate new social value by providing advanced technologies and services to ensure global connectivity, and it plays a major role as a guideline for implementing CSR that leverages our business characteristics and strengths anticipated by society.
◆

NTT Communications Group Vision 2020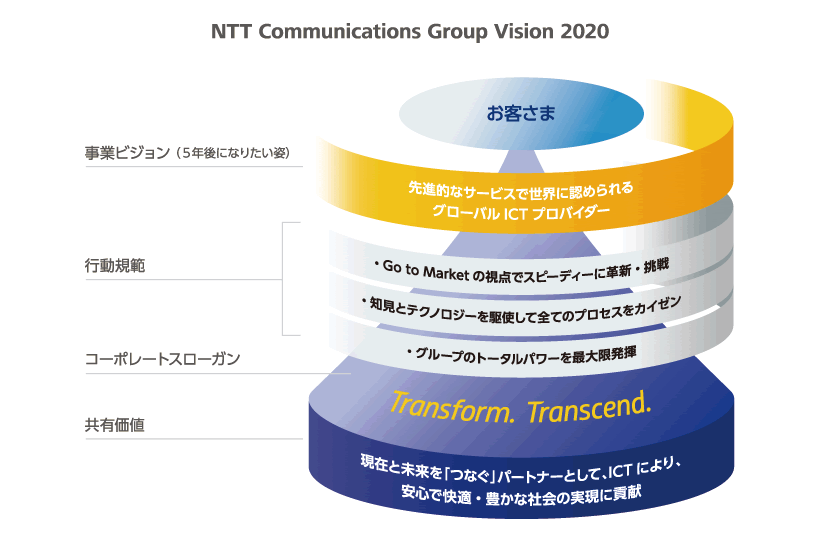 Ensuring Stable and Reliable Services as Mission-critical Infrastructure
Our Approach
In tandem with the advancement of ubiquitous computing across society, economic and social damage caused by telecommunication breakdowns in the event of emergency is becoming incalculably serious. As we are entrusted with managing networks and vital data associated with the globalization of many companies, we are absolutely required to fulfill our responsibility to maintain network connections at all times.
As a corporate group that provides global telecommunications services by utilizing the network technologies that underpin advanced ICT societies and maintenance systems, we have set "the ensuring of highly stable and reliable mission-critical infrastructure" as a key initiative for the essential CSR area of "contributions to society."
We are making constant efforts to improve the communication environment that allows for the confident use of networks even in the event of a disaster or other emergencies. Specifically, we have been expanding the capacity and enhancing the reliability of our communication routes, ensuring redundant and decentralized equipment and facilities, and maintaining year-round, 24-hour monitoring throughout the network while also pursuing initiatives throughout the Group. We will further develop our approach from the added perspective of contributing to continual expansion and improvement in ensuring access to high-quality, sustainable living environments emphasized by SDG 11 "Sustainable Cities and Communities."
Primary Concept
Activities based on the CSR Priority Activity "Ensuring Stable and Reliable Services as Mission-critical Infrastructure" involve implementing reviews and setting CSR targets on the basis of internal and external circumstances, while the CSR Promotion Office and the departments responsible for each activity cooperate with each other.
With natural disasters occurring with increasing frequency in Japan and elsewhere, it has become more important to maintain and strengthen accurate emergency response systems with the aim of steadily implementing countermeasures. From this standpoint, we focus on the Three Disaster Policy Fundamentals to address disasters and are taking steps to thoroughly apply this throughout the Group.
◆

Disaster Policy Fundamentals
1. Improving Network Reliability
We are working to improve reliability so that partial damage to telecommunications systems does not have a great effect on others.
2. Ensuring Crucial Communications
We have secured means of communication to allow important communications in a disaster situation.
3. Quickly Restoring Communications Services
We will restore to service damaged telecommunications equipment as soon as possible.
For more information on the Disaster Policy Fundamentals, see:>
Robust Network Security for Customers
Our Approach
As the adoption of ICT becomes more widespread and more information on companies and individuals is accumulated on networks, we are responsible as an ICT services provider for ensuring that the information we receive from customers remains confidential and for securely retaining and managing that information.
Focusing on SDG 11 "Sustainable Cities and Communities," the realization of advanced, safe, secure, and sustainable living environments is a management issue closely connected to ICT.
To meet society's expectations for the development of "Industry, Innovation and Infrastructure," as stated in SDG 9, we continue to enhance our efforts toward robust network security for our customers. In compliance with the set of security regulations maintained and shared by the entire Group, we are advancing the continuous monitoring and operational systems of the ICT systems and networks entrusted to us by our customers. We are also making them more robust while enhancing their vulnerability response functions with regard to unknown threats. Moreover, we are planning to enhance our vulnerability response functions to include overseas Group companies. In view of the materiality analysis and review of the CSR medium-term targets conducted in fiscal 2016,we regard these issues as independent priority activity areas and are working to strengthen our initiatives.
Primary Concept
Regarding the CSR Priority Activity "Robust Network Security for Customers," we are undertaking measures that are positioned as important initiatives consisting of network surveillance 24 hours a day, 365 days a year; strengthening of vulnerability response functions; and rapid and reliable responses to security threats. Given these, no matter what the issue is, we implement reviews and set CSR targets on the basis of current problems and issues of social concern, while the CSR Promotion Office and departments responsible for each activity cooperate with each other.
These multifaceted activities are all necessary for steadily building on and implementing robust security systems.
Positioning our NTT Communications Security Declaration as a priority activity common to all of these initiatives, we will take steps to implement them thoroughly.
◆

NTT Communications Security Declaration

At NTT Communications, we believe that our most important mission is to provide our customers with services which they can use with the assurance that their critical information is being protected and to contribute to improving the security of our customers. We view security as the single most important issue to be addressed in providing services, and we pledge to work together with our customer to provide the best in security for their needs.
To achieve this end, we do our utmost to ensure security throughout all aspects of the value chain, from the development of technologies and services to the construction and operation of systems. As ICT professionals, all of us at NTT Communications are committed improving our capability to ensure security.
Continuous Improvement in Customer Satisfaction
Our Approach
Our business covers the full gamut, from the building of global telecommunications networks to the provision of cloud services.
Our key responsibilities for attentively listening to feedback from our varied customer base and developing and enhancing the mechanisms for flexibly utilizing that feedback directly and continuously boost customer satisfaction. They are also prerequisites that guide us as we seek to grow alongside society as a leading global ICT company and continue to provide highly reliable quality services.
These initiatives are intended to increase the high added value of the global economy and improve productivity, in turn contributing to sustainable economic growth in alignment with SDG 8 "Decent Work and Economic Growth."Following this concept, we will continue to enhance and upgrade mechanisms that are reflected in our businesses, incorporating the opinions of a wide range of stakeholders.
Primary Concept
Our corporate rules set out that we must remain committed to enhancing service quality and raising customer satisfaction by accurately addressing customer needs, requests, and expectations while continuously assessing and improving all our operations. Accordingly, our corporate planning, sales,service, and operation divisions collaborate to periodically conduct customer satisfaction surveys. Regardless of the area they oversee or the products and services they provide,every employee must always consider customer service as the foundation of our corporate integrity. From this perspective,we have established and stringently adhere to Our Mindset,which is disclosed to our customers and other stakeholders.
◆

Our Mindset

At NTT Communications, employees work together to provide services that satisfy all customers. Listening closely to customers'daily feedback, we will pursue improvements to our services. For this reason, we start by bearing in mind the following approaches as our customers' ICT solution partner.
Find solutions to customer concerns and problems
Boost customer business growth
Help consolidate customer core operations
With these focused concerns, we provide one-stop end-to-end services extending from marketing to construction/operations as well as rapid solutions in order to be the trusted partners of our customers.
Collaboration with Suppliers
Our Approach
In recent years, there have been calls for companies to implement CSR activities along entire supply chains. Naturally this has necessitated not only Groupwide CSR activities but also the building of honest, sustainable relationships with suppliers. These initiatives are indispensable for realizing fair trade practices and decent labor practices globally and that are in line with the basic premise of achieving SDG 8: Decent Work and Economic Growth.
As a responsible international ICT company,we established the Supply Chain CSR Promotion Guidelines and focus on developing a mutual understanding and relationships of trust with our suppliers. We also focus on promoting CSR and green procurement. At the same time, we are working on the development of a procurement system based on the concept of CSR procurement,which extends beyond environmental issues to thoroughly consider humanitarian and social issues as well.
Primary Concept
Maintaining a focus on value creation through business,we have a particular need to procure high-quality services and products in an economical and timely manner. On the basis of its following three-point policy on procurement for steadily implementing its aforementioned supply chain CSR promotion guidelines, NTT Communications engages in fair and competitive procurement activities within the global market while conducting its procurement activities from the perspective of the broad global marketplace in an effort to make Group management more competitive. The Procurement Department supervises the procurement activities of all Group companies and works closely with each organization to promote CSR procurement Groupwide.
◆

Summary of Supply Chain CSR Promotion Guidelines
Human Rights, Labor

・Prohibition of forced labor and child labor

・Respect for the right to organize and conduct collective bargaining

Health and Safety

・Factory safety measures

・Measures targeting occupational injury and illnesses

Environment

・Management of hazardous chemicals

・Effective use of resources and energy

Fair Trade

・Prevention of corruption and bribery

・Respect for intellectual property rights

Quality and Safety

・Ensuring product safety

・Creation of a quality management system

Information Security

・Prohibition of leaks of personal information

・Information system protection measures
◆

Basic Policy on Procurement
NTT Communications will strive to provide competitive opportunities with fairness to both domestic and foreign suppliers, and to build mutual trust and understanding.
NTT Communications will conduct economically rational procurement of competitive goods and services that meet its business needs, deciding suppliers based on quality,price, delivery times and stable supply in a comprehensive manner.
NTT Communications will conduct procurement in a manner that follows laws and regulations as well as social norms,and takes the environment, human rights and other issues into account to contribute to society.
Social Contributions and Fostering of Communities
Our Approach
NTT Communications has been implementing social contribution activities across a number of fields, encompassing international cooperation,environmental conservation, health, medical and welfare, and regional development toward realizing a prosperous society. In areas affected by the Great East Japan Earthquake, we are continuing our support to reconnect the bonds in those regions and do all we can to assist in rebuilding lives.
Companies are increasingly expected to play a role through their social contribution activities to support the development of dynamic communities that bridge regions and generations. We will broaden the scope of our social contribution activities with an emphasis on developing such vibrant communities.
◆

Social Action Principles
Sustainability … We conduct lean but lasting activities over the long term.
Efficiency … We engage in cost-effective activities to ensure continuity.
Due Diligence… We carefully assess the relative benefit to society of prospective donations.
Global Perspective … We contribute to Japan and the international community.
Skills. … We utilize services developed for information distribution markets as well as employee abilities gained in those markets for the benefit of society.