What is the SMS Broadcasting Service?
The SMS Broadcasting Service uses the Short Message Service (SMS)(*) to allow customers to confirm their employee safety status or share information with their employees.
As long as you have access to the Internet you can broadcast a message from anywhere and check if the message has been successfully delivered or replied to in real-time. Since the SMS Broadcasting Service supports email, as well as SMS, it is not only suitable for operating in Japan but can also support companies that operates overseas for emergency safety confirmation and for other business needs.
SMS (Short Message Service) is a service, usable by mobile phones all over the world, used to send a message containing up to 160 single-byte characters to specified mobile phone numbers.
It is an international standard that is available by default in almost all smartphones sold all over the world. SMS is compatible with multiple carriers, including DOCOMO.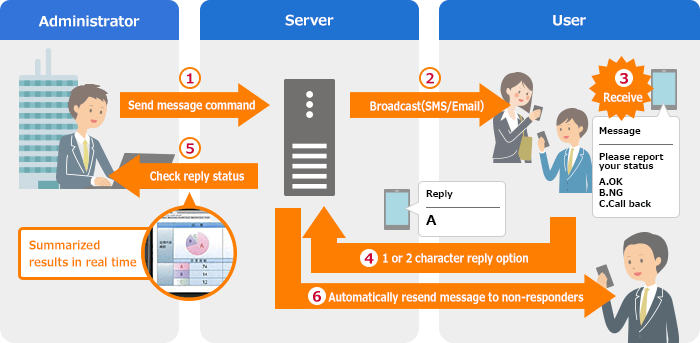 Companies for which this service is recommended
Companies that are considering introducing an emergency contact tool for safety confirmation during disaster or other emergency situations
Companies that want to conduct sales promotions or surveys, such as periodic newsletters, questionnaires, or to send reservation confirmation information to customers
Companies operating overseas that want to share information with or confirm the safety status of their employees, including those working in other countries
·Send and receive messages using only phone numbers
Use of SMS allows easier management of broadcasting messages to multiple handsets. In the SMS service coverage area (*), you can send and receive messages regardless of handset model, carrier or whether data communications is available or not. This service enables fast communications using existing mobile phone numbers without any initial implementation costs for users.
·Send and receive messages via email, as well as SMS
SMS has no character limit (*), and messages can also be sent and received via email, thus enabling service not only where SMS service is available, but also globally. It can therefore be used as a "fast", "easy", and "reliable" broadcasting/safety confirmation tool.
Messages containing more than 160 single-byte characters are automatically split into multiple messages.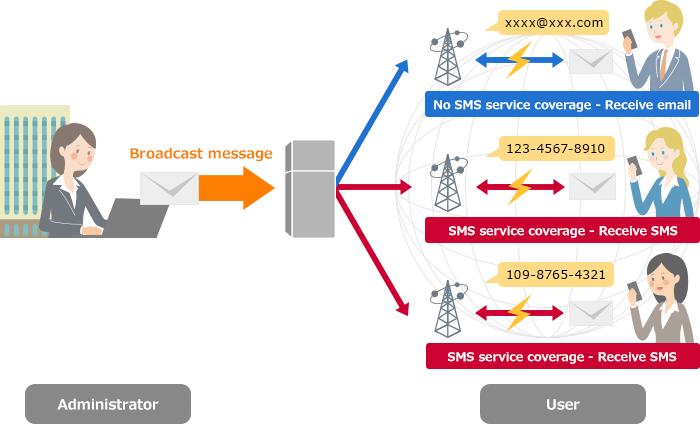 ·Send messages and check results from anywhere
As long as the Internet is available, administrators can access the management screen and send messages from anywhere using a PC or tablet. Administrators can not only send messages, but can also check if the messages have been successfully delivered and/or replied to and view a summary of the results in real-time.
SMS Service Coverage
Currently, SMS is available for SIM cards and mobile handsets sold by major carriers in 15 countries and territories including Thailand, Singapore, Malaysia, Indonesia, Vietnam, Philippines, Australia, India, South Korea, China, Hong Kong, Taiwan, Myanmar, Laos and Japan.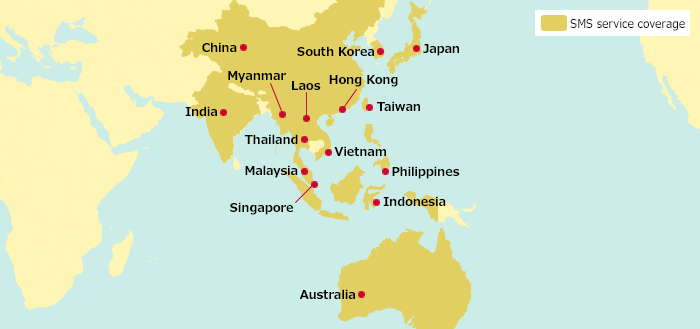 Compatible Handsets
SMS messages can be sent to and received from all handset models sold by mobile phone carriers in 15 countries and territories specified in the above SMS service coverage.
Usage Charges
A variety of billing plans are offered based on message volume and usage purposes.
For details, please contact us via email or phone.
Usage Examples
This service can be used as a contact method not only in emergency situations but also in various non-emergency situations.
Such usage can prepare you for any emergency.