Features and Specifications
Global MPLS
NTTCom's global MPLS offers Layer 3 IP-based MPLS and Layer 2 Ethernet-based VPLS providing performance, agility, security and availability for customers in both developed and developing markets in 190 countries/regions around the globe.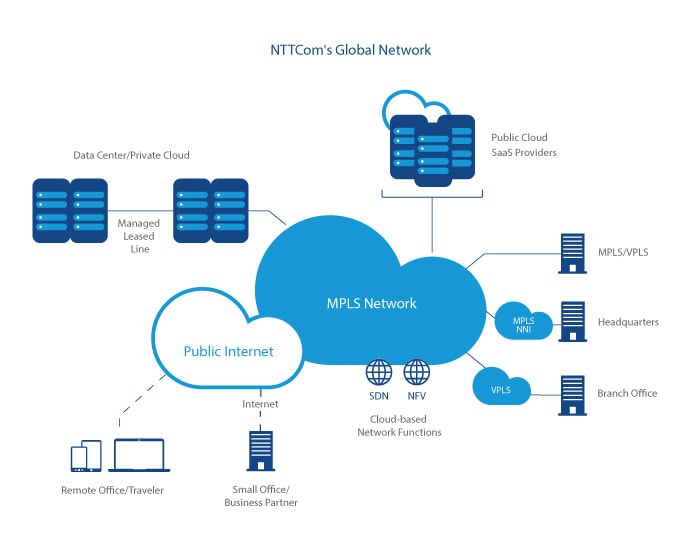 We offer service grades to meet a variety of needs.
Premium
Premium quality and reliability, with redundant, bandwidth-guaranteed access lines. Recommended for datacenters and critical networks.


Business
A highly reliable network, with bandwidth-guaranteed access line and a best-effort access line as backup. Recommended for mission-critical sites.


Standard
Balancing quality and cost effectiveness, with bandwidth-guaranteed access. No backup lines provided.


Light


Recommended for small offices, our low-cost plan uses best-effort access. No backup lines provided.
Internet VPN
NTTCom's Internet VPN consolidates MPLS and Internet-based networks into a single, end-to-end, managed hybrid network. Corporate network traffic can use the MPLS, Internet VPN or both, simultaneously. For example, restricting critical data, ERP and financial application traffic to MPLS and using Internet VPN for email, web and non-critical data.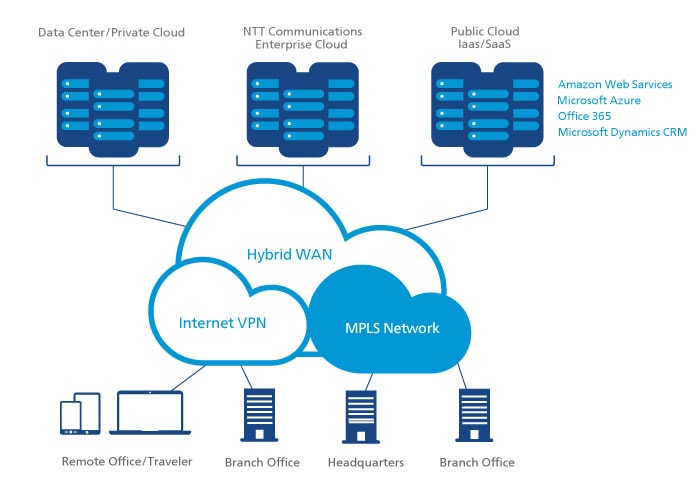 Interconnecting Cloud and Cloud-based Network Services
The Internet VPN hybrid network offers any-to-any communication, enabling you to interconnect multiple sites, including Enterprise Cloud hosted private clouds and third-party cloud services, like Amazon AWS and Microsoft Azure. It also provides seamless connectivity to our cloud-based, software defined networking (SDN) and network function virtualization (NFV) enabled network services.
Dynamic Multipoint Virtual Private Networking (DMVPN)
NTTCom's Internet VPN uses Dynamic Multipoint Virtual Private Networking (DMVPN) technology, with globally distributed DMVPN controllers integrated into our MPLS backbone. DMVPN is a tunneling technology that brings flexibility, scalability and discoverability to any-to-any network connections. The technology can be combined with IPSEC encryption for increased security. DMVPN enables you to optimize performance, throughput and latency for any-to-any communication between any site ("site-to-site" traffic).
Cost-Effective
NTTCom's Internet VPN turns the Internet into a cost-effective network transport. The technology supports any Internet access option, including Internet Service Providers (ISP) that use cost-effective dynamic IP addresses.
LAN management
Reduce the total cost of ownership (TCO) of your LAN with NTTCom's LAN Management. LAN Management gives you a global, end-to-end managed solution from your LAN to the WAN.

With our consolidated, automated LAN management platform, we manage all of your LAN routers, LAN switches, firewalls, wireless LANs, load balancers, WAN optimizers — WAN Performance Accelerator (WPA) — and more.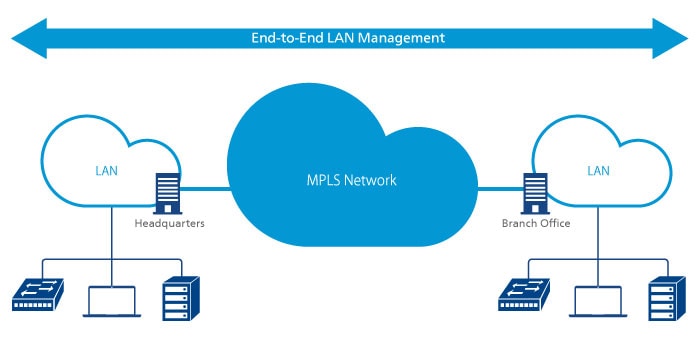 Arcstar Universal One Virtual
Arcstar Universal One Virtual is a flexible overlay VPN for enterprise users, delivering rapid network connectivity at low-cost. The service is provisioned instantaneously through a web-based portal.
Flexible
No network setting changes. The Arcstar Universal One Virtual overlay network is applied to existing settings to avoid overlapping IP addresses between each location.
Connect to enterprise networks directly from your mobile device or PC. Arcstar Universal One Virtual uses a dedicated app, eliminating the need for special carrier devices and gateways. Windows, iOS and Android mobile devices supported.
Fast
When using our adapter, simply connect it to the internet router at your site. For mobile devices, install the application on your own devices and promptly access enterprise networks or the cloud.
Simple, 24/7 management access through a web-based portal.
Low-cost
A flexible low-cost solution that fits your budget.
Service Coverage
| | Application | Adapter |
| --- | --- | --- |
| APAC | | |
| Japan | Available | Available |
| Hong Kong | Available | Available |
| Singapore | Available | Available |
| Philippines | Available | Available |
| Thailand | Available | Available |
| Vietnam | Available | Not Available |
| Taiwan | Available | Available |
| Australia | Available | Not Available |
| Korea | Available | Not Available |
| India | Available | Not Available |
| Malaysia | Available | Not Available |
| Indonesia | Available | Not Available |
| | | |
| EMEA | | |
| England | Available | Available |
| Germany | Available | Available |
| Netherlands | Available | Available |
| Switzerland | Available | Available |
| Belgium | Available | Available |
| Italia | Available | Available |
| Spain | Available | Available |
| Sweden | Available | Available |
| Poland | Available | Available |
| Turkey | Available | Not Available |
| South Africa | Available | Not Available |
| | | |
| Americas | | |
| USA | Available | Available |
| Canada | Available | Available |
| Mexico | Available | Not Available |
| Brazil | Available | Not Available |