Explosive growth in data traffic and the future of global communications infrastructure
NTT Com Global Watch vol.2, Revised March 2015
In recent years, the amount of data passing through the global communications infrastructure has been increasing at a phenomenal rate. This expansion is largely attributed to the rising popularity of mobile terminals, social networking services and business cloud services. To meet the growing demands of society, telecom carriers are striving to increase network capacity and enhance service quality. NTT Communications is providing crucial support by raising the bandwidth of its international IP network infrastructure, including the Japan-US backbone where demand is especially strong, and introducing new cutting-edge solutions. In this article, NTT Communications provides current information on market trends garnered from various survey reports.
Expanding Internet usage is driving dramatic growth in data traffic
Recent explosive growth in network data traffic is largely being driven by expanding Internet usage. In particular, networks are handling more data-rich content and rising traffic from mobile terminals such as smartphones and tablet computers.
Significant growth in the use of frequently accessed social network sites and high-volume content like movies and games is having a dramatic impact. Worldwide, total IP traffic is expected to grow an average of 32% annually, between 2010 and 2015, reaching approximately 80 exabytes (80 million terabytes) per month by 2015*.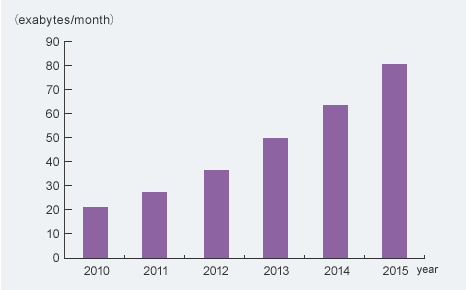 Cisco Systems, Inc. estimates that global IP traffic will reach approximately 80 exabytes per month by 2015.*
The increasing popularity of mobile terminals, especially smartphones, is further spurring data traffic. By allowing users to access data-rich content through the Internet almost anywhere and anytime, smartphones are generating 10 to 20 times more data traffic than conventional mobile phones. And smartphone sales are expected to keep on soaring. According to estimates by IDC (a US-based market intelligence firm), global sales of smartphones will be 55% higher in 2011 than the previous year, and smartphone sales will expand from approximately 300 million units in 2010 to approximately 980 million units in 2015**. In fact, smartphone use in Japan, the US and elsewhere is already stretching the capacity of phone lines to their limit.
Cloud computing is transforming the corporate information and communications technology (ICT) landscape and expanding business data communication
Any analysis of network data traffic would be incomplete without taking business data traffic into account. As illustrated in the following graph that plots Cisco VNI data*, the annual volume of business data is clearly escalating worldwide.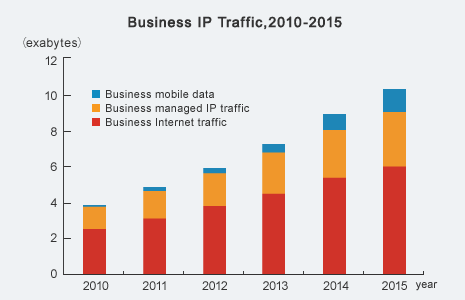 Business IP traffic is expected to increase annually by an average of 22% between 2010 and 2015, reaching approximately 10 exabytes (10 million terabytes) per month by 2015*
This significant increase in business data traffic is largely the result of new corporate utilization of information and communication technology (ICT). Corporations are moving more and more of their IT workload, including data storage and management, from on-premise systems to services offered via network. These include not only infrastructure and platforms as a service, but also software as a service, such as for email and business applications. These so-called "cloud computing" services have been rapidly growing for years and represent one of the leading sources of increased business data traffic on networks. Furthermore, many global corporations are taking advantage of the borderless nature of cloud-based services, which can be accessed anywhere in the world, to significantly increase data traffic across national borders.
According to the results of a study by Gartner, a US-based technology research company, the cloud services market will continue its meteoric rise, reaching 152.1 billion dollars in 2014 and 176.8 billion dollars in 2015**. Such growth will greatly expand international data traffic, calling for urgent advances in international network quality and reliability.
NTT Communications is steadily raising global network quality and reliability
As a global Tier 1 provider and leading global player, NTT Communications is elevating the quality and reliability of its global networks in response to rapidly increasing data traffic across national borders - the result of swiftly evolving information and communications technology (ICT) environments and expanding usage of data-rich content, mobile devices, cloud computing services, etc.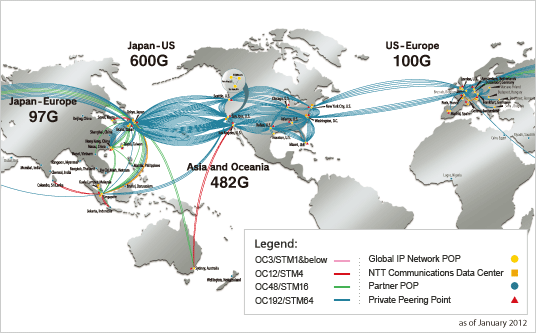 NTT Communications is progressively increasing the bandwidth and quality of its global IP backbones. For example, it increased the bandwidth of its US-Japan IP backbone from 300 Gbps in January 2010, to 600 Gbps in December 2011. The company's comprehensive efforts also include annually hosting the Arcstar Carrier Forum, where major telecoms from around the world consider ways to continuously improve the quality of international network services.
Well ahead of the competition, NTT Communications introduced next-generation IPv6 service and is striving to popularize this service on a global scale. It also served as a core network provider for World IPv6 Day (June 8, 2011), a global 24-hour test of IPv6 deployment that enabled participants to access each other's websites via IPv6 addresses.
In 2011, NTT Communications received the Best International Wholesale Carrier award at Telecom Asia Awards 2011 in recognition of outstanding contributions to the industry, including high service quality, effective use of the latest technology and leadership in IPv6. These awards are sponsored annually by the globally acclaimed Telecom Asia Group, Asia's largest regional telecom publishing group.
NTT Communications will continue playing a major role in heightening the quality and reliability of global communications infrastructure and carrying out its mission to maintain and improve networks for society as one of the world's leading global communications carriers.