Increasing Demand for High Quality Networks in the Developing Greater Mekong Sub-region
NTT Com Global Watch vol.1, Revised March 2015
Economic Development in China and Potential Risks
Many countries are focusing an intense gaze on China as "the world's consumer market" due to its exceptional economic growth. Many multinational companies are establishing new operations in China and are increasing the number of production bases, local subsidiaries, and retail outlets targeting the domestic Chinese market.
Given that China has overtaken Japan to become the world's No. 2 country in terms of gross domestic product (GDP) for 2010, there is no question that China will become even more of a global economic leader in the future. At the same time, however, there are several potential issues when you think about long-term business; for example, increasing prices of goods and land and the risk of a real estate bubble caused by the economic growth, in addition to unstable political conditions. Since 2010, there has been a growing awareness of the risk of overconcentration in China, due in part to frequent labor disputes, increasing wages and a deterioration in the relationship between China and Japan resulting from the disagreement over the Senkaku Islands.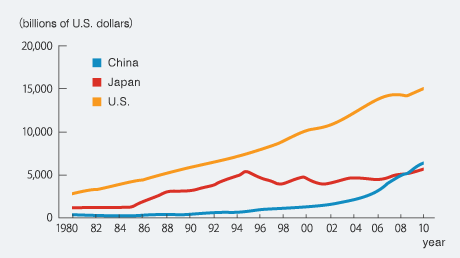 Movement in nominal GDP (in US$) for China, Japan, and the U.S. (1980-2011). China overtook Japan to become the World's No. 2 in FY2010.
*Figures for FY2011 are forecasts (economic projections)
Source: IMF- World Economic Outlook, April 2011
Recently, "China plus one" has become a key word among companies expanding their operations in Asia. The idea is that, by making parallel investments in other countries in addition to China, they are able to distribute risk. Southeast Asia, particularly countries in the Mekong region, has emerged as "plus one."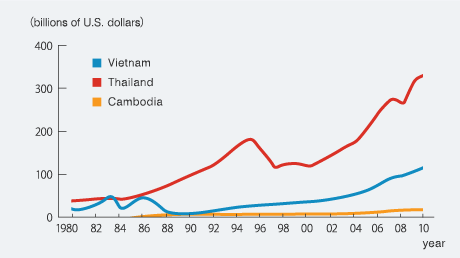 Movement in nominal GDP (in US$) for Vietnam, Thailand, and Cambodia (1980-2011). Gaining attention as an emerging economic region in Asia that has demonstrated exceptional growth.
*Figures for Vietnam for FY2011 and for Thailand and Cambodia for FY2010-11 are forecasts (economic projections).
Source: IMF- World Economic Outlook, April 2011
The Greater Mekong Subregion Gaining Attention as New Option
The Greater Mekong Subregion, which comprises five countries and two provinces in the Mekong region - Thailand, Vietnam, Cambodia, Laos and Myanmar, and the Yunnan and Guangxi provinces in China - has gained attention internationally. It has numerous elements of a new economic region, including a low cost labor and abundant land and natural resources. Most notably, the area around the Southern Economic Corridor that connects Thailand (Bangkok), Cambodia (Phnom Penh) and Vietnam (Ho Chi Minh City) has become an active distribution route with developed trunk line and related infrastructures, and is expected to demonstrate even further economic growth.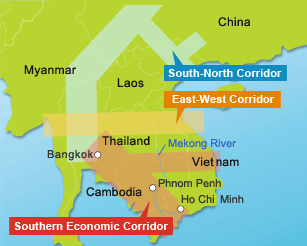 The area around the Southern Economic Corridor connecting Thailand and Vietnam has gained attention as a new economic region.
Just as in China, companies from around the world have already expanded into the Greater Mekong Subregion and have set up bases there. Information and communications technology (ICT) tools are essential to interactions between local companies and their head offices, but the infrastructures have not been sufficiently established to keep up, and this causes some serious problems to the companies operating in the region.
Demand for High Quality Networks and NTT Communications' Asia Strategy
Thailand and Vietnam, which have experienced exceptional growth, and Cambodia whose proximity and low-cost base supports these two countries' economic activities, are now attractive business locations, and these countries are gradually improving their infrastructures to better support business activities. At present, however, the state of the information and communications technology (ICT) infrastructure is far from sufficient. This is a serious concern among many companies that are active in the region.
In interviews conducted by NTT Com Vietnam and the Japan Business Association in Vietnam in February 2010, about half of the 80 Japanese companies in Vietnam expressed dissatisfaction with the unstable communication networks. Speed and cost were the next two most common causes of dissatisfaction. Many of them complained about lengthy Internet interruptions, the lack of estimated times to service recovery, and the lack of explanations about outages. Although the service quality has been improved by replacing ADSL with optic fiber (FTTH), problems related to the unstable electric power environments and natural disasters such as typhoons and lightning still remain. There are also many man-made disasters such as service termination or suspension due to insufficient management or road construction, and outages due to maintenance conducted without notice or with sudden notice. Similar situations are also occurring in neighboring countries, so many companies have expressed a strong desire for quality improvements.
Meanwhile, there is an urgent need to provide high quality service and reliable infrastructure platforms in order to support stable business continuity amid a rapid increase in network traffic. As part of its efforts to respond to these needs, NTT Communications began providing Internet connection services for companies in Cambodia in March 2011. NTT Communications continues to expand the high-quality information and communications technology (ICT) infrastructures provided in the Mekong region and other Asian regions; in April 2011, it began collaborations with the Vietnam Internet Network Information Center (VNNIC), a government agency, in providing Internet connection services in Vietnam.