Cases of Re-connect X 02
NTT Communications is addressing social issues through initiatives based on its Re-connect X business vision.
Deep Learning with Secure
Computation that Ensures Safety
and Security by Managing, Analyzing,
and Utilizing Encrypted Medical Data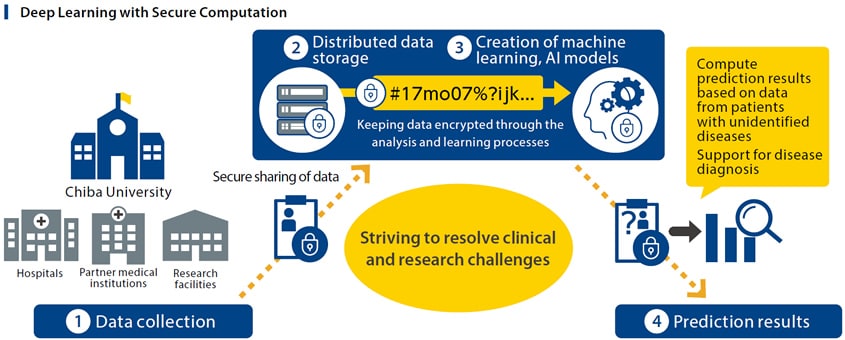 Growing Need to Utilize Medical Data
While the level of Japanese medical technology is high by global standards, it is expected to advance even further through the power of DX. Until now, Japan has made little progress in its initiatives for sharing data on medical treatment and diseases in the form of big data and utilizing data on-site for research and diagnosis due to privacy concerns. Recently, however, the country has been confronting social issues closely connected to the future of its medical services, such as the declining birthrate and aging population, a shortage of labor, and regional disparities. Under these circumstances, the Japanese government has proposed a national policy for data-based health management initiatives, while the additional impact of the COVID-19 pandemic has heightened the need for the active use of medical big data as never before.
Joint Research with Chiba University Hospital Aimed at Using Concealed Medical Data in AI Analysis
In October 2020, NTT Communications and Chiba University Hospital began joint research on clinical data analysis using NTT's unique technology of deep learning with secure computation. The technology can be used to store clinical data, including highly sensitive medical treatment information in encrypted form, and conduct deep learning to create AI models without decrypting the data. This opens up various possibilities for using data while ensuring confidentiality, as researchers are only able to access the results of analysis. We are currently analyzing data collected from various clinical departments including neurology, gastroenterology, and infectious diseases at multiple facilities and creating AI models to verify that our system is able to resolve issues in clinical settings. For example, we can effectively create AI models and analyze data to develop tools that support the use of AI in diagnosing rare diseases, which is difficult for a single medical facility with a limited number of cases, and analyzing clinical data, as well as for joint research by multiple facilities, such as long-term observations involving patients. We will continue to pursue joint research with appropriate clinical departments to address diverse clinical and research challenges by encouraging the use of data while ensuring security.
Constructing a Platform for Safely Using Medical Data
NTT Communications is striving to provide new healthcare services by collecting and accumulating data at every stage, from prevention to treatment and patient care, and constructing a platform for safely analyzing and using that data. Furthermore, we will actively pursue collaborations with medical institutions and related companies, not only to provide innovative, advanced medical care using patient data but also to reduce the burden on medical staff and realize an enriching Smart Life for each person.
Yoichi Sakurai Senior Manager,
Smart Healthcare,Smart World Business

The promotion of DX in clinical sites usingdeep learning with secure computation has the potential to overcome diverse challenges. While we must always obtain prior agreement from patients to use their data, I have been told there are many patients who readily provide their data for the advancement of medical science. I am also aware of the high expectations of clinicians. I hope to develop a genuinely useful mechanism that lives up to the expectations of my many team members.