Regional Development

As a company operating businesses across Japan, we help develop local communities through interaction with people, with the aim of ensuring better living environments for them.
Subway guides for foreigners (China)
NTT Communications China, a member of the NTT Communications Group, performs volunteer activities to help the increasing number of foreign tourists become familiar with the attractions of Shanghai.
The subway system in Shanghai is difficult to grasp, and foreigners have complained about the difficulties in understanding directions to tourist destinations. With the intention of helping tourists have an enjoyable visit, we act as volunteer guides inside subway stations, giving directions, helping with the purchase of train tickets, and recommending spots to visit in Shanghai.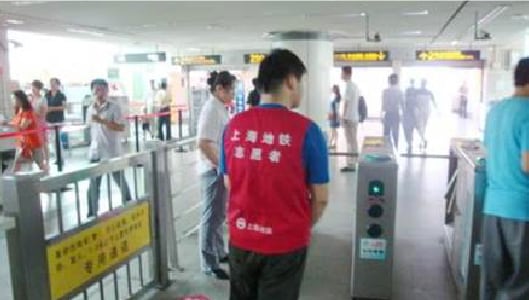 Assistance for reconstructing disaster-affected areas
The [MK1] NTT Communications Group fulfilled its social mission by providing assistance soon after the Great East Japan Earthquake struck in 2011. We undertook initiatives that only an ICT company can, while also creating an environment wherein our employees could assist with the reconstruction.
In disaster-affected areas, our volunteers have helped in various ways since the summer of 2011, such as by removing waste and debris, rebuilding communities, and communicating with survivors, mainly in Shichigahama Town, Miyagi Prefecture. Moreover, we provided relief to those affected by the Kumamoto Earthquake in 2016. We offered assistance through our business, such as by waiving communications fees and setting up communications services in evacuation centers, including OCN Hikari Flet's and OCN Mobile ONE services.
For those affected by the torrential rain that hit western Japan in 2018, our volunteer employees went to disaster areas and took part in support activities.
We will continue to offer assistance for reconstruction after natural disasters strike.