Environmental Conservation
Through our operations, we not only help protect the environment, but also work to solve problems close at hand, raising awareness of environmental conservation through activities involving our employees and their families.
Coastal Area Cleanup Activities
We have been cleaning the beaches around Fujisawa City, Kanagawa Prefecture, since 2017, amid growing international concern over waste plastic, including environmental pollution caused by microplastics. Although coastal cleanups were canceled in 2020 due to the spread of Covid-19, we intend to resume the activity once the pandemic subsides. Meanwhile, NTT Communications' Shining Arcs rugby team participated in the LEADS TO THE OCEAN project in August 2020, the aim of which is to reduce the volume of waste that ends up in the ocean by keeping towns clean. Launched in 2015, the project is a joint effort between the Nippon Foundation, which has been engaged in marine and social issues for over half a century, and the non-profit organization Umisakura, which has been organizing the Enoshima beach cleanup since 2005. The Shining Arcs is the first rugby team to participate in the project.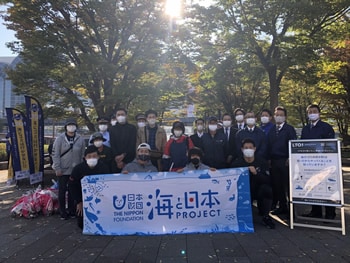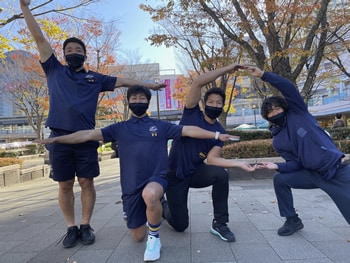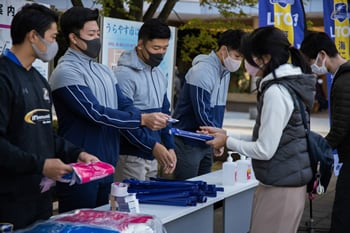 Woodlands Conservation Initiative
The NTT Communications Group, as a part of our CSR, provides opportunities for our employees and those of our partners as well as their families to give back to local communities and preserve the environment through hands-on experiences and engagement in issues close to them. One such action led by Group companies is the Shiroi Woodlands Conservation Initiative underway in Shiroi City, Chiba Prefecture.
Its purpose is to raise awareness of environmental problems and dietary education through direct participation as well as to contribute to the preservation of the natural environment as a company by maintaining forests, planting rice, and observing nature.
The initiative has been well received for improving family communication through the participation of employees with their children and cultivating the children's aesthetic sensitivity while also facilitating collaboration among Group companies by co-organizing the activities.
We have been conducting these activities three times a year—in the spring, summer, and autumn—since 2010, though we were unable to do so in 2020 due to COVID-19. We plan to resume the initiative on a continuing basis once the pandemic subsides.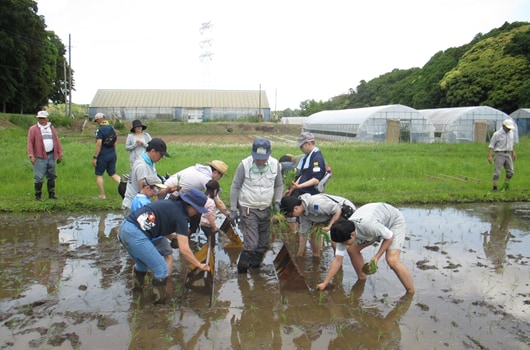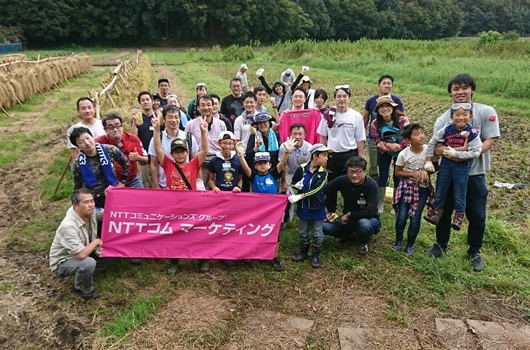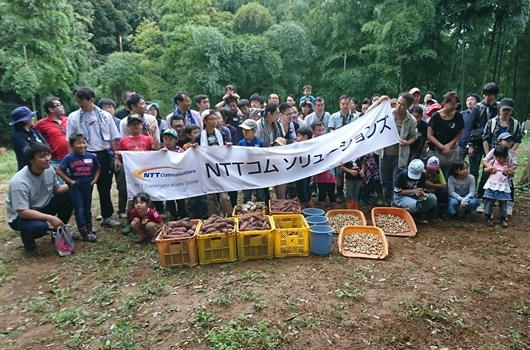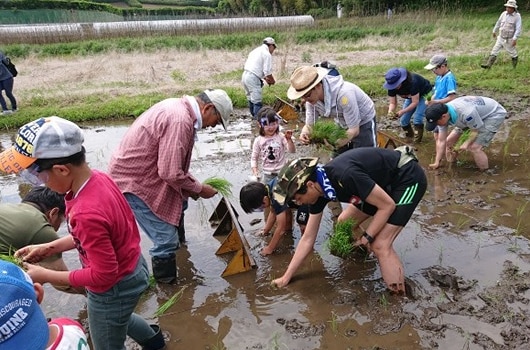 Participation in Cleanup Campaigns
Since 2008, NTT Communications has participated in the Cleanup Chiyoda Ward Campaign held in June and November every year to help care for the local environment.
Employees of NTT Communications working at the Otemachi head office collect empty cans and cigarette butts around the office early in the morning before regular working hours to keep the neighborhood clean. While the event was canceled in fiscal 2020 to prevent the spread of COVID-19, we intend to continue it at a future time.