Environmental Conservation
Through our operations, we not only help protect the environment, but also work to solve problems close at hand, raising awareness of environmental conservation through activities involving our employees and their families.
Coastal Area Cleanup Activities
Problems associated with waste attributable to economic activity and disasters increase with each passing year. Among our efforts to address these are the various cleanup activities the NTT Communications Group takes part in. One example is a coastal cleanup in Fujisawa City, Kanagawa Prefecture, which started in 2017. On April 13, 2019, 130 Group employees and their family members came together in the early morning hours, put on gloves, and used tongs to remove rubbish that included cigarette butts and PET bottles on the off-seasons sandy beaches.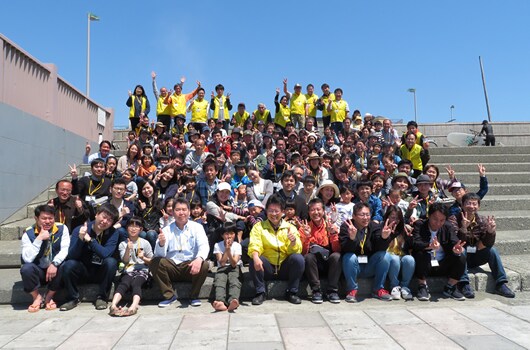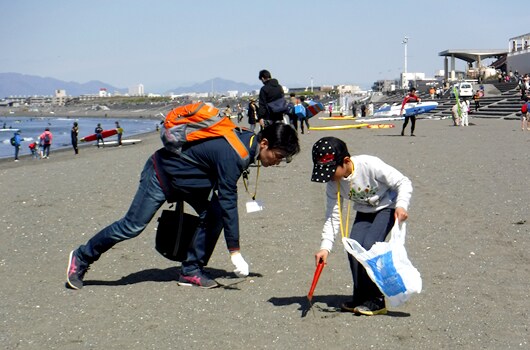 Activities to conserve woodlands
At NTT Communications Group, we provide opportunities for our employees, the employees of our partners and their families to give back to local communities and preserve the environment through hands-on experience, becoming involved in issues close to them as a part of CSR. One such initiative centered on Group companies is the Shiroi Woodlands Conservation Initiative being undertaken in Shiroi City, Chiba Prefecture.
The purpose of this initiative is to raise awareness of environmental problems and dietary education through participation, as well as to contribute to the preservation of the natural environment as a company by maintaining forests, planting rice and observing nature.
Launched in 2010, this initiative has been undertaken 26 times as of 2019, with activities occurring three times a year in the spring, summer and autumn. By having parents and their children participate in this initiative, communications is improved among family members and children cultivate sentiment. Co-sponsored by Group companies, the activities also improve communications across the Group. We will continue these activities as an initiative that involves employees.