Special Feature


Contributions to the Global Environment
A sustainable green future with abundance
Rising temperatures, frequent weather anomalies, and the depletion of natural resources are concerns shared across the world.
Using the power of ICT, we aim to realize a future of abundance in harmony with the global environment.
Leaving an abundant, diverse planet for future generations
We view protecting the environment as a core responsibility of a global corporation.
Our Approach
The reduction of CO2 emissions has been hailed as a necessary means of addressing abnormal weather patterns around the world and to combat global warming.
However, not enough has been done. With pressing needs to do more, we at the NTT Communications Group are moving proactively to deploy low-carbon technologies as a provider of services that utilize ICT equipment.
In order to leave future generations an abundant global environment, such as by promoting a closed-loop economy and by coexisting with nature, NTT Communications is also aggressively implementing a multitude of initiatives while fulfilling its responsibilities as a leading global ICT company.
Our Ambition
A society in harmony with nature, preserving the planet's abundance
> A low-carbon society with a light environmental footprint that thoroughly recycles resources
> A society that respects biodiversity and protects abundant natural resources
Focus SDGs





Proactive Reduction in Power Usage at Data Centers, Telecommunications Buildings
Accelerate Advances - an Important Management Task
Due to the characteristics of our business of providing international high-speed telecommunications networks and cloud services, reducing the power consumption at DCs and telecommunications buildings, which are our main facilities, is an important management task. In addition to our own efforts to save power, it is a task that will lead to a low-carbon society. At the same time, we also have the potential to greatly contribute to Goal 13 of the UN SDGs "take urgent action to combat climate change".
Having identified this challenge as being of great social significance and positioned it as one of the main measures toward the realization of our environmental vision, we have been promoting more multifaceted activities. Aside from naturally renewing old types of equipment, the activities involve utilizing ICT, such as for the pinpointed control of air-conditioning and the visualization of electrical power usage, while accelerating technological advances and innovation.
Efforts Evolving Year by Year.
Steady Cross-Organizational Improvement Activities Having Great Effect
In view of the trend for high concentrations, high heat generation and diversification of telecommunications facilities accommodated in DCs and telecommunications buildings, we have been implementing measures through cross-organizational teams to reduce various power uses and working to reduce electricity bills. Evolved around the ICT-driven visualization of both temperature and the amount of power being used, the measures have included the implementation of thorough airflow improvement, temperature adjustments and air-conditioning shutdown initiatives based on adjustments to telecommunications facility intake/exhaust directions and temperature sensor information; the removal and power supply disconnection of old types of telecommunications equipment; and air-conditioning controls that take into account outside and room temperatures. As a result of these efforts, the power reduction effect was 36,000 t-CO2 (compared with fiscal 2014) in terms of CO2 emissions. In fiscal 2016, we were also able to receive an award of excellence from Kagoshima Prefecture for our greenhouse gas reduction initiatives.
Based on the visualization of power usage, electricity/ air-conditioning inventory and temperature sensor information, we are currently aiming to reduce the total cost of electricity, investment and maintenance expenses. We intend to achieve this by power peak cutbacks and time-limited temperature adjustments, the deployment of more finely tuned air-conditioning as well as by thoroughly putting an end to surplus power facilities through the promotion of machinery room floor consolidation and the thorough utilization of inventory.
My Challenge
To Combat Global Environmental
Problems and Provide More Value
Due to the increasing shift toward the IoT, we are realizing not only the visualization of air-conditioning but also from power and telecommunications equipment to entire buildings.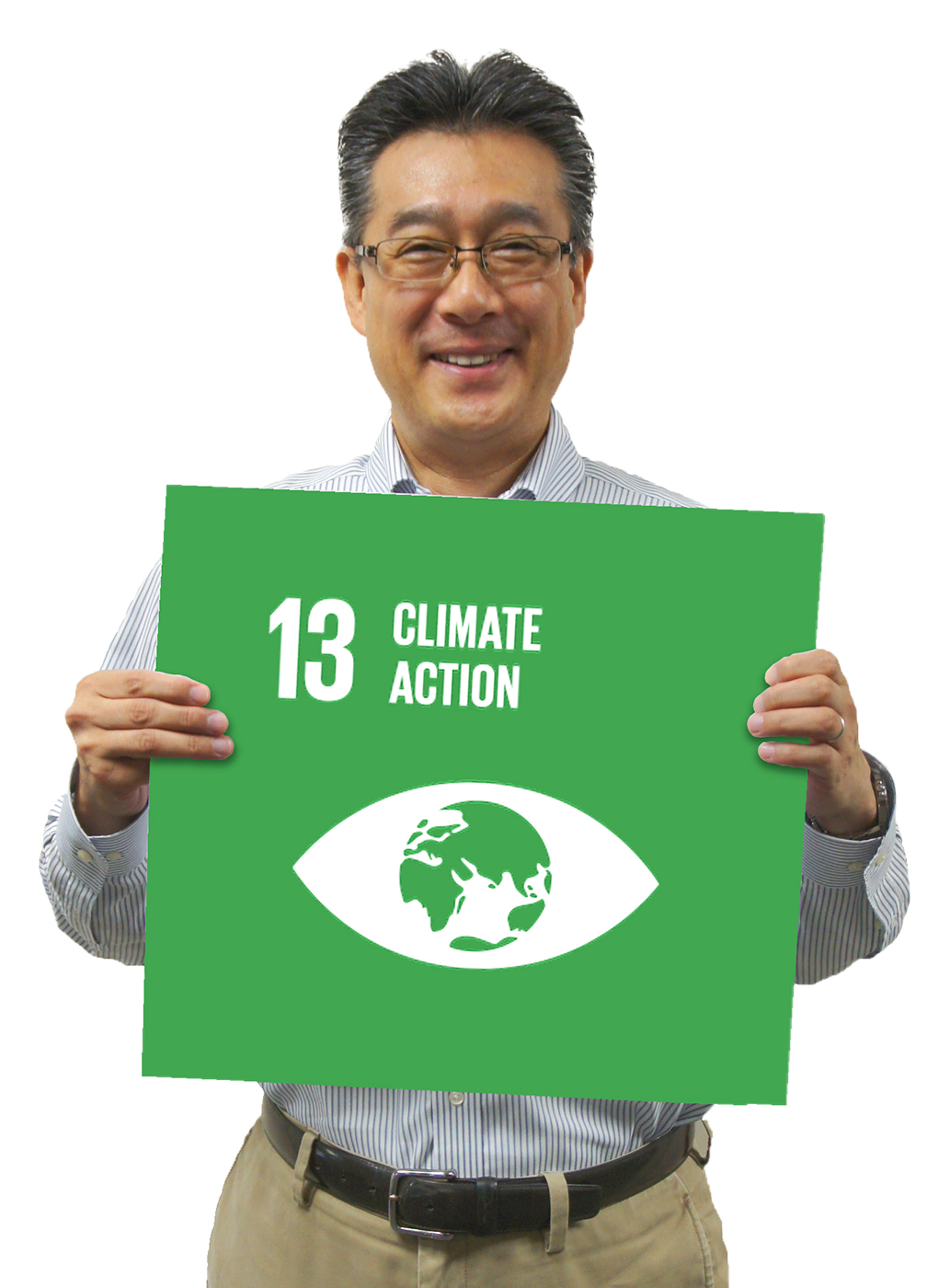 In addition to reducing power consumption, we are realizing total energy reduction and efficiency by automation, such as of equipment inspection and troubleshooting. We are naturally working to provide our clients with optimum high-quality telecommunications environments and are also committed to an awareness of contributing to the global environment in our day-to-day business operations.
Engineering Department, NTT Worldwide
Telecommunications Corporation
Manager Masami Kobayashi