Environmental Statement & Eco Strategy
In November 2016, the NTT Communications Group took steps to review its environmental activities looking to the future beyond 2020 while taking into consideration worldwide trends concerning the global environment. At the same time, the Group announced details of its Environmental Statement as well as its Eco Strategy 2030.
Working in unison, each and every employee worldwide will engage in environmental activities by providing technologies and services that pioneer eras. In this manner, we will work diligently to ensure a future in which people and the planet remain in harmony.
The NTT Communications Group Environmental Statement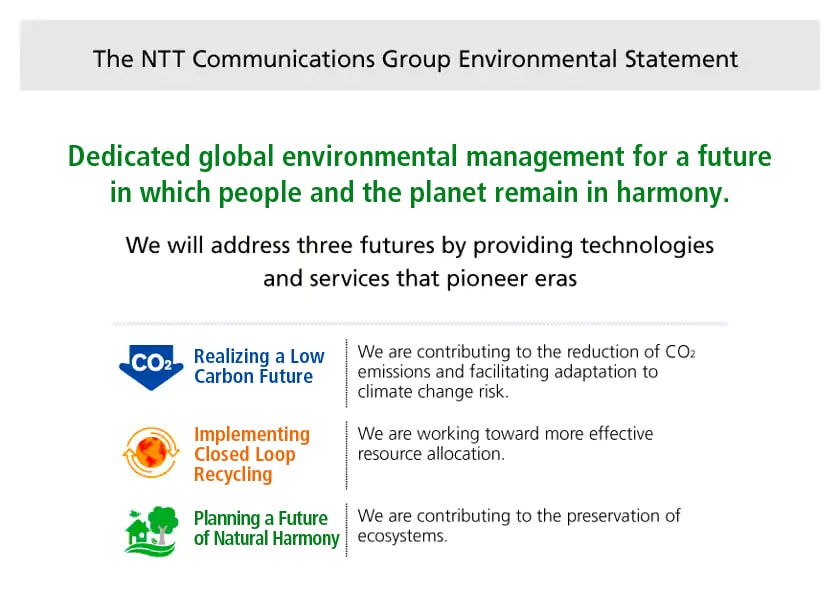 The NTT Communications Group Eco Strategy 2030
Under the "Eco Strategy 2030," we have set out specific initiatives to help realize the three futures outlined in the "Environmental Statement."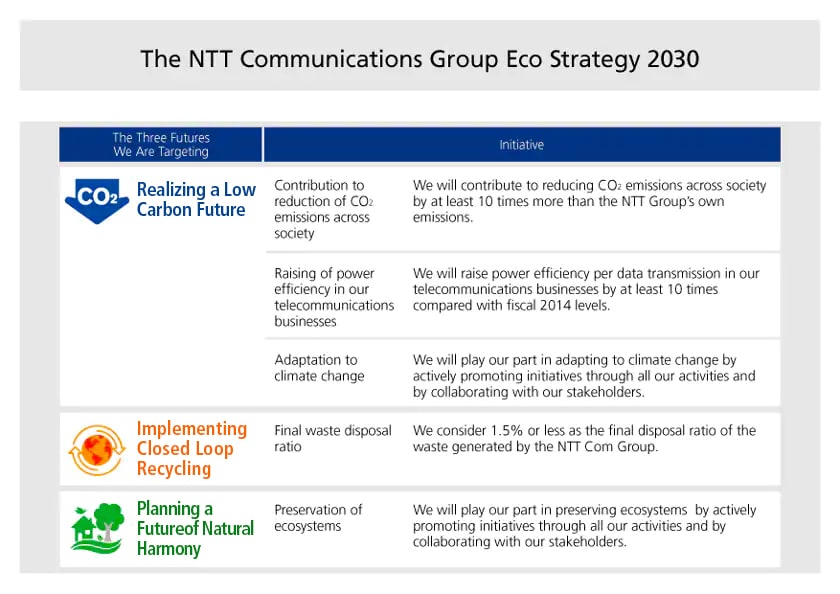 NTT Communications Environmental Strategy Guidelines
In conjunction with Environmental Statement, we are establishing wide-ranging guidelines with regard to our environmental activities. By constantly adhering to these guidelines we will demonstrably fulfill our responsibilities in respect of diverse environmental issues.
Promoting Global Environmental Management
The NTT Communications Group has placed the utmost importance on advancing its environment strategy in unison with overseas bases. Accordingly, the Group has taken steps to put in place a global-scale environmental management platform since fiscal 2009.
In fiscal 2012, the Group appointed environmental management officers at each of its operating bases in a bid to further enhance and develop its global environmental management structure. From fiscal 2013, energies will be channeled toward convening a global environmental management meeting as a part of efforts to share those initiatives undertaken to reduce environmental load in each country throughout the Group as a whole. At the same time, the Group will pursue and promote a bottom-up approach with respect to environmental management activities.
Looking Back Over the Green ICT Vision 2020
Please see the results of Green ICT Vision 2020 formulated in October 2010