External Evaluations and Commendations
Supporting the Tokyo Metropolitan Government through a Carbon Offset* Program (December 17, 2019)
NTT Communications donated the credit it earned from participating in the Tokyo Cap-and-Trade Program to support the Tokyo Metropolitan Government's efforts for achieving its Zero Emission Tokyo Strategy. Since the Tokyo Metropolitan Environmental Security Ordinance came into effect in April 2010, NTT Communications has been working to comply with the ordinance by reducing its CO2 emissions at 11 telecommunications and data center buildings through measures such as more effectively managing air-conditioning temperature and airflow. We received a certificate of gratitude from the Tokyo Metropolitan Government for donating to them the surplus credit, equivalent to 100,000 t-CO2, from these efforts.
*A method for reducing CO2 emissions whereby a company seeking to reduce its greenhouse gas emissions purchases credits to offset the emissions that are difficult to reduce through its own efforts.

Received the Yokohama Global Warming Countermeasures Award on April 23, 2018
NTT Communications Corporation has received the Yokohama Global Warming Countermeasures Award from the City of Yokohama.
The award, from the City of Yokohama Global Warning Countermeasures Plan Program, is given to companies that have achieved outstanding results, such as a substantial reduction in greenhouse gas emissions. In fiscal 2017, 19 companies were selected from 308 that had submitted reports to the city. NTT Communications was recognized for achieving an 8.4% year-on-year reduction in CO2 emissions in fiscal 2015 at the Yokohama West Building and Yokohama Yamashita Building.
Specifically, the company improved power supply efficiency by consolidating its data communications system to reduce electricity consumed and by replacing older rectifiers with a low utilization rate to high-efficiency units and consolidating the overall rectifier system.
Looking ahead, we will further strive to preserve the global environment by focusing on saving energy and reducing greenhouse gas emissions.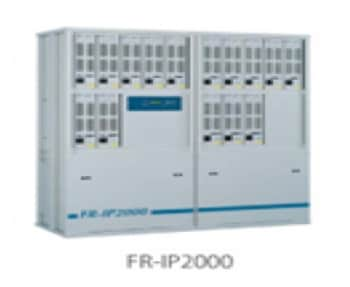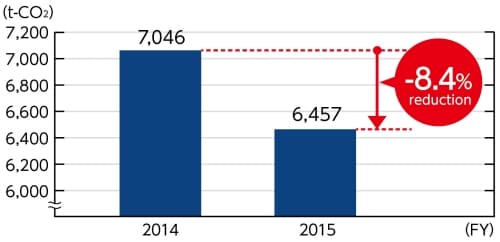 Volume of CO
2
Emissions by the Yokohama West Building and Yokohama Yamashita Building

NTT Communications Receives the Special Excellent Enterprise Award under the Enterprise Emission Reduction Planning Program from Kyoto City (December 22, 2017)
This award recognizes the efforts of certain business enterprises to cutback greenhouse gas (GHG) emissions. In this instance, and selecting from a total of 141 companies, 37 business enterprises were assigned the highest possible "S″ rating for their endeavors. Of these 37 business enterprises, seven were further recognized with Special Excellent Enterprise awards. In specific terms, NTT Communications achieved a CO2 emission reduction rate of 28.2% compared with the average rate for the base period from fiscal 2010 to fiscal 2013 at its Kyoto Minami Building . This reduction was largely attributable to air flow improvements (the installation of diffusers (wind direction plates) and screens as well as the optimal use of floor panels), coupled with energy conservation measures including increased flexibility in the setting of machine room temperatures. Moreover, this award reflects the high esteem in which the Company's proactive efforts to protect the environment are held. These efforts are based on the Group's Environment Vision and targets. Looking ahead, NTT Communications will continue to promote energy conservation measures and work diligently to reduce GHG emissions.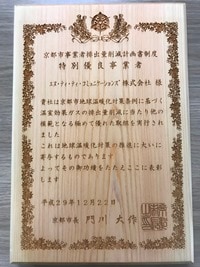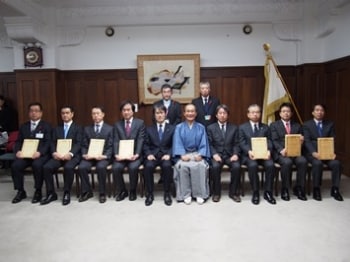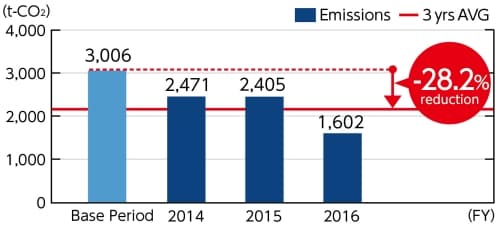 Volume of CO
2
Emissions by Kyoto Minami Building
Received an award of excellence for the greenhouse gas reduction initiatives from Kagoshima prefecture (Feb. 15, 2017)
NTT Communications received an award of excellence from Kagoshima prefecture for the greenhouse gas reduction initiatives at Kagoshima Perth building, the telecommunication building. The award recognizes our various initiatives in the building such as improvement of air flow, innovative air conditioning technology, and switching to LED lighting and they can be a model to other businesses to implement. As a result of initiatives, we have managed to reduce amount of greenhouse gas for 12.1% compare to the 2010 emission.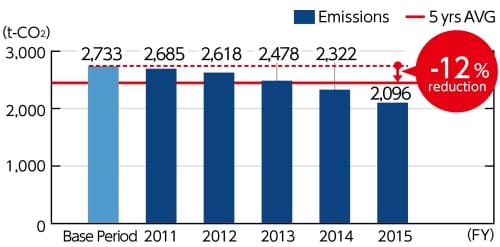 Volume of CO
2
Emissions by Kyoto Minami Building