Activity Report (Environment)
Promoting Renewable Energy
Expanding the Use of Renewable Energy
We have been actively introducing and expanding renewable energy, including virtual renewable energy through non-fossil fuel energy certificates, since April 2020. In fiscal 2021, 31 of 89 telecommunications facilities, including data centers, met all power needs with renewable energy. In fiscal 2022, we are seeking to further expand the use of renewable energy by completing conversion at ten more facilities.
◆

Rate of Renewable Energy Introduced (including virtually renewable energy by using non-fossil fuel certificates)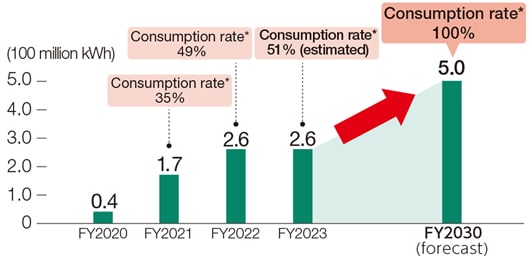 Scope: NTT Communications Corporation and 14 Group companies
* Targeted GHG protocol out of CO₂ emissions from business activities: Electricity consumption in Scope 2
Operating Solar Power Generation Systems
We have primarily installed solar panels at our data centers in Tokyo. The power generated is used for lighting in common spaces. In fiscal 2021, we generated approximately 517,000 kWh of solar-powered electricity. This amounts to 224.0 t-CO2 when converted to CO2 emissions and is equivalent to the volume of CO2 absorbed in a year by around 25,400 cedar trees.
◆

Power Generated by Solar Power in Fiscal 2021

Use of Renewable Energy at More Data Centers
NTT Communications began using renewable energy at data centers in telecommunications facilities in fiscal 2020, followed by its newly established data center in Tokyo in fiscal 2021. In fiscal 2022, we started offering options that allow customers to use a wide range of renewable energy sources in response to their requests at five data centers in the Tokyo metropolitan area. This enables customers to report on RE100* and other international environmental initiatives and promote ESG management aimed at decarbonization.
* An international consortium of companies focused on ensuring that 100% of the electricity used in their business activities will ultimately come from renewable energy sources.
Improving Energy Efficiency
Initiatives at Our Data Centers
An important aspect for reducing power consumption at data centers is increasing the efficiency of air-conditioning. We are introducing the following innovations from the data center design stage and gradually replacing conventional electricity generated by fossil fuels by increasing the ratio of renewable energy sources that do not emit CO2, such as wind, hydro, solar, and geothermal power.
(1)Innovation in Buildings
To increase the heat insulation of buildings we are working to improve efficiency from the structural aspect, such as by adopting innovations that utilize thick concrete panels and insulation materials and by reducing the window surface area. With regard to air-conditioning, we are absorbing heat such as that generated by the IT equipment in rooms, liquefying the refrigerant cooled by the convection force of heated refrigerant rising as gas and by outside air, using the downward convection force from the difference in height of the equipment, and taking advantage of a natural refrigerant circulation system to use power sources and pumps as little as possible. These technologies are used in combination at the Tokyo No. 5 Data Center and are bringing about a reduction in CO2 emissions.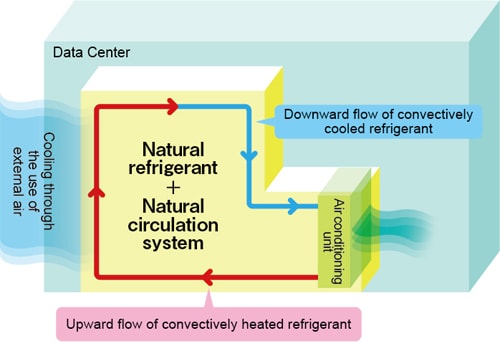 (2)Innovation in Server Rooms
Depending on the loucation, temperature differences occur in a server room as the amount of heat generated in a server room depends on the various types of server installed. While effectively eliminating this, efficient cooling is important in curbing CO2 emissions. To achieve this at our data centers we are implementing finely tuned air-conditioning management innovations. For example, we have introduced the SmartDASH*1 automatic air-conditioning control system, installed the Aisle Capping*2 airflow control solution, which increases the rectifying effect of the cool air, and the Blank Panel system, which is capable of efficiently cooling servers by utilizing the cool air trapped in the spaces between the server racks.
Since fiscal 2012, we have accelerated our efforts to create server rooms with total solutions entailing both hardware and software for air conditioning management.
As only a leading ICT company can, NTT Communications promotes energy-saving solutions throughout the Group by proactively implementing these solutions in its regional data centers and telecommunications buildings.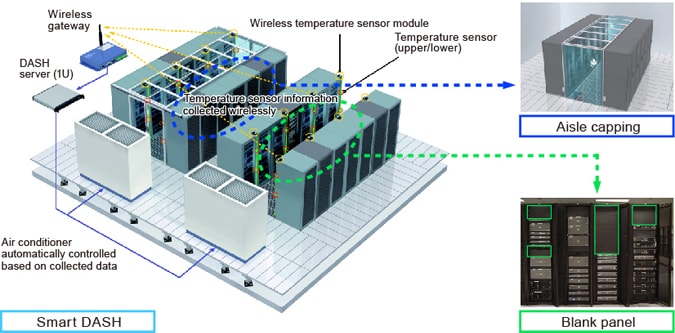 *1 Depending on the country and region, SmartDASH is a registered trademark or trademark of Vigilent Corporation.
*2 Depending on the country and region, SmartDASH is a registered trademark or trademark of Vigilent Corporation.
(3)Deployment of a New Air Cooling System
At our Tokyo 6 Data Center, we have deployed an external air cooling system that draws cooler outside air into a building during winter, spring, and autumn.
Rows of servers, networking equipment, and other ICT equipment in data centers generate significant heat, and the external air cooling system effectively cools the DCs using much less energy.
At our new Tokyo 11 Data Center located in Musashino City, Tokyo, we adopted an indirect evaporative cooling system capable of switching to the most efficient heat exchange method according to the season, which enabled us to reduce energy usage by about 60% compared to conventional air conditioning. We also installed shorter indoor air ducts to reduce ventilation loss, which led to greater efficiency in cooling heat generated when supplying mean effective power of 8 kW per rack. We will continue incorporating advanced equipment and technologies to aggressively reduce the carbon footprint of our data centers.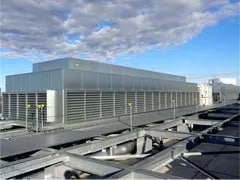 Tokyo No. 6 Data Center: High-efficiency modular chillers
(4)Complete Airflow Management
The arrangement of hot aisles and cold aisles as pathways for hot and cold airflow is an issue that can significantly impact the efficiency of a building's air conditioning system. To realize optimal airflow management, we have innovated literally from the ground up by redesigning the floors of our data centers. These innovations include panels that vent chilled air circulated under a false floor, horizontal air conditioning that blows air from the walls into the room, large fans on the walls near the ceiling to efficiently move hot air out of the room, and an exhaust chamber. By combining these innovations with fresh air air-conditioning systems, we aim to create optimal airflow throughout the entire building.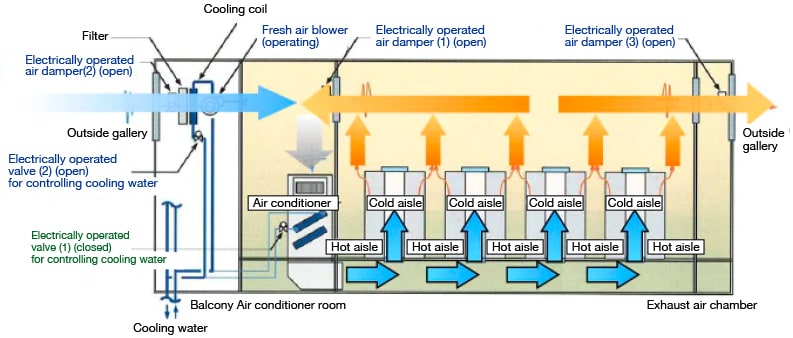 Airflow management at the Tokyo No. 6 Data Center
Using our Data Center Know-How to Control Airflow: Airflow Improvement
We are applying the knowledge we have gained through our decarbonization efforts at our data centers to our telecommunications facilities. For example, we have been improving airflow since fiscal 2011 in the communications equipment rooms of our communications buildings in each region.
(1)Diffuser (wind direction panel) installation
Diffusers are installed to direct exhaust heat from the rear of ICT equipment upward and away from other devices.

(2)Screen Installation
Screens are installed to ensure that the exhaust heat from various equipment does not flow onto other devices.
(3)Floor panel improvement
熱Steps taken to confirm heat accumulation and points of excessive cooling and improvements made through adjustments using retractable fins, curing tape and other items to control underfloor air flow.

(4)Drawstring bag application
Drawstring bags are applied to prevent the leakage of cold air.


We expect these initiatives to have a greater impact as we gradually expand these measures to other facilities around the world, and apply this expertise to energy management for office buildings.
Efficient Power Supply by Leading-Edge Technologies
The current widely used alternating current (AC) power supply requires large numbers of AC/DC converters for supplying power to equipment and is therefore subject to significant efficiency issues, such as heat release and power loss. The former use of low-voltage direct current (DC) power supply raised many issues from the perspective of building work and cost since DC requires thick cabling to supply power to high-capacity IT equipment. The high-voltage direct current (HVDC) system is therefore attracting attention as a means for rapidly resolve these issues. As of January 2022, HVDC systems have been installed at approximately 1% of the roughly 500 DC power supply systems at telecommunications facilities owned by NTT Communications. We plan to introduce the system at around 50% of facilities by fiscal 2030 by phasing in the expansion to align with facility upgrades and measures for raising the efficiency of telecommunications equipment. Introducing this system represents a positive step toward realizing such improvements as a 20% reduction in power consumption and a 40% improvement in space efficiency.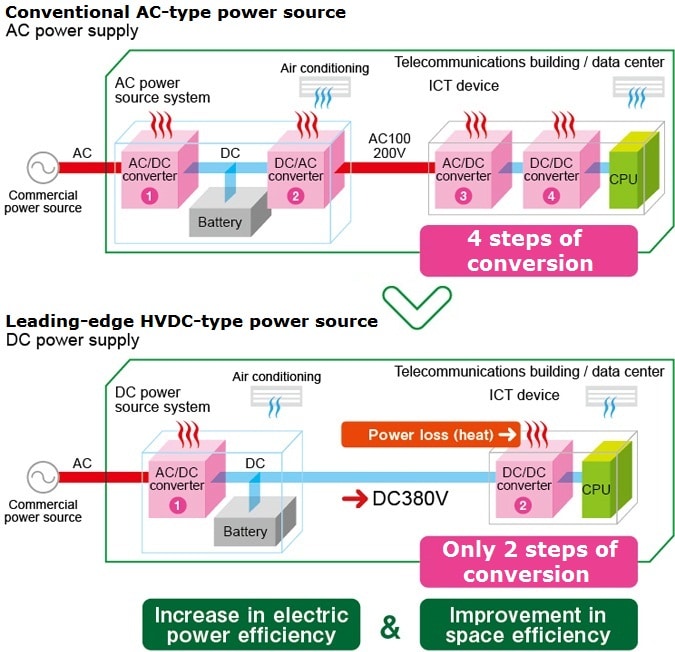 Efforts for Further Reducing Electricity Consumption at Data Centers
To establish a data center operating environment based on next-generation water-cooled equipment with high energy and space efficiency, we conduct demonstration tests of the rear door method, which circulates cooling water in the server rack door. We also use the liquid immersion method to cool servers by immersing them in coolant. These tests enable us to continually examine quality assurance toward commercialization.
◆

Rear Door Method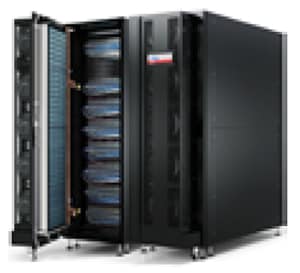 ◆

Liquid Immersion Method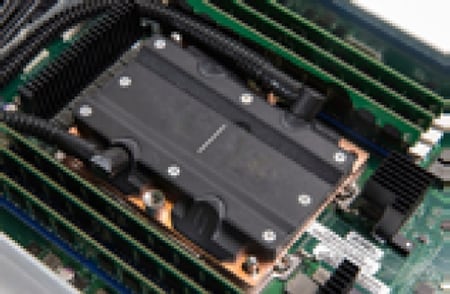 LEED Certification
To support global customers in reducing their environmental impact, the NTT Group is taking steps to acquire Leadership in Energy and Environmental Design (LEED) certification*, which sets the global standard for green buildings.
NTT Communications contributes to reducing the environmental impact of its customers by using LEEDS-certified data centers operated by NTT Ltd. countries across the globe, which provide both high reliability and excellent environmental performance.
Moving forward, we will collaborate with the NTT Group to increase customer satisfaction by providing data centers that focus on performance and reducing the environmental impact of the Group and ultimately of society as a whole.
*A certification system for the entire building, promoted by the U.S. Green Building Council, which evaluates energy savings and environmental impact.
*NTT Communications pursues its global operations in collaboration with NTT Ltd.
◆

Data Center
Countries and Regions
Data Center
LEED Certificate
Hong Kong
Financial Data Center Tower 2 (FDC2)
Platinum
Financial Data Center Tower 1 (FDC1)
Gold
Tai Po Data Center
Silver
Singapore
Serangoon Data Center
Gold
Malaysia
Cyberjaya 3 Data Center
Silver
Cyberjaya 4 Data Center
Silver
India
Chennai 1 Data Center
Gold
U.S.A.
Sacramento 1 (CA1) Data Center
Gold
Sacramento 2 (CA2) Data Center
Gold
Sacramento 3 (CA3) Data Center
Gold
Ashburn 1 (VA1) Data Center
Gold
U.K.
UK Hemel Hempstead 2 Data Center
Gold
Hong Kong Financial Data Center Tower 2 (FDC2)
Located in Tseung Kwan O on the eastern part of the Kowloon Peninsula, FDC2 employs an innovative front-flow air conditioning cooling wall system and a cooling battery that maintains the temperature of server rooms at around 27°C for about 40 minutes in the event of a power failure.
During cold periods when outside temperatures fall below 10.5°C, certain chillers are also shut down. Steps are then taken to switch to indirect external air conditioning using a heat exchange process with a cooling tower.
FDC2 received the LEED Platinum certification for its highly regarded innovations, which raised its cooling energy efficiency by roughly 20%.
Cooling wall
Increases energy efficiency by 20% compared with conventional cooling methods that employ cold air that flows up from beneath double floors, as indicated by the arrows in the photo.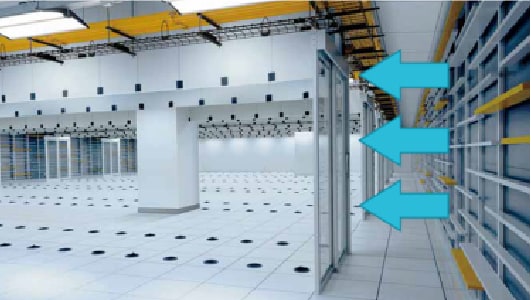 Cooling battery
Maintains the server room temperature at 27°C for 42 minutes in the event of a power failure using cooling tanks that can store up to 3.6 million liters of cooling water. (White building at right)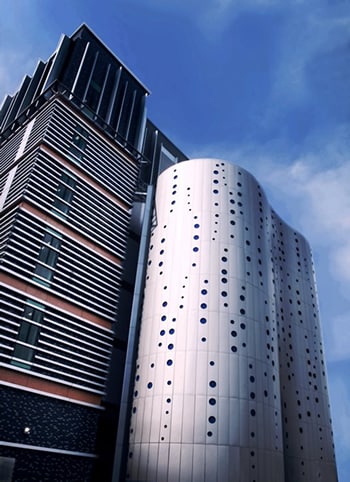 Indirect external air conditioning system
Turning off chillers to conserve power and utilizing cooling water directly from the cooling tower when temperatures fall below 10.5°C.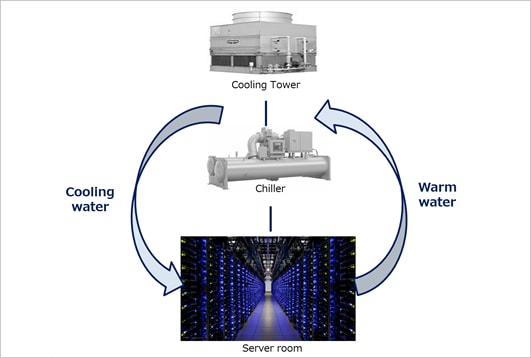 Saving Electricity in Offices
In addition to installing environmentally friendly equipment, the NTT Communications Group is also saving electricity in its offices. For instance, we adjust the temperature settings of air conditioners while considering workplace environments and operating efficiency, optimize the number of lights used, modify the degree of illumination, and encourage employees to switch off office automation equipment when not in use and select energy saving mode as the default setting for PCs to save electricity year-round. Moreover, NTT Communications relocated to Otemachi Place, its new head office building, in January 2019, where it has significantly saved energy compared to its former site at the Hibiya Building. These savings have resulted from such actions as adopting an efficient district heating and cooling system and using motion sensors to control lighting.
Furthermore, as a result of fully implementing the "Remote Work Native" initiative as a new workstyle from March 2020 in response to the COVID-19 pandemic, power consumption at our three main buildings (Otemachi Place, Shiodome Building, and Tamachi Building) for the first quarter of fiscal 2021 (combined total for April to June) declined by 23.0% from fiscal 2019. In fiscal 2021, we adopted a free address floor plan at our offices in the Tokyo area and positioned our staff based on the premise that the number of employees working at the office would be limited to 30%. These measures are part of our Remote Work Native initiative and are expected to further reduce power consumption.
Initiatives using ICT include measures to save electricity in our offices through the Office Database Visualization Website on our intranet, which aggregates and visualizes environmental impact data by floor. NTT Communications plans to decrease its environmental impact by reducing the electricity used to power its servers through integration by migrating internal systems to ICT infrastructure on a private cloud that leverages server virtualization.
In addition, we are shifting to meet our office power needs through renewable energy sources while simultaneously saving electricity to reduce CO2 emissions. We achieved our zero-emission target for all office power requirements at Otemachi Place, including those of tenant companies, in September 2021.
*Figures for fiscal 2010 represent the combined total for the Hibiya Building (former site of our head office), Shiodome Building and Tamachi Building.
Provide services that help reduce CO2 emissions
SDPF Cloud/Server (Former Enterprise Cloud): Streamlined Integration of ICT Infrastructure
As companies accelerate overseas expansion through mergers and acquisitions, they are increasingly required to streamline and integrate their ICT infrastructure on a global scale. From an environmental standpoint as well, companies are striving to reduce the wasteful use of resources, especially investments in redundant equipment, throughout the corporate group.
SDPF Cloud/Server is a world-first cloud-based service for corporations that uses virtual network technologies between as well as within data centers. Utilizing cutting-edge virtualization technologies, including virtual servers and networks, SDPF Cloud/Server integrates ICT systems that companies had deployed and operated differently in each region and office. This service makes it possible to deploy an integrated ICT infrastructure that eliminates the wasteful allocation of equipment and personnel throughout corporate groups.

Recent installations have proven the major benefits of this service. When virtual servers are deployed through the service instead of traditional physical servers and storage devices on the customer's premises, the number of physical servers in operation are reduced, thereby cutting CO2 emissions by 97 t-CO2 annually (about 74%) in the case of a small or medium-sized company.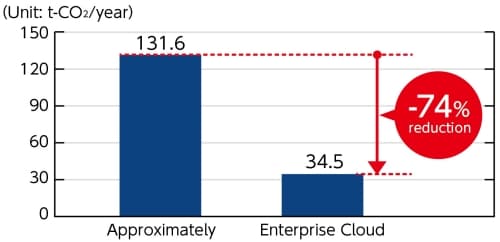 Providing CO2 Emissions Forecasting and Visualization Functions in Our Cloud Service
In our Smart Data Platform Cloud/Server service, which utilizes NTT Communications' data centers to provide cloud computing services, we have also set a goal of achieving carbon neutrality by introducing renewable energy to all our sites by the end of fiscal 2023. As of June 2022, we had completed the introduction of renewable energy to 50% of our service locations.
In addition, we are the first cloud service provider in Japan to provide simulation to forecast CO2 emissions (from July 2022) and a dashboard to visualize emissions (from September 2022) free of charge to help customers further reduce their environmental impact.
◆

Screen image of the Carbon Footprint Simulation for forecasting CO2 emissions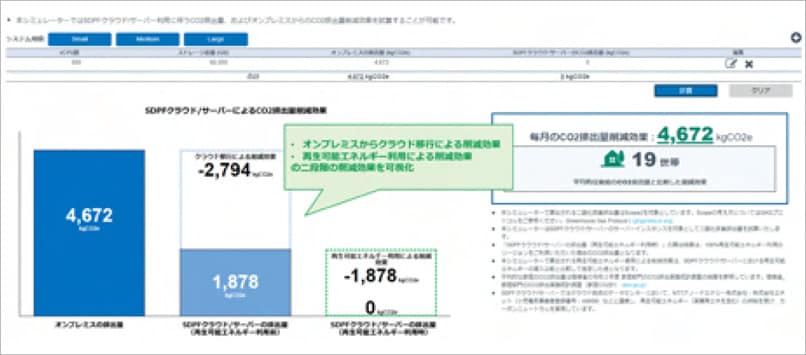 ◆

Screen image of the Carbon Footprint Dashboard for visualizing CO2 emissions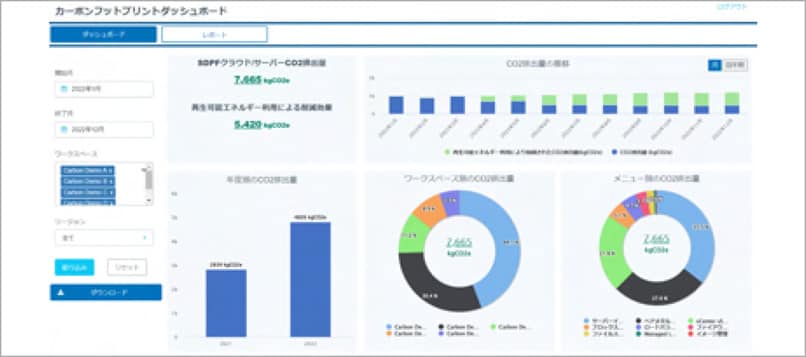 Arcstar Universal One Offers an Innovative Way to Work on Mobile Devices
Arcstar Universal One is a virtual private network (VPN) service we offer for corporations that allows employees to securely access corporate systems over high-speed communications from locations outside their company. As a part of our Arcstar Universal One service, we also provide a high-speed data communications environment for mobile devices to connect securely to VPNs. This service expands the range of possibilities for working outside the office, while reducing the need to move in order to work in the office.

Reducing Environmental Impact Using the Arcstar IP Voice Service
IP telephone services that help curtail call charges are also becoming increasingly popular with the widespread use of the Internet. As a high-quality IP telephone service geared toward the corporate sector, Arcstar IP Voice not only contributes to lower call charges, but is also environmentally friendly.
For example, positive steps can be taken to cutback the amount of network infrastructure CO2 emissions by integrating voice and data communications into a single network. Moreover, and in line with network integration, the opportunity exists to reduce electricity consumption through the upgrading of ICT equipment. Studies have shown that the introduction of Arcstar IP Voice has contributed to an annual reduction of 30% in the amount of CO2 emissions compared with such conventional means as the use of ISDN networks for voice calls and VPN networks for data communication.
The graph depicts respective percentages with the amount of CO2 emissions using conventional means set at 100%.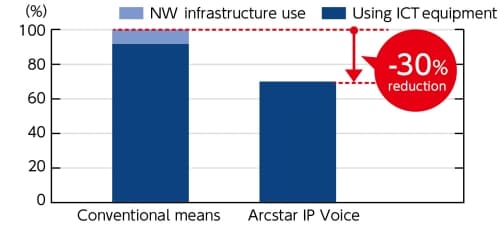 Thoroughly implement the 3Rs (reduce, recycle, and reuse)
Recycling Old Communications Equipment
To realize a closed-loop society, corporations are expected to recycle as much as possible in accordance with the nature of their operations. As a global ICT company, NTT Communications has for a long time recycled its old communications equipment.
Our own efforts are obviously important in recycling, and initiatives across our entire supply chain are also paramount. Waste from communications facilities is separated and reused as much as possible as a companywide policy. NTT Communications selects its waste management contractors based on their qualifications with a heavy emphasis on recycling ratios.
Thanks to these initiatives, the recycling ratio for old communications equipment remained at the high level of 99.9% in fiscal 2020.
Appropriate and Efficient Management of Water Resources
Water resources are essential for the survival of humans and other living organisms. However, the growing world population and economic development have led to increased water demand and water pollution.
In line with the NTT Group's commitment to the appropriate and efficient management of water resources, we use valuable water resources properly while also reducing our water consumption.
For example, we recycle and reuse cooling water for air conditioners at our data centers and have water-saving toilets in our main office buildings. We are also developing a system for predicting water demand as part of social infrastructure using ICT in order to address water resource issues.
NTT Group's commitment to the appropriate and efficient management of water resources (Business Activity 9, external site)
Evaluation by National and Local Governments
In fiscal 2021, NTT Communications obtained Class S, the highest rating for business operators demonstrating excellent energy conservation efforts and target achievement by the Agency for Natural Resources and Energy and based on the Act on Rationalizing Energy Use. Our global warming countermeasure plans for our offices in specified tenant buildings*, Granpark, and Shiodome Building, also received Class S ratings from the Tokyo Metropolitan Government.
* Buildings in which the company maintains offices that use over 6 million kWh of electricity per year or occupy over 5,000 m2 of floor space.