Dialogue 2021
The NTT Communications Group is creating opportunities to conduct discussions with various stakeholders, with the view to engaging in a dialogue that facilitates closer communication.
Please click here for the dialogue back number
Deepening Our Sustainability Management
Roles and Responsibilities of NTT Communications in Managing the Value Chain
Given the increasingly diverse and complex nature of global issues and risks, the international community is placing stringent demands on companies across their value chains from an ESG perspective, in addition to seeking adherence to stricter information disclosure standards related to sustainability. This has expanded the roles and responsibilities that companies are expected to fulfill. As the NTT Communications Group pursues its Re-connect X business vision under the new Sustainability Policy, formulated last year, it has entered a phase in which it must strengthen its dialogue and cooperation with stakeholders in the course of business operations.
For this stakeholder dialogue, we invited Emeritus Professor Yoshinao Kozuma of Sophia University to present a lecture on the latest trends and issues in human rights and environmental due diligence, under the title "Procurement Risks and Due Diligence." The lecture was followed by an exchange of views on the challenges ahead and points to keep in mind with respect to the value chain, as the NTT Communications Group endeavors to become a corporate group that creates a sustainable future.
(Conducted online in March 2022)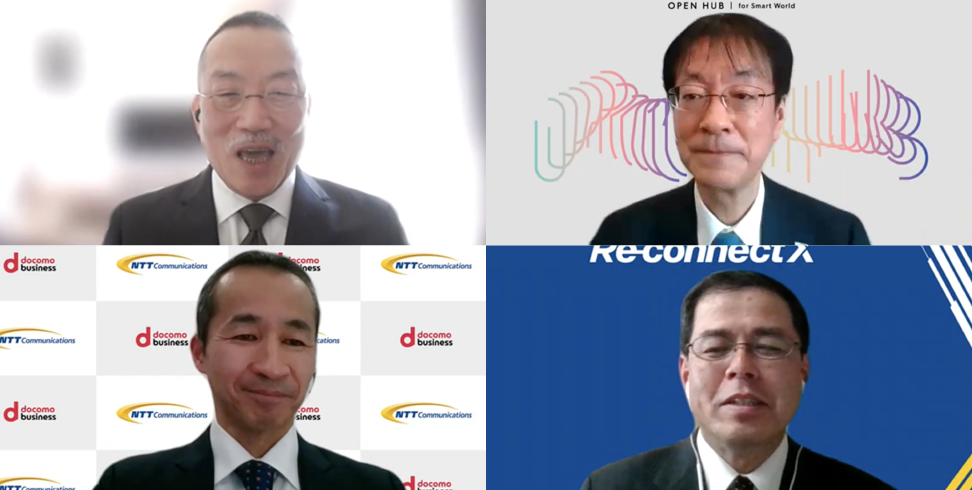 Abstract of the Lecture
Procurement Risks and Due Diligence.
We are transitioning into a sustainable society as a shared international goal, and this has intensified the need for companies to consider the sustainability risks of their business activities. Issues that are particularly urgent and important include response to climate change in the environmental domain and human rights issues in the social domain. Many of these risks are hidden upstream or downstream in the value chain, and unless companies change their approach, these issues are difficult to control through avoidance or mitigation. For the NTT Communications Group, this means its energy-intensive data centers pose a significant risk in terms of responding to climate change. While no major human rights issues have specifically emerged for the telecommunications industry, certain related risks still require attention in such areas as child labor and forced labor, which have been broadly underlying the procurement of goods and services. Companies must exercise human rights due diligence under the United Nations Guiding Principles on Business and Human Rights, and these efforts will no doubt be influenced by current moves to legislate due diligence, mainly in Europe. This legislation will offer specific protections for companies by allowing them to adopt a due diligence defense—that is, the ability to seek exemption from no-fault liability by appropriately conducting due diligence. In any case, human rights and environmental due diligence should be embraced by companies as a challenge that must be continuously addressed on a daily basis as an exercise in risk management across the value chain.
Dialogue Participants
Expert
Yoshinao Kozuma
Professor Emeritus,
Sophia University

NTT Communications Corporation
Tomohiro Ando
Executive Vice President,
CSR Committee Chairman

NTT Communications Corporation
Satoshi Matsumoto
Head of Strategy,
Procurement and
Billing Department

NTT Communications Corporation
Osamu Koya
Vice President,
Human Rights Education Department,
Human Resources
Getting All Employees to Understand the Importance of Due Diligence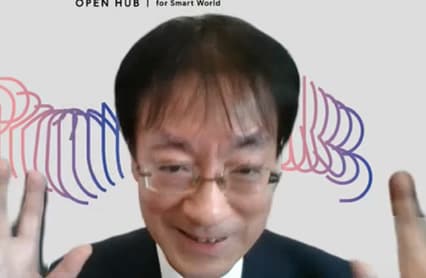 Ando

▶

In view of the worsening climate change situation and latest trends in issues related to the sustainability of the global environment and society, the NTT Communications Group revised its Fundamental CSR Policy last year and formulated a new Sustainability Policy. Under this policy, we are currently advancing initiatives toward realizing a sustainable society, and the points you raised in your lecture about human rights and the environment are key issues that require a focused effort. At the same time, we have been struggling to implement effective measures to address these issues across the entire value chain and are proceeding through trial and error on a daily basis. Today, I hope you will provide guidance and advice on how to specifically address the risks related to the value chain, including due diligence.
Koya

▶

Spurred in part by the formulation of the NTT Group's new Human Rights Policy in November 2021, NTT Communications is about to significantly expand its efforts to develop and instill an understanding of human rights due diligence among employees. To date, we have released corporate statements on key developments in the international community, such as the UK Modern Slavery Act 2015, while conducting internal training that includes holding seminars for all employees and inviting entries for human rights slogans. However, as human rights due diligence becomes established as an essential element of corporate activities, I find it hard to come up with ways to promote the idea more effectively among employees.
Kozuma

▶

The most important aspect for promoting human rights due diligence throughout the Group is to get the entire company to understand the significance of human rights. While many Japanese companies, including the NTT Group, are sincerely striving to address this issue and take action, the range of risks they are monitoring is quite narrow. To put it more specifically, in most cases the scope of their management only extends as far as the company itself, its Group companies and partners. Risks that fall within that scope are clearly visible and are relatively easy to control. Instead, companies should pay greater attention to their supply chains, which could be the sources of the invisible risks for which they lack the sufficient means to control. There arise from this lapse in attention, which is the major reason behind the rush to establish due diligence legislation in Europe and elsewhere, and which extend across the entire value chain of companies in general. In light of international trends, when a violation of human rights occurs in your supply chain, your company is expected to be the first to deal with it. As you seek to promote human rights due diligence as a company, the key question is: how do you get everyone to understand this situation? While it is always a good idea to study the issues within your company, another effective way to deepen understanding among employees is to introduce numerous cases of human rights issues actually happening overseas, by partnering with an international human rights NGO, for example, and asking them to conduct lectures. In the course of doing business, a company may inadvertently be involved in human rights violations along its supply chain, either directly or indirectly, and causing actual harm. As a start, responsible staff must recognize this possibility and understand the fundamental reason why companies are held responsible for addressing human rights risks. In practice, you will not be able to gain that awareness unless you know what is going on. So, in the next stage, a company must concretely identify both the potential and apparent human rights risks that exist along its supply chain, understand how they are linked to actual business processes, evaluate the relative gravity of each specific risk, and consider ways to respond. This is a highly complex and elaborate task that will likely require setting up a dedicated section. The approach, based on viewing human rights issues from a risk management perspective, is still in its rudimentary stage in Japan and represents an area that needs to be concretely expanded.
Koya

▶

Thank you for your advice. I have one other question. When you are faced with the need to address a human rights issue because your overseas supply chain has become entangled in a conflict, for example, what are the options available for concretely responding? Even in a conflict zone, our employees will want to help improve people's lives by providing telecommunication infrastructure for the region. On the other hand, we must manage our human rights risks, which may lead us to suspend services. We must also get our people on the ground to understand the reality of this possibility. Please advise us on how to address these points as part of human rights risk management.
Kozuma

▶

First, it would be difficult for the company to conduct research inside the conflict region, and in any case, I imagine there will not be too many risks serious enough to require a response. You should start by dealing with major risks, and conflict minerals would be an issue for the telecommunications industry. I believe the existing framework will allow you to handle the issue to a certain extent. As for risks that fall outside the scope of the scheme for conflict minerals, one realistic option would be to ask a dedicated NGO, such as those I mentioned earlier, or an expert to conduct research on the issue. In the end, it is likely to cost less than the company handling the issue on its own.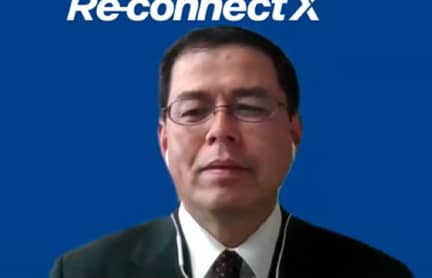 Koya

▶

I understand perfectly. In the lecture you gave earlier, you also spoke about the possibility of adopting the due diligence defense based on legal compliance. We will proceed with our measures so we can offer the optimal response for each situation. I should also mention that in the lecture, you pointed out we offered no direct links on the homepage of our English-language website to a contact point for complaints. That was an extremely important point, which I have acknowledged and called for immediate corrective action.
Kozuma

▶

Human rights violations do not occur very often in Japan, and I believe NTT Communications' human rights risks are relatively low compared to a manufacturer. However, this is a familiar and serious social issue in other societies. There are limits to the extent of due diligence that a company can practice by itself. As a supplementary measure, a company should always provide an English-language contact point for complaints, which can be used by victims of human rights abuse to plead their case. The idea is premised on clearly stating the company's procedures for processing complaints.
Koya

▶

Thank you very much. We will promptly respond to your suggestion.
Importance of Steadily Reducing Major Risks
Matsumoto

▶

I am in charge of procurement and keenly aware of the pressing need to address climate change in particular, in view of the summer heatwaves and frequent occurrence of abnormal weather and natural disasters we have been experiencing lately. The establishment of the NTT Group Global Sustainability Charter and NTT Group Guidelines for Sustainability in Supply Chain were mentioned earlier, and in response, NTT Communications is planning to revise its relevant guidelines. In the Procurement section, fulfilling diverse responsibilities that go beyond environmental and human rights issues should no longer be considered simply as our contribution to society; they should be viewed as our duty and responsibility. We trade directly with well over a thousand suppliers, but when we look at our suppliers as part of a single corporate entity that gives shape to NTT Communications' business, it is clear that we must also approach those companies that are further upstream. In our past efforts, there were cases in which supply chain data was not disclosed, so I expect this will be an uphill battle. We want to present the upcoming revisions not as an extension of the past, but as a new challenge. With that in mind, please advise us on how to approach our suppliers.
Kozuma

▶

NTT Communications is not the only company that has limited its response to supply chain risks to Tier 1 suppliers. As you have said, it is not easy to keep an eye on suppliers beyond Tier 1. The task involves moving down the chain to confirm the status of each supplier by combining the use of the contract and a covenant, but sometimes you never get to the mining source. What is important here is not to aim for zero risk, but to set the goal at reducing risks by 70%, for example. The pursuit of perfection is inevitably linked to rising costs. Risks can be easier to identify than you might expect. In the case of NTT Communications, you should seek cooperation from suppliers linked to the mining source for metals and start by mapping out major risks. You should then determine which suppliers can be controlled by taking what is known as a risk approach, allocating greater resources to high-risk suppliers and establishing regular risk assessments. That would be one effective method. You will only gain insight into ideal methods by working on this task. Due diligence is conducted not only on human rights but environmental issues as well. Today, it is common sense that doing nothing to address climate change, which may cause abnormal weather patterns, constitutes a violation of human rights.
Matsumoto

▶

We intend to follow Professor Kozuma's advice and pursue our efforts by placing higher priority on suppliers involved in large-sum transactions. We believe in the importance of initiating action and plan to approach suppliers as our teammates in business.
Kozuma

▶

NTT Communications is what is known as an intermediate parent company in that it is both a member of the NTT Group and a parent to subsidiaries that comprise its own Group. While major policies on procurement are determined by the parent company at the top, I imagine it would be impossible to meet all needs within the framework of that overall policy. As an intermediate parent company, designing its own detailed procedures and conducting due diligence based on a PDCA cycle may open the way to adopting the due diligence defense.
Helping Achieve Carbon Neutrality with Undaunted Determination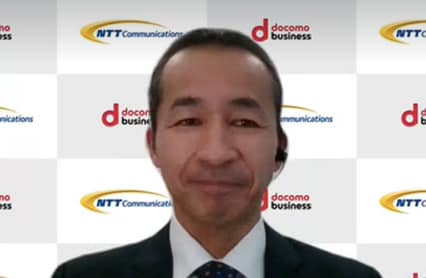 Matsumoto

▶

Another issue the NTT Communications Group simply cannot ignore is our initiatives for reducing CO2 emissions as the leading company in ICT infrastructure. At present, Scope 3 emissions account for around 80% to 90% of the Group's total emissions, and 70% of that is concentrated in upstream operations. Under our Eco Strategy 2030, we are focusing on reducing CO2 emissions generated by our supply chain by 15% from levels in fiscal 2018. So, the target is based on the same standards that earned the SBT 1.5°C designation for our parent company, Nippon Telegraph and Telephone Corporation. In that sense, the target complies with the Paris Agreement. However, at the moment we are applying the emissions factor (intensity) per supplier to calculate our upstream Scope 3 emissions. We must improve the accuracy of our data if we are to envisage a concrete pathway toward achieving a 15% reduction. I also think we should include the cost of environmental measures in our criteria for making procurement decisions.
Kozuma

▶

You are working on reducing your Scope 1 and 2 emissions by 15% under the SBT scheme, so you should stick to that. As for Scope 3, Category 11 (use of sold products) accounts for much of the emissions, and although it is difficult to control such downstream operations, they must be managed to achieve reductions in accordance with the Paris Agreement. Moreover, given recent global trends, companies will be expected to set even more ambitious targets for Scope 3 emissions. For example, the Net-Zero Asset Owner Alliance, an international initiative for realizing net-zero by 2050, claims that carbon neutrality cannot be achieved unless emissions are reduced by between 49% to 65% by fiscal 2030, which deviates significantly from the 15% reduction target. The year 2030 is by no means a distant future and should be recognized as a milestone on the way to achieving net-zero by 2050. If you have not set concrete targets for 2030, then that is an issue which must be addressed immediately. There are no excuses for doing otherwise, in a time when companies around the world are being required to comply with the Paris Agreement. While it would represent a next-best measure, you should also envisage the possible use of carbon offsetting schemes. That said, given NTT Communications' steadfast pursuit of its initiatives to date, I am confident that you will succeed once the proper procedures and targets have been established.
Matsumoto

▶

I believe that 2030 is an inflection point and that a 15% reduction will not be enough to achieve carbon neutrality beyond that point. With regard to Category 11 emissions under Scope 3, until now we have been disclosing the volume of CO2 emitted when customers use our network services such as OCN and VPN*1 or our SDPF*2 cloud services based on calculations using a certain logic. Work is now underway to revise this logic to further clarify the scope of our responsibility, and we will continue to disclose the results in our Sustainability Report. As for upstream emissions under Scopes 1 and 2, we revised our method of calculation from being based on the standard intensity of the Ministry of Environment to being based on the intensity of each supplier. Although issues remain in terms of ensuring accuracy, the revised method better reflects the efforts made by suppliers and encourages greater awareness of CO2 emissions in the procurement process. NTT Communications will review its commitment to comply with the Paris Agreement and implement concrete measures toward achieving its target.
Ando

▶

We have declared our intention of achieving carbon neutrality for Scopes 1 and 2 emissions in the Eco Strategy 2030 and the Sustainability Report. With regard to Scope 3 emissions, our preliminary calculations showed that a 15% reduction was the upper limit because achieving the target across the entire value chain would mostly depend on the efforts of other companies. We realize, however, that we must try harder, including efforts to attain the SBT. Breaking the existing paradigm is a stated goal of the NTT Group's Medium-Term Management Strategy, and accordingly we are promoting the IOWN concept as an innovation that will dramatically reduce power consumption. We hope to contribute to achieving carbon neutrality by also focusing our efforts on such technological innovations.
Urgent Need to Establish a System for Identifying the Company's Material Risks
Ando

▶

I expect new risks that companies must address in value chain management will continue to materialize in various domains in the years ahead. We should also expect a future trend in which the need to offer a more fundamental response to risks, including legislation, will expand, both in Japan and overseas, although the extent of such moves will vary depending on the domain. Given these circumstances, we should adopt a forward-looking approach to what lies ahead. We would welcome any suggestions or advice on issues we should pay particular attention to or prepare for, with respect to future developments and the necessary initiatives in risk domains that require a response from the perspective of value chain management.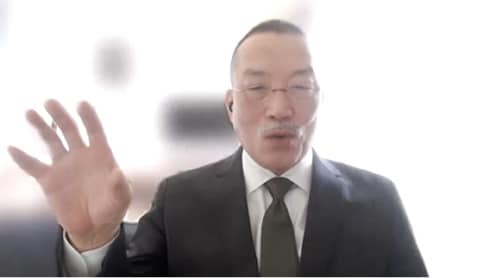 Kozuma▶ I think you are talking about how to prepare for an environment in which the advance of global legislation makes it impossible for companies to pursue business without conducting due diligence. With respect to human rights issues, every company had been acting voluntarily until now. The situation has progressed quite further in the EU, but even so, a third of the region's companies do not conduct due diligence. As a result, there are no signs that human rights violations have declined, and that is the fact. So, the purpose of legislation is to gain the compliance of every company. But such legislation would have been realized long ago if it were that easy. The length of time it is taking reflects the difficulty of applying human rights to the practical world of business. Over the years, the United Nations had consistently called for the creation of a legally binding treaty on human rights, but the EU had been opposed to legislating human rights due diligence all along. However, it has dramatically reversed its stance in the past few years as it becomes clear that the various policies for shifting to a sustainable society cannot be advanced without eliminating human rights violations. The same thing is about to occur in Japan. There is a need to change the past way of doing business because the old ways are no longer working, and some companies may feel the extra burden. For this reason, companies should adopt the approach of efficiently dealing with major risks. I recommend properly establishing internal rules and mechanisms to identify where the risks lie in your business model.
Ando

▶

Thank you for your advice. We hope to further promote our initiatives based on today's dialogue through the work of our Business Risk Management Committee, which will seek to identify and manage the material risks.
I would like to ask one more point with respect to developing the due diligence process. I think the basic idea is to keep an eye on future trends in risk domains that require a response in terms of value chain management, as each company endeavors to establish a system with specialized know-how on researching and analyzing the risks of each business partner along the value chain and implementing preventive measures, along with a system capable of accurately responding to requests for research from business partners. Under these systems, a company will implement due diligence as part of its risk management for the value chain. In doing so, I believe it is both important and necessary to keep in mind the many suggestions you have offered. Given this process, as we look ahead into the near future, I feel it might be better to come up with ways to mitigate some of the overlapping aspects of due diligence—for example, to advance initiatives throughout society more broadly, smoothly, and accurately. As we seek to more quickly realize our ultimate goal of attaining sustainability on this basis in the earliest possible future, are there any ongoing discussions regarding this point, for example in the EU, which has been considering and issuing announcements about legislation on human rights and environmental due diligence? Otherwise, are you aware of any discussions taking place with regard to improving the process?
Kozuma

▶

While I understand your concerns, we should work under the premise that we are currently going through a transitional phase. In terms of the current situation, it might appear as though a company must use its own resources to address issues, but I am certain that will not be the case. For example, should Japan decide to introduce legislation on due diligence, the government will take on the responsibility of oversight and move in the direction of gradually establishing compliance in a reasonable way. You mentioned how NTT Communications is striving to reduce CO2 emissions through major innovations such as the IOWN concept. I expect initiatives such as your own will be systematically incorporated into society and eventually lead to raising public awareness. If that is the case, it is hard to imagine that costs will continue to rise, and the risks themselves should generally decline over time. I do not expect all the SDGs would be achieved by 2030, but I do believe we will be closer to achieving them. Personally, I am not pessimistic about the future.
Ando

▶

Thank you. We believe in the importance of playing our role as a company toward creating a sustainable society by minimizing our negative impact on society and the global environment across the entire value chain while also seeking to strengthen the positive impact and effects of applying our business characteristics to our business activities and to co-creation with our partners. Lastly, I would like to seek your advice on what we should prepare for in pursuing our efforts and on any particular aspects we might be expected to address in these areas.
Kozuma

▶

The idea of positively impacting society through business has not gained much attention in the global community. The focus has been from the standpoint of reducing negative impacts, and there are no clear standards of how companies document their efforts. These aspects are extremely important, however, to Japanese companies. In that sense, I think there is a need to convey them to the world as Japanese virtues.
Koya

▶

Through today's dialogue, I was reminded yet again that engaging closely with our many stakeholders is the key. Thank you.
Matsumoto

▶

As a company spearheading digital transformation, we are playing the role of building the infrastructure for sharing information such as CO2 emissions data with our suppliers, and we also hope to use this infrastructure to lead the way toward building a sustainable world. I also believe we have a responsibility to demonstrate to our customers that introducing environmentally friendly products should not be viewed simply in terms of additional costs but rather as an investment in a better future and an added value.
Kozuma

▶

In fact, I have done some research on NTT Communications' efforts associated with supply chain management prior to this dialogue. As a result, I found that the company has been diligently addressing issues at a very detailed level, which assured me it was likely to handle any major challenges that come along. This dialogue has reinforced my view.
Ando

▶

We are grateful to the many valuable suggestions and advice you have shared with us today. The NTT Communications Group is committed to an all-out effort to enhance its value chain partnerships toward the creation of a sustainable future. Thank you very much for joining us.
*1: Virtual private network: A private network created by making use of public Internet connections.
*2: Smart data platform: A next-generation platform that seamlessly integrates dispersed corporate data and can turn data created from daily operations into an engine for corporate growth by organizing data to facilitate its use.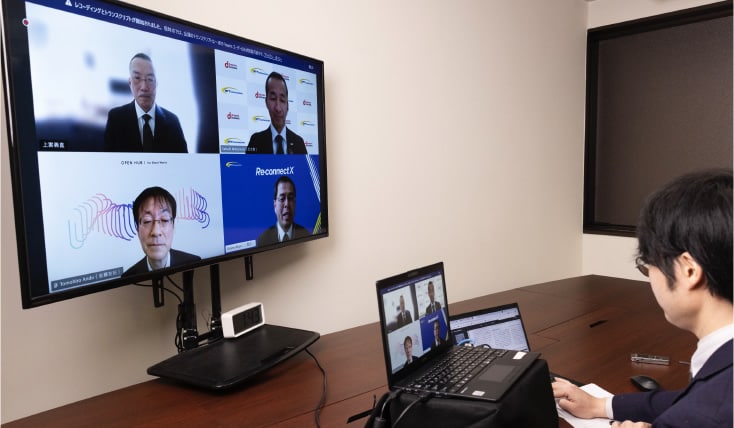 Facilitator: Ryosuke Kurosawa, SusTB communications Co., Ltd.
Profile of Professor Kozuma
Professor Kozuma is an expert in the fields of environmental accounting theory and international accounting theory. He is a leader in research, education, and instruction based on CSR trends in Japan and overseas and has contributed to enhancing CSR in Japan. He has held numerous public positions, including chairperson of the Ministry of the Environment's FY2016 study group for the formulation of environmental reporting guidelines and environmental accounting guidelines, chairperson of the FY2017 study group on revising the environmental reporting guidelines, and chairperson of the committee discussing the FY2018 manual for environmental reporting guidelines. He has authored many books, including Carbon Labelling for Visualizing CO2 Emissions (Chuokeizai-sha).