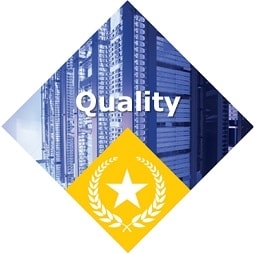 Facilities and Operations
All NTT Communications' data centers meet our globally consistent Data Center Standards and service quality.
NTT Communications' Data Center Standards* consist of more than 300 items. All of our facilities satisfy a rigorous in-house standards checklist. This ensures every data center provides the same high-quality services.
We also employ consistent operational procedures in all of our data centers around the world. Our reliable services are based on standards set by international certifications and operational best practive guidelines such as ISO and ITIL.
*Please see Nexcenter Standards tab for more details
Recognition and Awards
NTT Communications has received awards in recognition of outstanding quality of services.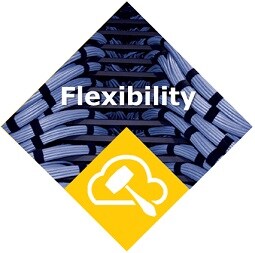 Global Network
Global seamless network and data centers around the world.
We have the world largest level of global data center and network services coverage.
In our data centers, various network services provided by multiple carriers are available. We also provide high-speed, high-capacity Global IP Network service, and high-quality, reliable VPN network service, Arcstar Universal One, in 190+ countries/regions backed with a low-latency global submarine cable system.
Flexible Configurations Deplyments
Diverse customized menu of operation services.
We fully support customers' business operations through flexible facility design and technological capabilities including private suites, highly sophisticated security equipment, remote hands service, and server management.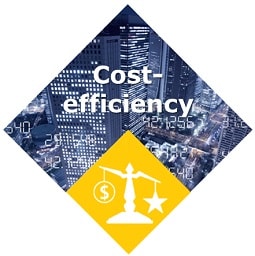 Reduced Construction and Power Cost
Our NTT-designed, NTT-constructed data centers lower costs of construction and energy while elevating performance.
Our space-saving, energy-saving design takes advantage of state-of-the-art technologies to realize cost reductions in building/facility construction and electricity bills. Advanced technologies include free cooling system, cooling wall air-conditioning system, HVDC power, and more.
Reduced System Administration Costs
Optimized business portal and DCIM to make customers' business process more efficient.
Our business portal offers function-rich such as data center access application and the system monitoring.
DCIM (Data Center Infrastructure Management) system allows customers to visualize their colocation room temperature and humidity, and complete management control of racks. In effect, customers can increase operations efficiency, and save money.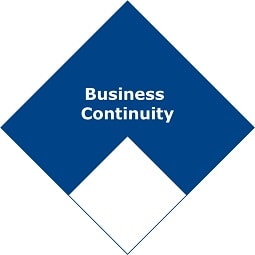 Full Measures for Disaster Recovery
Our disaster recovery services are designed to mitigate natural disasters or human error, effectively reducing impact to customers' system and business operations.
High Availability with Redundant Facilities
The world's top SLA for power availability, refundant power supply, air-conditioning, and network facilities ensures your system is stable and minimizes downtime.
Financial Stability
NTT is awarded annually woth a data center top credit rating reflecting our financial stability. As a result, there is much less risk to affect customers' operations into the future.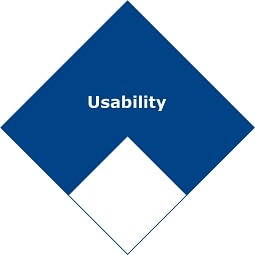 Global Footprint
With our data centers in major cities of over 20 countries/regions ensuring customers optimum business expansion, whenever and wherever.
Safe Operations
Customers can trust our data cenres to outsource their ICT assets which are protected with strong logical and physical security, and reliable well-disciplined operations.
Flexible Solutions
Customization is available for facilities, operations, and billing systems to optimize customers' complete solution.
One-stop Management by Portal Site
Our online function-rich portal is a window for customers to efficiently apply for data center access and monitor their system environment.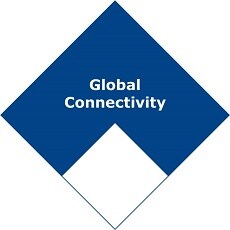 Low-Latency and Broadband Network
Our network provide low-latency and broadband data communications among data centers in major cities, customer premises. and cloud service sites.

Deployable Efficient ICT Resources
By using our Global IP Network, VPN, large-capacity colocation interconnectivity network, and Flexible InterConnect, customers can backup data, flexibly expand the system, and seamlessly link with cloud services.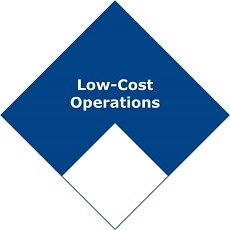 Low Priced Power with Advanced Energy-Saving Facilities
Employing state-of-the-art, highly-efficient, energy-saving facilities, high-quality power can be available at low-cost.
High-Density Power Racks
Customers can achieve higher IT performance per rack by deploying more servers in less space with our high efficient facilities.
Our Data Centers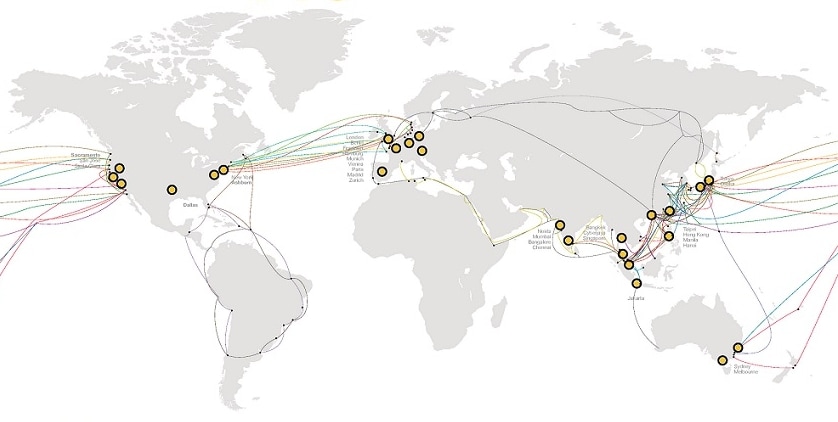 Nexcenter Standards
Nexcenter provides the high-quality data center service to meet more than 300 items of Nexcenter globally consistent data center standards.
Location
In choosing ideal sites for data centers, NTT Communications evaluates numerous environmental factors including natural disaster risks, power supply and transportation accessibility.
Power
More than N+1 redundancy and skilled operators ensure reliable operation (with the exception of certain data centers).


Power Receiving
Dual Path

Generator
Redundant configuration with N+1 or 2N.

UPS
Redundant configuration with N+1 or 2N

Power Provision
Dual power feeds from different PDUs
Air-conditioning
Deploying highly efficient cooling systems specifically for ICT equipment with N+1 or 2N redundancy.
Set temperature and humidity values are compliant with ASHRAE TC 9.9.

Fire Protection
Early warning smoke detection system and gas suppression systems are installed.


Security
Monitoring cameras and NTT Communications standardized security policy, which is compliant with ISO 27001 or ISAE3402/SSAE16, are in place to ensure paramount security practices.

Connectivity
Large-bandwidth connectivity between data centers is available through NTT Communications strong network backbone.

Also available are seamless bundle solutions, comprised of various network services.

Connectivity service is provided to major carriers in the world, which offers more customer [Carrier neutral or Multiple carriers] options.
Standard Rack
19 inch, full size, lockable racks are available (TIA/EIA-310-D Cabinets) or customer-owned racks may be used.

Operation
Our standardized service menu is compliant with NTT Communications Operation Standards. Operations are quality checked intermittently.


Service Desk
24/7 bilingual support (English and local language)

Remote Hands
Troubleshooting
Scheduled maintenance
Install/ Mounting
Other
Certification: Compliant with ISO 27001 or ISAE3402/SSAE18, PCIDSS

Carbon-neutral Initiatives
Sustainable Data Centers for Decarbonization
NTT Group is accelerating decarbonization efforts based on "NTT Green Innovation toward 2040. One of the goals is to achieve carbon neutrality in data centers and mobile by 2030, reduce greenhouse gas emissions by 80%, and achieve company-wide carbon neutrality by 2040. NTT Com is actively striving to achieve these goals by not only introducing high-efficiency, energy-saving equipment throughout its telecommunications infrastructure and data centers, but also expanding the use of renewable energy sources that do not emit CO2.
Reduction of data center construction and power costs
Improved construction and energy costs and cost performance through design and construction that combine in-house expertise

Highly efficient and space-saving/energy-saving design utilizing state-of-the-art technologies such as indirect evaporative cooling air conditioning, cooling wall type air conditioning, and airflow management in the server room, reduce building facility construction costs and electricity costs.
Promotion of renewable energy

In our data centers, we are promoting the use of renewable energy sources that can reduce greenhouse gas emissions. By specifying renewable energy for the electricity supplied to customers' ICT equipment at some of our data centers, we offer the combined "environmental value" of zero CO2 (carbon dioxide) emissions. This enables customers to comply with RE100 and other international environmental initiatives and promote customers' ESG management toward decarbonization.
Substantial renewable energy has already been implemented in the following data centers:
・Yokohama 1 data center
・Saitama 1 data center
*Listed only the purpose-built data centers, however, it is also being implemented in some of our network buildings (such as Osaka 1 and Fukuoka)

Customers can choose the type of renewable energy in the following data centers as option:
・Yokohama 1 data center
・Saitama 1 data center
・Tokyo 5 data center
・Tokyo 8 data center
・Tokyo 11 data center
*Kindly see our press release for more details regarding renewable energy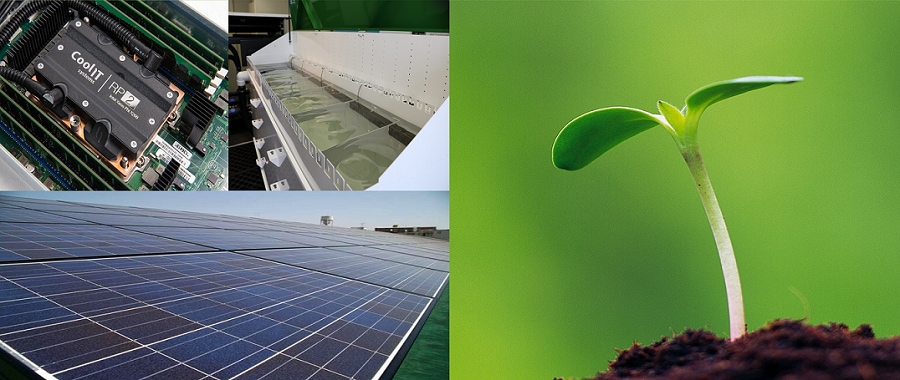 Related information