NTT Com launches "Green Program for Employee" app visualizing CO2 amounts emitted from daily life and encouraging eco-action
— First introduced within NTT Com to raise environmental awareness among employees and contribute to the realization of a sustainable society —
TOKYO, JAPAN, October 17, 2022— NTT Communications Corporation (NTT Com), the ICT solutions and international communications business within the NTT group, today announced its "Green Program for Employee" web application, which visualizes the amount of CO2 emitted in daily life and encourages eco-action (leading to CO2 emissions reduction). The app will be rolled out from November 2022. The knowledge gained from the introduction of the "Green Program for Employee" app within NTT Com will be utilized in the development of future GX (Green Transformation) solutions, and it will also be provided to clients, thereby contributing to the realization of carbon neutrality in society as a whole.
"Green Program for Employee" app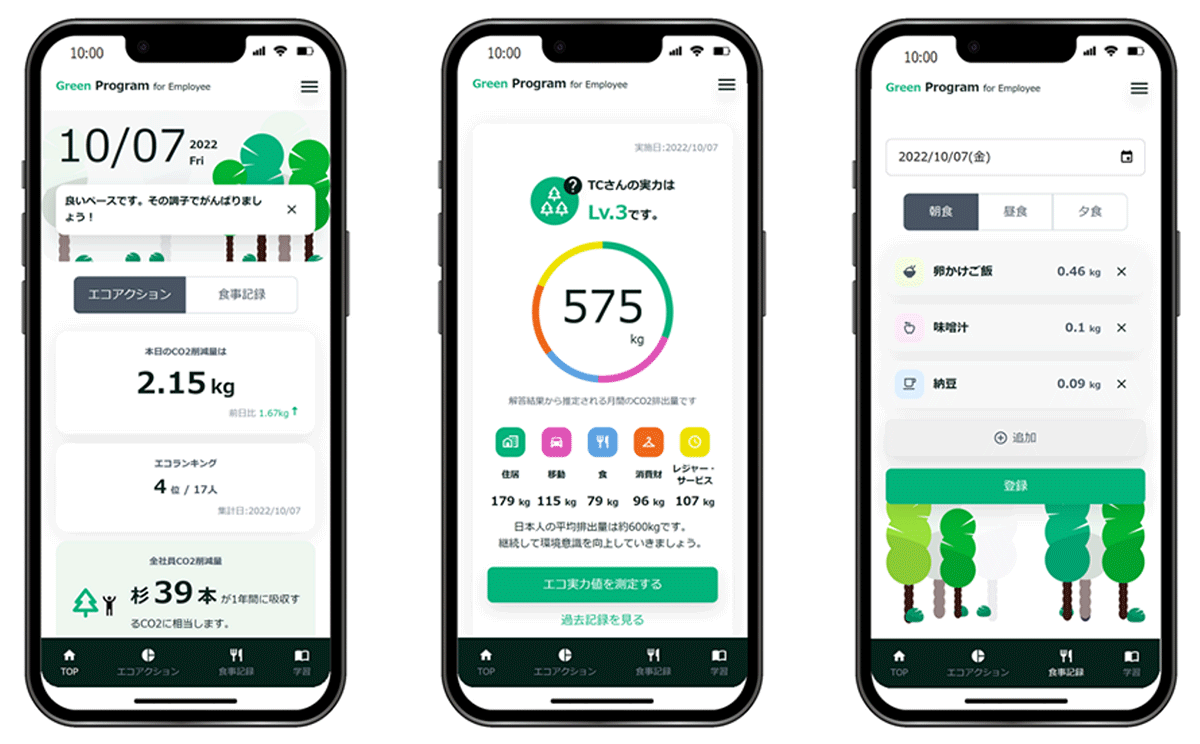 NTT Com has designed the "Green Program for Employee" as a solution to help reduce CO2 emissions by promoting eco-action among employees. NTT Com itself will first roll out the app to some 25,000 employees of the Group to raise environmental awareness and encourage behavioral changes.
The "Green Program for Employee" app was developed under the supervision of the Sustainable Management Promotion Organization (SuMPO), which aims to encourage users to change their behavior by visualizing the amount of CO2 emitted from daily activities. The features of the app are as follows:
Functions for employees of companies that introduce the system
(1) Recognizing the current status of their own behavior
By regularly collecting surveys that measure employees' environmental awareness, the system can measure changes in environmental awareness and enable fixed-point observation of users' eco-performance values.
(2) Visualization of CO2 reduction effects from daily eco-action
The system visualizes changes in CO2 amounts emitted by daily food menu choices and environmentally friendly eco-action and allows users to experience changes in CO2 emissions from their daily life records.
It is also possible for users to check their own CO2 reduction ranking within the company.
(3) Acquiring knowledge about the environment while having fun
Through eco-quizzes and useful information related to environmental issues, employees can gain awareness of ways to reduce their environmental impact.
Functions for administrators of companies that introduce the system
(1) Analysis and utilization of sustainability data
The system analyzes data on employee application usage and eco-consciousness and uses this information to consider new environmental measures for staff and to develop environmentally friendly products and services.
(2) Development of measures to increase employee motivation
By announcing the ranking of organizations that have reduced CO2 emissions through eco-action and also announcing the status of target achievement by employees as a whole, the system will motivate employees to continue taking action.
(3) Information provision function for employees
Compiling data on both internal and external environmental impacts, such as world news about the environment, internal paper and water consumption, and waste generation, is aimed at promoting employee understanding of the environmental impacts of the company and society.
Reference: "Green Program for Employee" (video link)
https://players.brightcove.net/5668750164001/By9EPnvWG_default/index.html?videoId=6313725501112
The internal implementation at NTT Com is slated to take place over a three-month period beginning in November 2022. By highlighting case studies of NTT Com's implementation, we will accumulate information such as implementation effects and operational know-how that will be useful for clients and for operational support. Feedback from NTT Com employees about the system will be used to enhance future functions and improve the UI.
In addition to UI improvements based on feedback from NTT Com staff and clients who have implemented the system in advance, we will consider linking the system to "business d-accounts" and providing a function that allows employees to purchase carbon credits in response to their eco-actions. NTT Com will also provide GX solutions in various areas such as carbon credits and the circular economy to contribute to the realization of carbon neutrality for society as a whole.
This initiative will be introduced at the "docomo business Forum'22," a hybrid of real and online venues to be held from Tuesday, October 18 to Friday, October 21, 2022.
Please visit https://www.ntt.com/business/go-event/ex_30.html from the list of exhibits on the screen after logging in.
Official website: https://www.ntt.com/business/go-event.html
The online venue will be available 24 hours a day, 7 days a week after 9:00 a.m. on Tuesday, October 18. (JST)
Participation fee: Free of charge.
How to participate: Please register in advance at the registration page on the special website.
In recent years, against the backdrop of growing social demand for GX/ESG, it has become essential for society, companies, and consumers to work together to change their values and behavior. NTT Com is also promoting GX based on the two axes of "Green of ICT" (NTT Com's decarbonization) and "Green by ICT" (decarbonization of society and clients) in order to achieve the government's goal of carbon neutrality by 2050.
NTT DOCOMO, NTT Com and NTT COMWARE have integrated their enterprise businesses under the new DOCOMO group and its "docomo business" brand. The group, guided by its Mobile Cloud First strategy, strives to deliver innovative solutions for society and industry through collaboration with enterprise clients and partners under the slogan "Changing worlds with you."
NTT Com collaborates with clients and partners to co-create value, both for today and for post-COVID society, based on its Re-connect X™ business vision of reconnecting everything ("X") in society and industry with mobile and fixed-line convergence services and solutions for a more sustainable world.
About NTT Communications
NTT Communications solves global technology challenges by helping enterprises utilize managed IT-infrastructure solutions to overcome complexity and risk in their IT environments. These solutions are backed by our worldwide infrastructure, including industry-leading, global tier-1 public and private networks reaching over 190 countries/regions, and more than 500,000m2 of the world's most advanced data-center facilities. As the core provider of the DOCOMO group's enterprise-business services and solutions, we create value by providing global-scale support for restructuring in industry and society, new workstyles and digital transformation in communities. Together with NTT Ltd., NTT Data and NTT DOCOMO, we are the NTT Group.
www.ntt.com | Twitter@NTT Com | Facebook@NTT Com