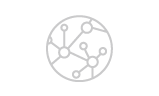 IoT Platform
A one-stop packaged service to solve our customers' problems
IoT infrastructure will be provided by packaged, ready to go solution, including devices to data collecting/analysis software platform, giving customers a jump start in this technology.
A way to start using IoT with low initial cost
Customers will be able to start small with IoT, and scale up later in line and grow with their own business expansion.
Our services can be used with confidence all over the world
NTT Communications has deployed private networks and private cloud services globally, offering the high security levels that only a communications carrier can deliver. We keep our customers' data safe and support their global business operations at the same time.
This Page will be closed by June 30th, 2023.