NTT Com develops basic network edge technology for connected vehicles and robots
— Providing "Network Edge Solution" with functions required for "mobile IoT devices" —
TOKYO, JAPAN, October 18, 2022— NTT Communications Corporation (NTT Com), the ICT solutions and international communications business within the NTT group, announced today its development of the basic technology to adapt edge computing1, a promising technology for accelerating data processing in IoT devices, to "mobile IoT devices" such as connected vehicles and robots. The "Network Edge Solution" incorporating this basic technology will be made available sequentially starting in December 20222, and NTT Com is looking for clients who can actually demonstrate this solution at their business sites. It plans to enhance the functions based on feedback from clients who participated in the demonstration and the results of hearings on functions in high demand. Full-scale services will be provided in FY2023 as a new service to improve the performance of such mobile IoT devices.
This solution is realized by utilizing network edge technology, which enables edge computing at multiple locations in the vicinity of the mobile network (hereafter referred to as "edge locations"3) for the functions required by mobile IoT devices. For example, in a connected vehicle, the operating status is not uniform, and as movement occurs over a wide area, a variety of data must be processed, including sensor and location information sent from the large number of vehicles circulating. This solution, however, enables multiple edge locations to cooperate with each other to achieve mass connectivity and distributed processing of large amounts of data, making it possible to adapt to the connected vehicle. In addition, this solution provides individual functions using microservice architectures4, allowing clients to select and utilize the functions they need according to their environment, such as on-premises or cloud computing.
Specific individual functions are as follows:
(1) Wide-area distributed message-queuing function
This function enables data communication in response to the startup and shutdown of IoT devices, changes in the communication environment, and movement over a wide area. Data buffering5 and data communication between edge locations are performed to cope with changes in the communication environment for mobile IoT devices and their movement over wide areas. By temporarily holding data at edge locations and propagating data among edge locations as needed, data can be sent from nearby edge locations as soon as the mobile IoT devices are ready to receive data. This eliminates the need for the customer's system to manage the status of IoT devices and retransmit data in accordance with the timing of their startup.
(2) Dispatcher function
This function facilitates multi-cloud6 utilization, reducing costs and improving reliability. When mobile IoT devices are directly linked to cloud services, it is necessary to individually configure authentication information and communication destinations for all devices in order to operate in a multi-cloud environment. By integrating cloud service integration functions into this solution, edge locations can serve as hubs for endpoints, enabling a multi-cloud architecture with flexible data distribution. In addition, by combining with NTT Com's "Flexible InterConnect"7 interconnect service, it is possible to connect to each cloud service in a closed area at a low cost, enabling a more secure system architecture.
(3) Communication termination and authentication function
This function provides data protection through authentication and communication encryption using mutual TLS8 (mTLS). IoT devices generally have difficulty in authenticating clients using IDs/passwords, etc. Therefore, mTLS, which authenticates both clients and servers using certificates, is effective in protecting highly confidential data from cyber-attacks such as spoofing and man-in-the-middle attacks9. In this solution, the network edge that terminates communication with mobile IoT devices supports mTLS, making it possible to easily implement security measures.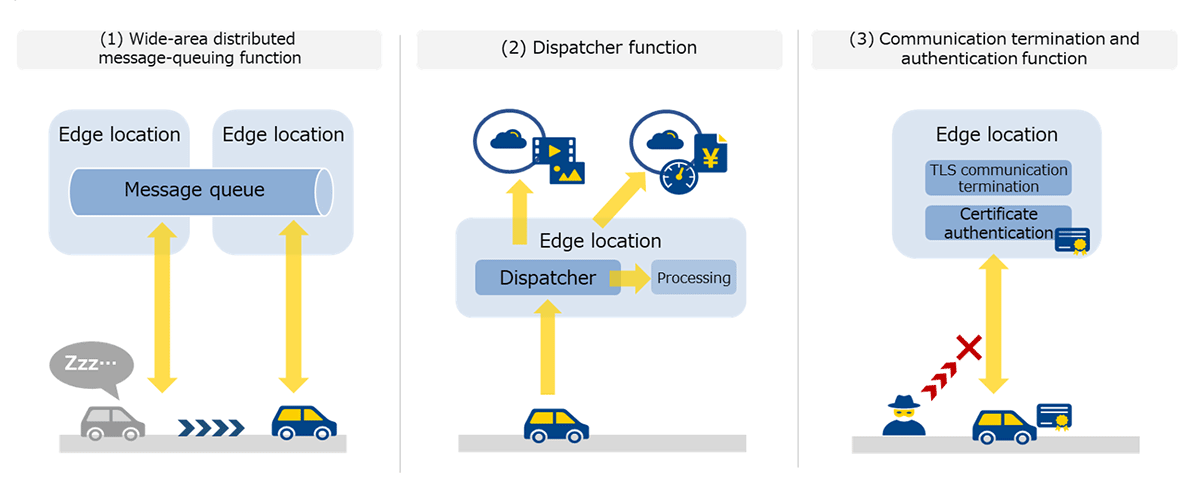 For information on how to apply for this solution, please contact your sales representative.
Through feedback from clients who have participated in the trial and by listening to their needs, we aim to enhance the functions and roll out the service by the end of FY2023. In the future, as well as the edge locations and server infrastructure, we will provide a service that integrates operations, and through linkage with services such as "docomo MEC"10 and "Smart Data Platform,"11 we can provide the network, data collection, storage, and analysis functions required by mobile IoT devices in a centralized manner. Through the utilization of data obtained from mobile IoT devices, our goal is to provide new value and contribute to the realization of the digital transformation in both society and industry.
This initiative will be introduced at the "docomo business Forum'22," a hybrid of real and online venues to be held from Tuesday, October 18 to Friday, October 21, 2022.
Please visit "platform for mobile IoT (NW edge functions, remote control/information gathering)" from the list of exhibits on the screen after logging in.
Official website: https://www.ntt.com/business/go-event.html
The online venue will be available 24 hours a day, 7 days a week after 9:00 a.m. on Tuesday, October 18. (JST)
Participation fee: Free of charge.
How to participate: Please register in advance at the registration page on the special website.
In recent years, with the development of devices and faster networks such as 5G, the IoT is being utilized in all industries, and as more data is required to be processed at higher speeds, there is a growing focus on edge computing, which processes data closer to IoT devices. In addition, the application of edge computing to mobile IoT devices such as connected vehicles and robots requires support for diverse communication environments and wide-area mobility. NTT Com has been working since FY2018 to develop edge computing technology for the mobile IoT devices use case, and now that the development of this basic technology has been completed, NTT Com will begin providing clients with "Network Edge Solutions" that incorporate this basic technology in advance.
NTT DOCOMO, NTT Com, and NTT COMWARE have integrated enterprise businesses as the New DOCOMO Group and are developing the "docomo business" corporate brand. We aim to innovate society and industry with "Mobile and Cloud First" and will be "changing worlds with you," incorporating with all enterprise customers and partners. Based on our business strategy "Re-connect X™," NTT Com will define new value in the With/After Corona era through co-creation with customers and partners, and "reconnect" society and industry with converged mobile and fixed-line services and solutions. Our goal is to contribute to a sustainable future.
NTT DOCOMO, NTT Com and NTT COMWARE have integrated their enterprise businesses under the new DOCOMO group and its "docomo business" brand. The group, guided by its Mobile Cloud First strategy, strives to deliver innovative solutions for society and industry through collaboration with enterprise clients and partners under the slogan "Changing worlds with you."
NTT Com collaborates with clients and partners to co-create value, both for today and for post-COVID society, based on its Re-connect X™ business vision of reconnecting everything ("X") in society and industry with mobile and fixed-line convergence services and solutions for a more sustainable world.
1: Edge computing refers to solutions that facilitate data processing at or near the source of the data (edge environment).
2: Starting in December 2022, NTT Com will begin providing development functions in phases. Target protocols and functional extensions for each individual function will be implemented sequentially to expand the functions offered.
3: Edge locations are locations where computing resources for data generation and data processing are located in the vicinity of IoT devices; they terminate the network and data of IoT devices.
4: Microservices architecture is one approach to software architecture that, unlike traditional monolithic architectures, combines multiple small independent services to form a single service or software.
5: Data buffering is the temporary storage of data to compensate for differences in processing and transfer rates that occur when data is exchanged between multiple devices and processes, and to respond to interruptions in processing.
6: Multi-cloud is a form of operation in which multiple cloud services are combined to create an optimal environment. By implementing multi-cloud, it is possible to implement system redundancy, DR measures, and avoid vendor lock-in.
7: Flexible InterConnect is a next-generation interconnect service that provides a closed and secure connection between client's locations and the various cloud services and data centers used by clients.
8: Mutual TLS is a mutual client-server authentication scheme using digital certificates and is one of the extensions to TLS. In general, in a TLS authentication scheme, the client authenticates the server, but, in addition, the server authenticates the client to ensure that traffic in both directions is secure and trustworthy.
9: A man-in-the-middle attack is an attack in which a third party enters communications between two parties and steals or rewrites the contents of the communications.
10: docomo MEC is the first MEC service in Japan that expands the possibilities of 5G, enabling the creation of cutting-edge solutions that make the remote more real and the real more enjoyable and comfortable through MEC, taking full advantage of 5G features.
11: The Smart Data Platform enables enterprise customers to accelerate their digital transformations with one-stop functions for data collection, storage, management and analysis as well as infrastructure.
About NTT Communications
NTT Communications solves global technology challenges by helping enterprises utilize managed IT-infrastructure solutions to overcome complexity and risk in their IT environments. These solutions are backed by our worldwide infrastructure, including industry-leading, global tier-1 public and private networks reaching over 190 countries/regions, and more than 500,000m2 of the world's most advanced data-center facilities. As the core provider of the DOCOMO group's enterprise-business services and solutions, we create value by providing global-scale support for restructuring in industry and society, new workstyles and digital transformation in communities. Together with NTT Ltd., NTT Data and NTT DOCOMO, we are the NTT Group.
www.ntt.com | Twitter@NTT Com | Facebook@NTT Com
---
Appendix
About Network Edge Technology
Network edge technology distributes the locations to which "mobile IoT devices" are connected to multiple locations in the vicinity of the network (hereinafter referred to as "edge locations") to perform data propagation and primary processing. This enables data processing to be distributed across multiple locations, thereby avoiding the slowdown in processing speed caused by data concentration, improving real-time processing, reducing data transfer volume through local production for local consumption, and enabling data utilization that is closed to the required region. The main features are as follows:
(1) Effective processing distribution of large numbers of connections and large amounts of data
Distributed processing can be performed at multiple edge locations to handle an increase in the number of connections and the volume of data.
(2) Realizing regionally closed data processing and low-latency processing
Data analysis and processing can be performed in neighboring edge locations, thereby limiting the scope of data use and protecting personal data through masking. Processing at nearby edge locations also reduces network latency, making it possible to respond to use cases that require immediacy.
(3) Reduction of unnecessary data and processing linkage to multiple services
By aggregating data sent from mobile IoT devices at the edge locations and carefully examining the data, it is possible to sort the data according to its purpose and deliver only the necessary data to the client's system or cloud service, thereby reducing the burden on the client's system or cloud service.