Structure for Promoting and
Managing Sustainability
Sustainability Promotion Structure
The NTT Communications Group promotes CSR initiatives through the CSR Committee. Chaired by the executive vice president in charge of CSR, the committee is responsible for establishing a structure for implementing management initiatives from economic, environmental, and social perspectives. Under this committee, we have set up the Environmental Protection Subcommittee. Matters reported to and discussed by the committee, including important information related to social or environmental risks, are shared with the Board of Directors as needed. Starting in fiscal 2021, the CSR Committee will meet twice a year, while the promotion structure has been enhanced from the standpoint of strengthening Group management by calling for the attendance of the presidents of Group companies, instead of the vice presidents of planning, who had participated in the past.
The CSR Committee will also collaborate with other committees, including the Compliance Committee, Business Risk Management Committee, Human Rights Committee, and Security Committee. Under this structure, it will promote initiatives based on the new Sustainability Policy.
◆

Sustainability Promotion Structure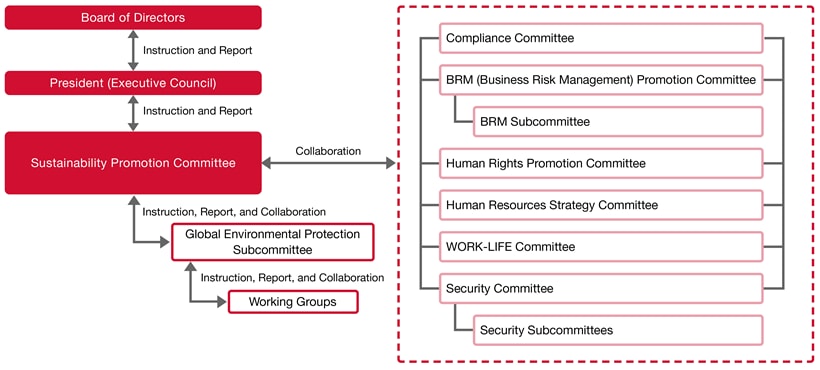 ◆

CSR Committee Members

Promoting Management
To effectively engage in CSR activities, we created and consistently applied a mechanism for verifying and evaluating the results of our activities. Specifically, we designate CSR indicators (KPIs) that serve as targets for the CSR Priority Activities for each fiscal year. We verify, evaluate, and review the level of achievement regarding each KPI as a reference point when setting the indicators for the next fiscal year. By following this PDCA cycle, we ensure the effectiveness of our CSR management for appropriately engaging in CSR activities. The CSR Committee implements these processes, which include reviewing the KPIs for each fiscal year as well as reconsidering the Fundamental CSR Policy and priority issues. Accordingly, in May 2021, the committee revised the Fundamental CSR Policy and established the Sustainability Policy. In the years ahead, the CSR Committee will adhere to this new Sustainability Policy and monitor the status of activities in the four Priority Areas of society, the environment, human resources, and governance in a timely manner and in cooperation with each organization responsible for the main initiatives. We will share the evaluation results for initiatives based on the new KPIs, the latest social trends, examples of model initiatives by other companies, and external evaluations and follow the PDCA cycle to pursue sustainability management and promote the NTT Communications Group's initiatives for effectively realizing a sustainable future.