Materiality and KPIs
Designation of New Sustainability Priority Activities and KPIs
To become a corporate group that creates a sustainable future, the NTT Communications Group identified its materiality based on the process outlined below to formulate its Sustainability Policy and subsequently revised its Priority Activities. In doing so, we paid due consideration to public demands and expectations for addressing climate change and other issues related to the SDGs and ESG, the NTT Group's business strategies and initiatives, and various trends in Japan and overseas. As shown in the diagram entitled Sustainability Priority Activities Identified by the Process, at bottom right, our new Priority Activities consist of 12 divided into the four Priority Areas of society, the environment, human resources, and governance. From here on, the NTT Communications Group will engage in sustainability activities that align with these Priority Activities.
STEP1

Examine the Issues

Using international guidelines and initiatives and external evaluation indices as a reference, we examined social issues and identified 36 items.

External evaluation indices: DJSI, FTSE, MSCI, EcoVadis, etc.
International guidelines: GRI standard, ISO 26000
International initiatives: UNGC, SDGs, etc.
STEP2

Prioritize

Priority Activities adopted up to fiscal 2020 were categorized into items that remained significant and items deemed highly important to the Company's business. These were then integrated and condensed into 28 items prioritized based on the twin axes of expectations from stakeholders and the magnitude and significance of the economic, environmental, and social impact of business activities for the NTT Communications Group.
STEP3

Designate Priority Activities

Comprehensive consideration was based on Our Mission and business strategies, initiatives of the NTT Group, and various internal and overseas trends. Interviews with relevant departments were held before comprehensively designating 12 items as the new Priority Activities.
STEP4

Designate KPIs

The Main Initiatives and KPIs were considered for each Priority Activity from such perspectives as social trends, contributions to achieving the SDGs, and links with KPIs adopted by the NTT Group through discussions with the relevant departments,and they were designated following confirmation of their validity by the CSR Committee.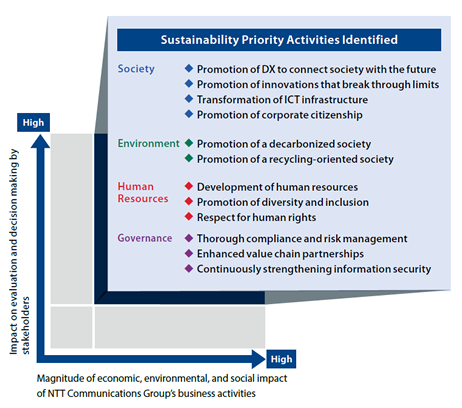 Main Initiatives and KPIs
We designated the Main Initiatives and KPIs for each Priority Activity and applied a PDCA cycle under the leadership of the responsible departments. The Main Initiatives and KPIs are discussed by the CSR Committee, convened twice a year, and revised as needed to reflect trends related to society and stakeholders. We are now preparing to reflect the level of achievement for certain KPIs in executive compensation. In addition, we will promote green electricity and initiatives for reducing power consumption toward realizing carbon neutrality* by reducing CO2 emissions generated by our operations, such as data centers and networks, to zero by fiscal 2030.

Our Vision of the Future
We envision a better future characterized by innovation, vitality, resilience,safety,
and security, in which sustainable development is achieved through value creation.

Priority Activities
Main Initiatives
KPIs
Promotion of DX to connect society with the future
Promote DX in society and industry

・Promote Smart World projects based on BBX strategy

・Number of service projects: 8

Promote DX in workstyles and lifestyles
Promote DX in global business
Promotion of innovations that break through boundaries
Generate creative innovations

・Promote creative and innovative SmartX projects

Promote innovation management

・Promote unique innovations in collaboration with internal and external members

Transformation of ICT infrastructure
Enhance network infrastructures that are resilient against natural disaster, highly reliable, safe, and secure

・Assess the vulnerability level of existing routes and incorporate results in an upgraded policy for nationwide DSM (dedicated service handling module) cables

・Promptly secure redundancy for critical connections in the event of a disaster

・Construct networks less susceptible to disruptions in the event of a disaster

・Reinforce security of the internal surveillance network

Provide advanced and robust information and cyber security

・Develop security services and add a menu (2 cases)

Provide advanced and flexible network services

・Promote advanced projects including those related to edge computing, drones, and local 5G (2 projects)

Promotion of corporate citizenship
Promote social contribution activities that are beneficial to a sustainable future

・Participate in activities that contribute to local communities (year-on-year increase)

Our Vision of the Future
We envision an eco-friendly future characterized by carbon neutrality, resource recycling,
and harmonious coexistence with nature based on the preservation of biodiversity.

Priority Activities
Main Initiatives
KPIs
Promotion of a decarbonized society
Promote the use of green electricity

・Percentage of internal renewable energy use:50% or more in FY2030

・Reduce CO2 emissions (down 50% in FY2030 compared to FY2018)

Reduce power consumption
Introduce electric vehicles (EVs)

・Percentages of EVs in fleet: 50% by FY2024, 100% by FY2030

Provide services that help reduce CO2 emissions

・Power efficiency in our telecommunications businesses (at least 10 times better in FY2030 than in FY2013)

Improve energy efficiency

・Contribute to reducing CO2 emissions across society (reduce more than 10 times the emissions of the NTT Communications Group in FY2030)

Promotion of a recycling-oriented society
Thoroughly implement the 3Rs (reduce, recycle, and reuse)

・Final waste disposal ratio: 1.5% or less in FY2030

Promote the recycling of plastics
* Reductions are targeted at Scope 1 (direct greenhouse gas emissions by the Company) and Scope 2 (indirect emissions associated with the use of purchased electricity, heat, or steam) emissions under the Greenhouse Gas Protocol.

Our Vision of the Future
We envision a future rich in diversity based on mutual respect and enhancement,
where everyone can shine in their own way and play a role in society.

Priority Activities
Main Initiatives
KPIs
Development of human resources
・Disseminate recognition and promote a new human resource development program
・Enhance skills enhancement support programs

・Educational costs per person: 228,000 yen per year

Promotion of diversity and inclusion
・Promote hiring, development, assignment, and equal opportunities for diverse human resources

・Percentage of women in managerial positions: 10% in FY2025

・Percentage of men taking childcare leave: 25% in FY2025

・Percentage of employees with disabilities: 2.3%

・Promote work-life balance

・Employee job satisfaction (higher than in previous fiscal year)

・Percentage of digitization of business forms: 70%

・Percentage of employees working from home: 70%

・Thoroughly implement occupational safety and health and health management for employees

・Percentages of employees receiving special health guidance: 16.5% in FY2021, 14.5% in FY2023

・Percentages of special health guidance completed: 43% in FY2021, 55% in FY2023

Respect for human rights
・Proactively promote activities for human rights education

・Attendance of human rights training (higher than in previous fiscal year)

・Human rights due diligence (more than once a year)

・Human rights violations: 0 cases

Our Vision of the Future
We envision a future in which the Company is trusted for its lofty ethics
and solid governance and develops a sustainable society for the future
based on diverse co-creation.

Priority Activities
Main Initiatives
KPIs
Thorough compliance and risk management
Continuously enhance initiatives on compliance

・Implement compliance training and foster awareness of risk management

Continuously upgrade the risk management structure

・Promote Companywide risk management

Enhanced value chain partnerships
Collaborate with suppliers to ensure thorough CSR and green procurement

・Response to CSR survey: 100%

・Checks on procurement status of high-risk suppliers (100%)

・Corrective response to suppliers associated with risk (100%)

Enhance stakeholder engagement

・Hold stakeholder dialogues and respond to requests

Continuously strengthen information security
Continuously reinforce security management

・Conduct system audits and information security audits, implement security measures, and enhance the management structure

・Number of serious security incidents: 0

Develop security specialists

・Develop security specialists skilled in both information technology and operational technology (30 per year)

・Number of specialists with the level 3 qualification in ODYSSEY security category, or higher: more than 200 in total in FY2024

Appropriately manage personal information

・Serious incidents of personal information leakage: 0 cases
*In principle, indicators without a target fiscal year signify single-year targets that should be attained by the end of fiscal 2021.