NTT Com Launches Trial of "Brain Health Check Plus" Service
Features a 6-minute interaction by phone that can help identify symptoms of cognitive decline dementia
TOKYO, JAPAN, September 21, 2023—NTT Communications Corporation (NTT Com), the ICT solutions and international communications business within the NTT group, announced today that it has launched a trial of "Brain Health Check Plus",1 a dial-up navigation service that uses AI functionality to detect early signs of cognitive decline. The trial of the service, for which a charge will be made, commenced on September 21, 2023, coinciding with World Alzheimer's Day. The concept behind this initiative is to help create a society where fewer individuals, families and companies experience the anxiety or inconvenience dementia can cause.
While "Brain Health Check Plus" is planned to be a corporate service in the future, a dedicated number will be provided for private individual use during the trial. "Brain Health Check Plus" will be provided via a NaviDial service2 which is available only within Japan, and a charge will be made for all calls.
"Brain Health Check Plus" monitors cognitive functions utilizing "M-KENSA" AI technology, which was jointly developed by NTT Com and Nippontect Systems Co., Ltd. By assessing factors such as pauses and voice pitch during responses, time orientation,3 immediate memory, and working memory,4 it provides a more in-depth five-stage assessment of cognitive functions than the existing toll-free "Brain Health Check Free Dial" service, which has been on trial since September 21, 2022. This enables the identification of individuals at risk of cognitive decline.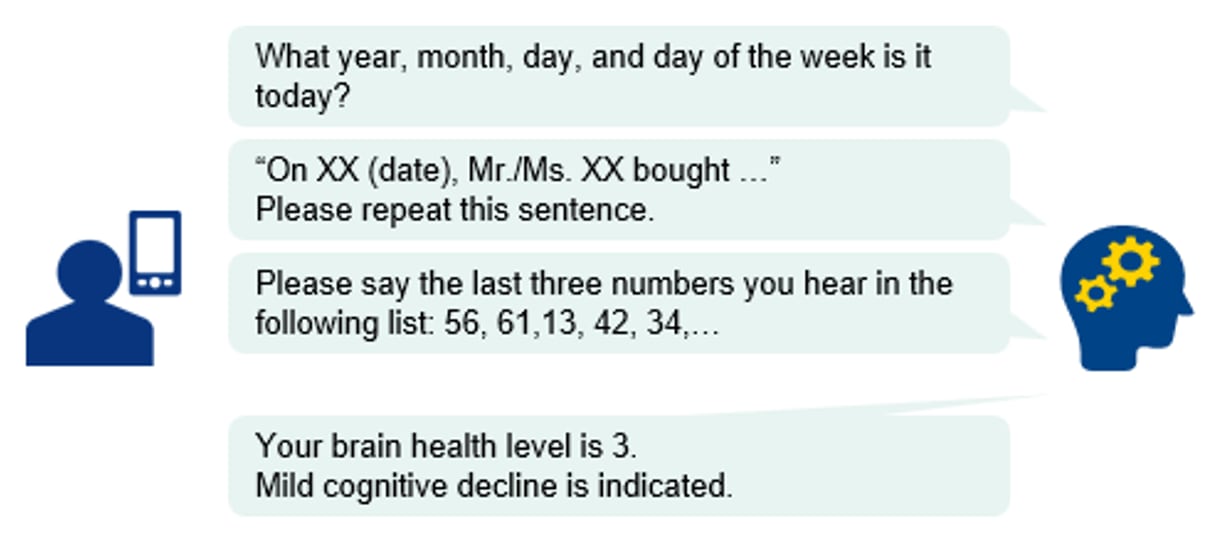 NTT Com plans to collaborate with partner companies and local authorities in the development of the "Brain Health Check Plus" and "Brain Health Check Free Dial" services. In addition to AI-based cognitive function assessment, features including dedicated phone numbers, user history management, and an SMS service for disseminating relevant information are also planned to be provided as part of this collaboration. This will enable businesses and local authorities to hold events on brain health , and will allow insurance products tailored to individual conditions to be formulated.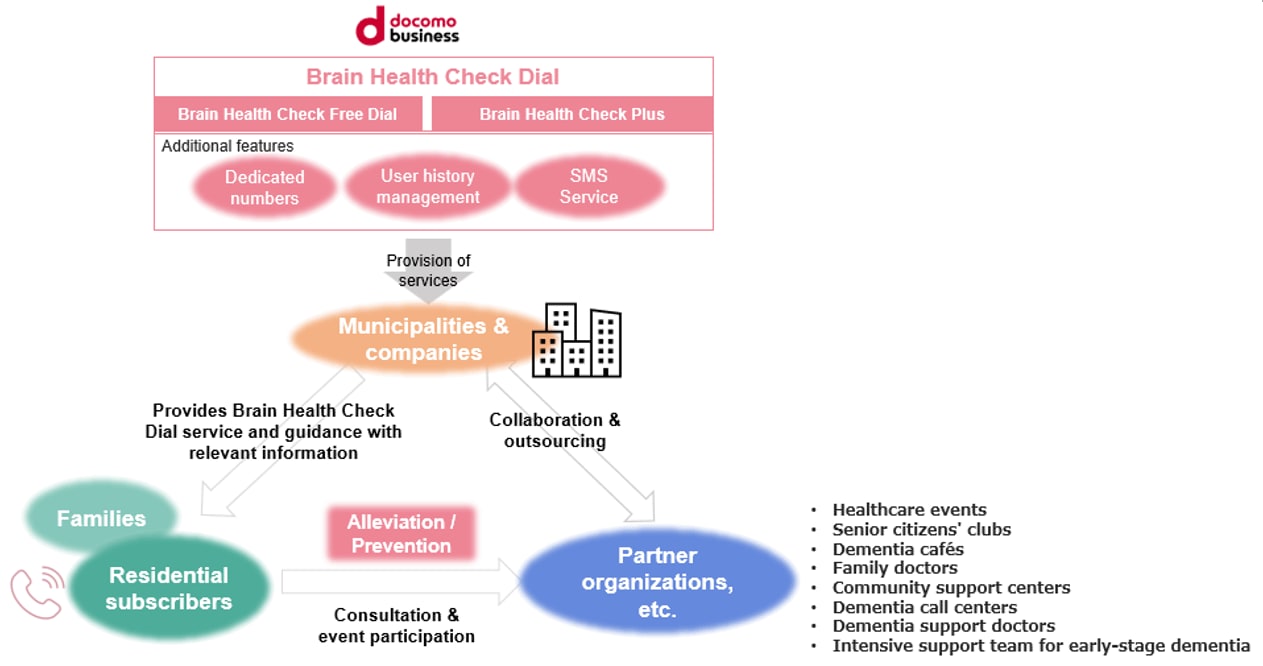 Data collected during this trial, including usage rates, response completion rates, user age groups, types of devices used, and the results of the five-stage cognitive assessment, will be analyzed to identify trends and patterns. This analysis will expedite efforts to explore new business models in collaboration with partner companies and local authorities, as well as the public implementation of the service. In addition, "Brain Health Check Free Dial" and "Brain Health Check Plus" are scheduled to be released as corporate services this fiscal year. Going forward, NTT Com will continue to contribute to the realization of a society in which fewer individuals, families and businesses experience the anxiety and inconvenience dementia can cause.
As Japan's elderly population continues to grow rapidly, it is estimated that by 2025, one in five elderly individuals5 and one in 17 of its citizens will experience dementia. This has led to increased awareness of the need for dementia prevention and post-diagnosis care. Dementia progresses in stages, with mild cognitive impairment (MCI) being the stage immediately prior to dementia. MCI is characterized by mild declines in cognitive functions, where individuals may experience reduced cognitive abilities compared to people of the same age but can generally lead normal lives. Approximately 4 million individuals in Japan are believed to suffer from MCI.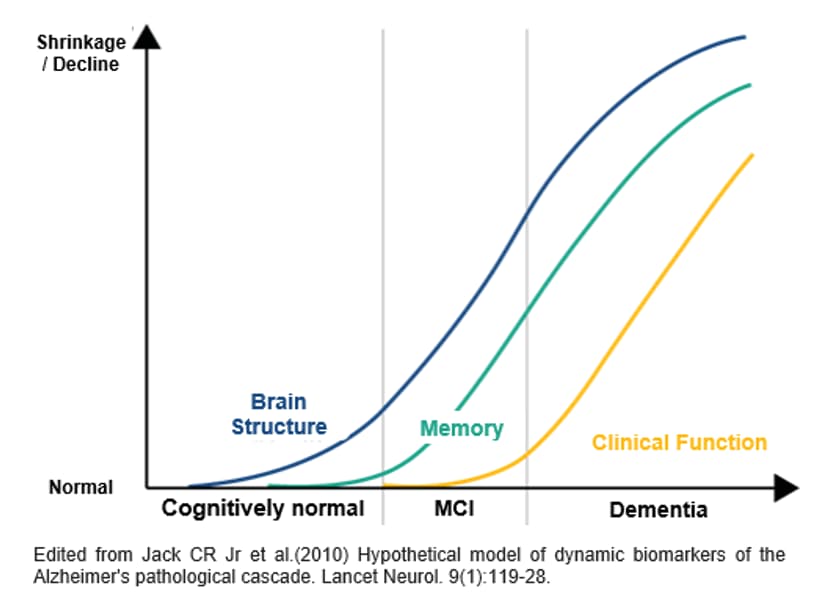 Transition from MCI to dementia occurs in about 5-15% of cases within one year, while 16-41% of individuals can normally return to normal cognitive function with appropriate preventive measures.6 Detecting MCI at an early stage and promoting appropriate measures and lifestyle changes are crucial. NTT Com's "Brain Health Check Free Dial" service, launched in September 2022, utilizes AI to assess cognitive functions within about 20 seconds during a phone call. Through its launch of the trial of "Brain Health Check Plus", NTT Com is offering the opportunity of even earlier and more detailed detection of cognitive decline.
1 "Brain Health Check Plus" is not a medical device. It is not intended to treat or cure any disease or health condition.
2 An NTT Com service that uses a dedicated six-digit number following the nationwide "0570" prefix to connect calls to pre-designated telephone numbers. Call charges are applied.
3 The ability to understand basic information about the current date, time, and other time-related situations.
4 The capacity to temporarily store and process information in the brain.
5 Based on the Comprehensive Measures to Promote Dementia Policies (New Orange Plan) formulated and announced by the Ministry of Health, Labour and Welfare and 11 related ministries and agencies in January 2015.
6 Based on the "MCI Handbook for Keeping Your Mind and Body Healthy" released by the Ministry of Health, Labour and Welfare.
NTT DOCOMO, NTT Com and NTT COMWARE have integrated their enterprise businesses under the DOCOMO group and its "docomo business" brand. The group, guided by its Mobile Cloud First strategy, strives to deliver innovative solutions for society and industry through collaboration with enterprise clients and partners under the slogan "Changing worlds with you."
NTT Com collaborates with clients and partners to co-create value, both for today and for post-COVID society, based on its Re-connect X™ business vision of reconnecting everything ("X") in society and industry with mobile and fixed-line convergence services and solutions for a more sustainable world.
About NTT Communications
NTT Communications solves global technology challenges by helping enterprises utilize managed IT-infrastructure solutions to overcome complexity and risk in their IT environments. These solutions are backed by our worldwide infrastructure, including industry-leading, global tier-1 public and private networks reaching over 190 countries/regions, the world's most advanced data-center facilities (more than 500,000m2) and cutting-edge technologies for cloud, security and AI. As the core provider of the DOCOMO group's enterprise-business services and solutions, we create value by providing global-scale support for restructuring in industry and society, new workstyles and digital transformation in communities, leveraging 5G, IoT and other technologies under the "docomo business" brand. Together with NTT Ltd., NTT Data and NTT DOCOMO, we are the NTT Group.
www.ntt.com | Twitter@NTT Com | Facebook@NTT Com