NeWork® Online Workspace Wins 2022 Good Design Award
TOKYO, JAPAN, October 7, 2022— NTT Communications Corporation (NTT Com), the ICT solutions and international communications business within the NTT group, announced today that it has received the "Good Design Award 2022" for its "NeWork®" online workspace service. The award was given in recognition of the design of the service, which helps customers address issues commonly encountered in remote or hybrid working situations.
NeWork® is an online workspace where people can talk to each other more easily than in real life. Team members can initiate conversations with each other with a single mouse click, and icons and sounds let them sense the presence of their colleagues even when they are physically remote, allowing them to feel as if they are working alongside each other. For more information on NeWork®, please click here (in Japanese only).
The Good Design jury highlighted the aspects of the NeWork® solution that had influenced their decision as follows:
"Unlike traditional office environments and existing online conferencing tools, where the focus is on workplace efficiency, NeWork® leverages digital technology to encourage new behaviors; it does this by providing a bird's eye view of team members' environments, facilitating access to each other, encouraging casual chit-chat, and lowering the hurdles to communication." They added, "We rated the service highly not just as a company meeting and communication tool, but also as a place for interaction for those with common educational interests or hobbies, for example, and we believe it has great potential as a new forum for collaboration."
A key feature of the NeWork® solution is its ability to foster a sense of team unity and alleviate feelings of loneliness. NeWork® allows people working in different locations to start a conversation with each other with just one mouse click. 1-on-1 calls and room calls, the latter allowing multiple people to talk at the same time, make it easy for employees to converse with colleagues and solve everyday problems, giving them the feeling that they are always working in the presence of their team.
Another feature is the ability to intuitively grasp the availability of other colleagues, helping users understand when it's appropriate to talk to others. Each of them can set their on-screen "availability" icons to denote either "Welcome (I'm free anytime)," "Flat (you can contact me)," or "Zone (I'm concentrating)" modes, according to their situation at any given time.
A key benefit is the creativity that comes from chatting with and consulting others. The distinctive user interface allows users to feel the presence of team members when they log in, giving them the sense that they are working in the same space despite being physically remote from each other; this naturally encourages use of the service.
The functionality of the NeWork® service also reflects the deep thinking that went into its design. In conjunction with KOEL,1 the company's in-house design studio, NTT Com focused during development on the value of the user experience. Extensive exploratory research was undertaken, including interviews with internal and external experts and customers, and surveys. Agile development of the solution will be undertaken by in-house and NTT Group developers, beta versions provided, and continuous updates made to the service based on user feedback. The "agile development" process has not only yielded tools that facilitate problem solving; they have also revolutionized NTT Com employees' own working styles and are transforming the ways in which the company's services are developed.
The NeWork® service will be enhanced by means of more robust voice and video provision. In addition, NTT Com plans to offer a new plan with user management tools and security features aimed at enterprise customers. In conjunction with these developments, a new Team300 service is being launched today, and a free trial of a Team50 service is also being offered. For details, please see the attached sheet.
The Good Design Awards2 are sponsored by the Japan Institute of Design Promotion and form part of an initiative to evaluate and promote Japanese design. They are conducted annually with the aim of improving the quality of life and utilizing design to solve social issues and discover new themes. The "G Mark," the symbol of the award, is a well-known hallmark of design excellence.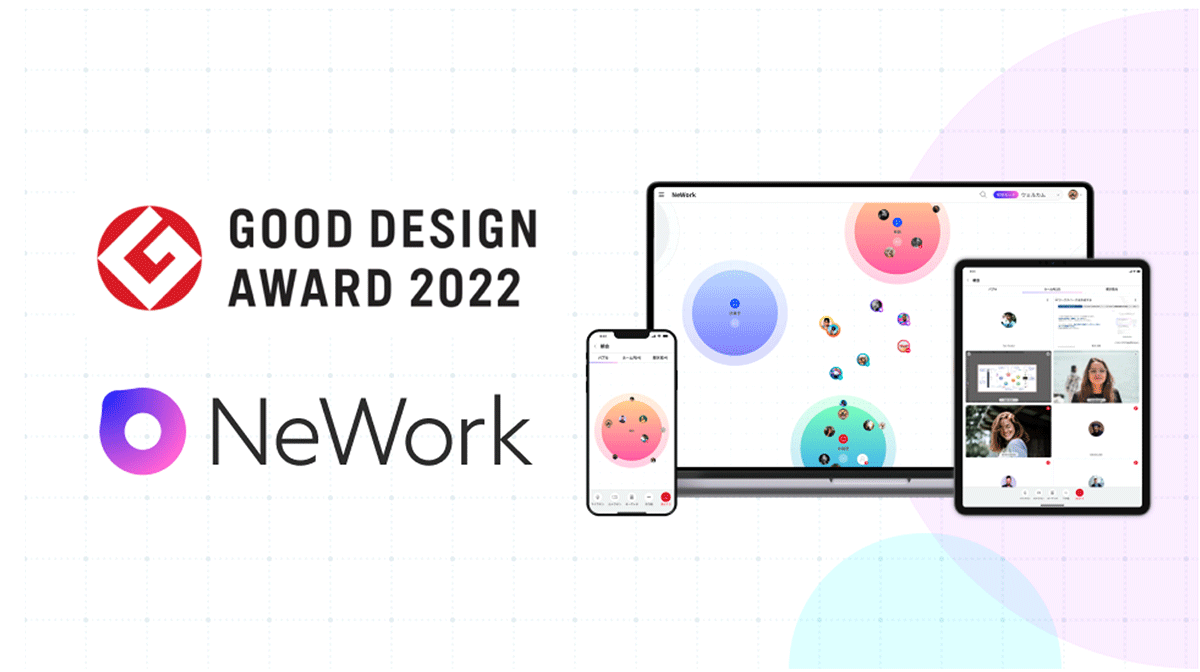 1 KOEL (website in Japanese only) is NTT Com's design studio, established in April 2020. As design experts, KOEL creates new businesses, provides design support to other organizations, and trains designers.
2 Established in 1957 by the Ministry of International Trade and Industry (now the Ministry of Economy, Trade and Industry) in response to the increasing incidence of design theft.
Related links:
NTT DOCOMO, NTT Com and NTT COMWARE have integrated their enterprise businesses under the new DOCOMO group and its "docomo business" brand. The group, guided by its Mobile Cloud First strategy, strives to deliver innovative solutions for society and industry through collaboration with enterprise clients and partners under the slogan "Changing worlds with you."
NTT Com collaborates with clients and partners to co-create value, both for today and for post-COVID society, based on its Re-connect X™ business vision of reconnecting everything ("X") in society and industry with mobile and fixed-line convergence services and solutions for a more sustainable world.
About NTT Communications
NTT Communications solves global technology challenges by helping enterprises utilize managed IT-infrastructure solutions to overcome complexity and risk in their IT environments. These solutions are backed by our worldwide infrastructure, including industry-leading, global tier-1 public and private networks reaching over 190 countries/regions, and more than 500,000m2 of the world's most advanced data-center facilities. As the core provider of the DOCOMO group's enterprise-business services and solutions, we create value by providing global-scale support for restructuring in industry and society, new workstyles and digital transformation in communities. Together with NTT Ltd., NTT Data and NTT DOCOMO, we are the NTT Group.
www.ntt.com | Twitter@NTT Com | Facebook@NTT Com
---
Separate sheet
New Team300 Plan: Aiming to revitalize communication across larger organizations and departments, a new plan, Team300, which can be used by up to 300 people, will be available from October 7, 2022.
Team50 Free Trial Offer: For a limited time, Team50 will be available on a free trial basis.
Period and Eligibility: Customers who newly apply between October 7 and November 7, 2022
Applicable plans: Team50 plan (maximum 50 users)
Description: The plan is available free of charge until November 30, 2022.
For more details about the new plan offerings and the free trial, please click here (in Japanese only).