NTT Corporation
NTT Global Data Centers Corporation
NTT Communications Corporation
NTT Constructs a New Data Center in the Kansai Region
NTT Corporation(NTT; head office: Chiyoda-ku, Tokyo; President and CEO: Akira Shimada) announces to invest approximately 40 billion yen through NTT Global Data Centers Corporation(NTT GDC; head office: Chiyoda-ku, Tokyo; CEO: Yasuo Suzuki) to build new "Keihanna Data Center" (provisional name; hereinafter referred to as "the Data Center") in Kyoto Prefecture, and NTT Communications Corporation (NTT Com; head office: Chiyoda-ku, Tokyo; President and CEO: Toru Maruoka) plans to start providing services in the second half of fiscal year 2025.
The Kansai region centered on Osaka Prefecture is a rapidly growing market for data center businesses, second only to the Tokyo metropolitan area, which is the largest in the Asia-Pacific region. As corporate DX (digital transformation) continues to advance, there is a large demand from local, national, and global companies to provide a wide range of services. These services include expanding bases for IoT and software development verification and also establishing secondary centers and disaster recovery center bases to promote sustainable management. In addition, hyperscalers, which are developing large-scale cloud businesses globally, are demanding the expansion of service bases in the Kansai region to expand their business by targeting clients in central and western Japan. Due to these growing demands, the market size in the Kansai region is expected to expand to about 500MW in power capacity by 2026. To meet these demands, NTT GDC will establish the Data Center in Kyoto Prefecture, and NTT Com will provide the data center related services.
NTT Group is working on IOWN (Innovative Optical and Wireless Network), a network and information processing infrastructure including terminals that can provide high-speed, high-capacity communications and vast computing resources. While accelerating this research, NTT and NTT Com will utilize the Data Center as the hub for providing IOWN-based commercial services in the future.
Against the backdrop of such a strong market in the Kansai region, NTT Group will expand investment in the data center business, aiming for the early realization of IOWN while continuing to meet the market demands.
Overview of the Data Center
1)The Site Location
The Data Center is being constructed in Soraku-gun, Kyoto Prefecture, on a flat area of land situated about 94 m above sea level with low disaster risk. The Data Center can also be accessed from the cities of Osaka, Kyoto, and Nara within an hour by car.
2)The Building
The building is a four-story, seismic-isolated structure that will stably supply a total of 30 MW for IT load (starting at 6 MW and gradually expanding) to a server room space of 10,900 sqm (equivalent to 4,800 racks). In addition to providing a redundant power supply, air conditioning, and communication equipment meeting the international Tier III standards for data centers, disaster countermeasures, and enhanced security, sustainable and safe services through enhancing energy-saving equipment.
3)The Network
In addition to providing highly reliable communication services through low-latency, high-capacity backbone lines, and redundant access lines, flexible connectivity that enables connections between various clouds and clients' bases, will be also available. Furthermore, the Data Center provides carrier-neutral connectivity that allows clients to select networks and ISPs of other companies according to their needs.
4)Provision of Renewable Energy
To reduce greenhouse gas emissions, which cause global warming, the Data Center will realize net zero CO2 emissions using renewable energy upon clients' requests.
5)Towards the Realization of IOWN
The Data Center will be constructed adjacent to NTT Group's research and development facilities to further promote research related to IOWN. NTT will conduct demonstration experiments for commercialization with collaborative companies and other organizations. In the future, NTT will make power efficiency to100 times*1 of the current rate, increase transmission capacity by 125 times*2, and reduce end-to-end delay to 1/200*3 of the current rate by realizing an All-photonics network. Following the lead of NTT Com's "Tokyo 11 Data Center", which is already undertaking similar initiatives, The Data Center will also expand the IOWN testing environment, enabling NTT's research assets to be used more efficiently and accelerating the practical application of research results.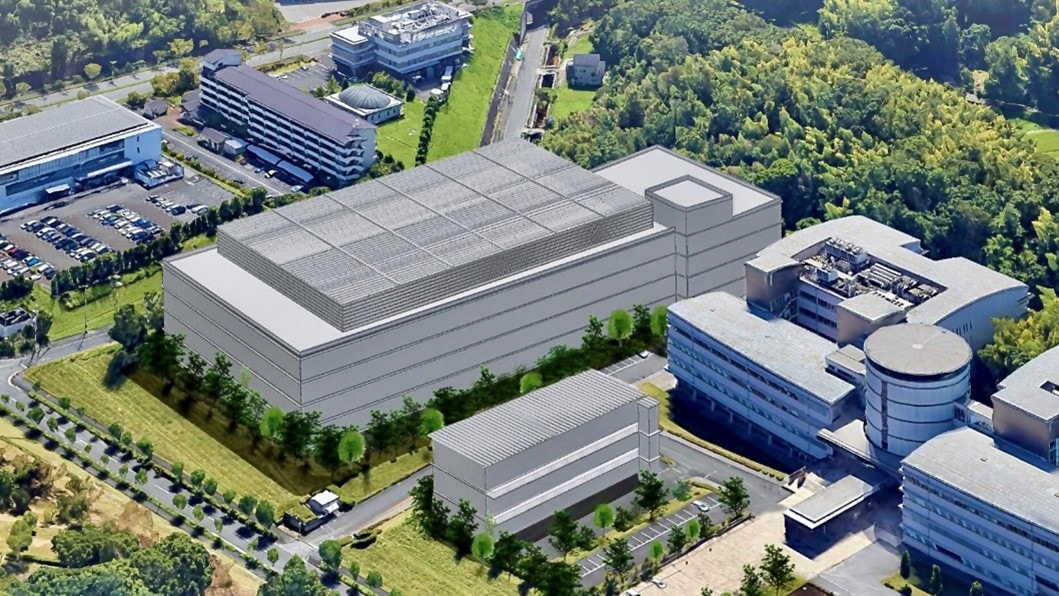 Model image of the completed data center
*1 Target value of power efficiency of photonics technology-applied part
*2 Target value of communication capacity per optical fiber
*3 Target end-end delay for video traffic that does not require compression within the same prefecture.
About NTT
NTT believes in resolving social issues through our business operations by applying technology for good. We help clients accelerate growth and innovate for current and new business models. Our services include digital business consulting, technology, and managed services for cybersecurity, applications, workplace, cloud, data centers, and networks, all supported by our deep industry expertise and innovation. As a top 5 global technology and business solutions provider, our diverse teams operate in 80+ countries and regions and deliver services to over 190 areas. We serve over 80% of Fortune Global 100 companies and thousands of other clients and communities around the world. For more information on NTT, visit www.global.ntt/Open other window.