NTT Com and NTT AE to Offer Wide Range of Green Energy Options, including Dedicated Power Plants
Will also provide environmental value of supplied power to support clients' ESG management efforts
TOKYO, JAPAN, March 28, 2022—NTT Communications Corporation (NTT Com), the ICT solutions and international communications business within the NTT Group, and NTT Anode Energy (NTT AE), the NTT Group company responsible for smart energy business promotion, announced today that as a new value-added solution for clients using NTT Com's data centers, the two companies will launch an power menu offering on April 1 that allows clients to select renewable energy1 to help meet their decarbonization targets, and also provide environmental value that ensure no emissions of CO2 (carbon dioxide), a cause of global warming. This will enable clients to comply with "Renewable Energy 100%" (RE100) and other international environmental initiatives,2 as well as with the Act on Promotion of Global Warming Countermeasures.3 It will also support clients' ESG management initiatives through the use of renewable energy sources with additionality4 such as off-site power purchase agreements, which regulate the supply of renewable energy from locations that are remote from those where the energy is consumed.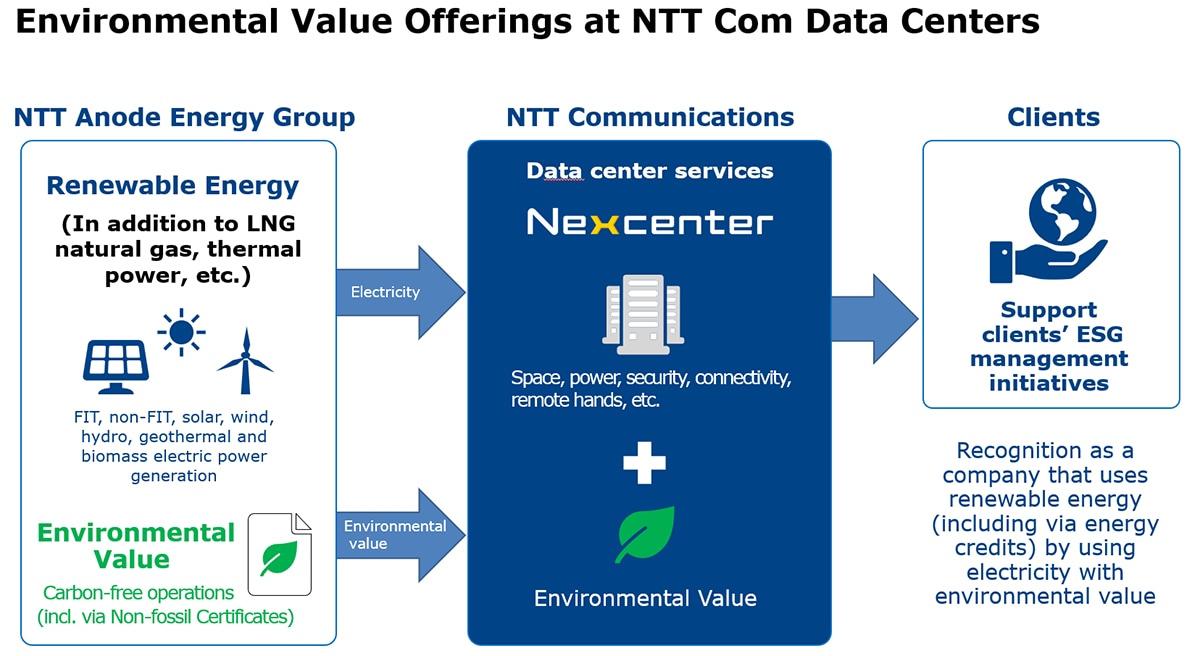 By utilizing renewable energy supplied by NTT AE, NTT Com's large-scale commercial data centers will be the first in Japan5 to provide clients who are using dedicated room or caged space6 with a renewable energy menu that allows them to select the category of power source consumed by their equipment. In addition, as an environmental value, information on individual power plants and the amount of used energy will be provided individually based on Non-fossil Certificates.7
The renewable energy menu will comprise the following:
Substantial renewable energy using Non-fossil Certificates:

1) Renewable energy including Non-fossil Certificates showing the location of the power plant and the category of power source (cannot specify power source category, Feed-in Tariff (FIT) or non-FIT8)

2) In addition to 1), generated power category9 can be specified by the client

3) In addition to 1), non-FIT can be specified by the client

Provision of renewable energy from new dedicated power generating plant

1) Off-site PPA10 (NTT AE will provide dedicated power generating plant with additionality to meet individual client requirements)
As of April 2022, the following data centers will offer these menus: Yokohama 1 Data Center, Saitama 1 Data Center, Tokyo 5 Data Center, Tokyo 8 Data Center, and Tokyo 11 Data Center.
NTT Com and NTT AE will continue to work together to expand the number of data centers making use of renewable energy. In addition, NTT Com's "SDPF Cloud/Server" is also aiming to secure from NTT AE electricity generated from renewable sources at all of its sites by the end of March 2024, thereby providing cloud services that contribute to the decarbonization efforts of its clients. The two companies will also work on providing visualization of the CO2 levels emitted by NTT Com's main services to further reduce their environmental impact.
In order to achieve the Government of Japan's goal of a decarbonized society by 2050, it is becoming increasingly important to promote efforts that balance economic growth with solutions to environmental challenges that effectively emit zero greenhouse gases. As a company consuming approximately 1% of the electricity generated in Japan as a whole, NTT Group takes its corporate social responsibilities seriously and is accelerating its group-wide decarbonization efforts based on the company's "NTT Green Innovation toward 2040" initiatives.11
One of the goals of these initiatives is to reduce the NTT Group's greenhouse gas emissions by 80% by 2030 and to achieve carbon neutrality by 2040. NTT Com is actively striving to achieve these goals by introducing high-efficiency, energy-saving equipment throughout its telecommunications infrastructure and data centers. In addition to its own decarbonization efforts, NTT Com, which operates the data centers, and NTT AE, which spearheads the NTT Group's smart energy business promotion, will collaborate in providing data center environments that enable clients to use renewable energy to meet clients' requests in order to support their ESG management efforts.
1. Includes substantial renewable energy options. ENNET Corporation (Retail Electricity Supplier registration No. A0009), a subsidiary of NTT AE, and NTT AE, will jointly supply electricity to NTT Com's data centers.
2. Major international environmental initiatives include the following:
a. Renewable Energy 100% (RE100): An international consortium of companies that aim to use 100% renewable energy to power their business activities.
b. Carbon Disclosure Project (CDP): An international non-governmental organization established in the UK in 2000 to promote disclosure to investors of environmental strategies and greenhouse gas emissions by the world's leading companies.
c .Science Based Targets (SBT): Greenhouse gas reduction targets set by companies for the next 5 to 15 years, consistent with the standards required by the Paris Agreement.
3. The Act on Promotion of Global Warming Countermeasures is a Japanese law aimed at preventing global warming by obliging specified transportation companies and other businesses that emit greenhouse gases to calculate, report and reduce such emissions.
4. Additionality, which indicates that a company's chosen procurement method encourages investment in renewable energy and leads to the substitution of fossil fuels, is considered important among companies active in renewable energy procurement.
5. Results of a survey of publicly available information on the provision of a menu that allows clients to select the category of renewable energy and the provision of "environmental value" using non-fossil certificates according to the category of renewable energy at large commercial data centers in Japan that receive extra high-voltage power while providing renewable energy (survey by NTT Com / NTT AE, March 2022).
6. Provisioning may require power installation and other facility modification costs.
7. Non-fossil Certificates identify the value of the electricity generated from sources that do not emit CO2 and depict this value in the form of a certificate that indicates it to be substantially 100% renewable energy. In order to qualify, clients may need to modify facilities, for example through the construction of power infrastructure, thereby incurring costs.
8. Electricity generated from renewable energy sources and purchased by electric utilities under the Feed-in Tariff (FIT) Scheme established under the Government of Japan's Amended FIT Act is known as FIT electricity. The environmental value of FIT electricity belongs to the citizens of Japan, as it is financed by tariffs imposed on them as electricity users. However, electricity not supplied under the terms of the FIT Scheme (non-FIT) is still considered to be contributing to the expansion of renewable energy usage while reducing the burden on the public.
9. Clients will be able to choose the generated power category from among solar, geothermal or biomass power plants as of April 2020.
10. An Off-Site PPA (Power Purchase Agreement) is a long-term contract in which a customer purchases renewable energy power from a power producer. Off-Site PPA stands for Off-Site Corporate PPA, a model in which electricity is transmitted from a generation facility in a remote location to a customer via the transmission and distribution power network.
11. For more information about NTT Green Innovation toward 2040, please visit https://group.ntt/en/newsrelease/2021/09/28/210928a.html.
DISCLAIMER
All company names are trademarks or registered trademarks of their respective owners. This information is current as of the date of publication of this press release. Please note that it is subject to change without notice.
[Related links]
NTT Communications Group Sustainability Report 2021 (published on December 24, 2021)
About NTT Communications
NTT Communications solves global technology challenges by helping enterprises utilize managed IT-infrastructure solutions to overcome complexity and risk in their ICT environments. These solutions are backed by our worldwide infrastructure, including industry-leading, global tier-1 public and private networks reaching over 190 countries/regions, and more than 500,000m2 of the world's most advanced data center facilities. Now as the core provider of the DOCOMO group's enterprise-business services and solutions, we create value through global-scale support for structural changes in industry and society, new workstyles, and digital transformation in communities. Together with NTT Ltd., NTT Data, and NTT DOCOMO, we are the NTT Group.
www.ntt.com | Twitter@NTT Com | Facebook@NTT Com