New Year's Message from the President & CEO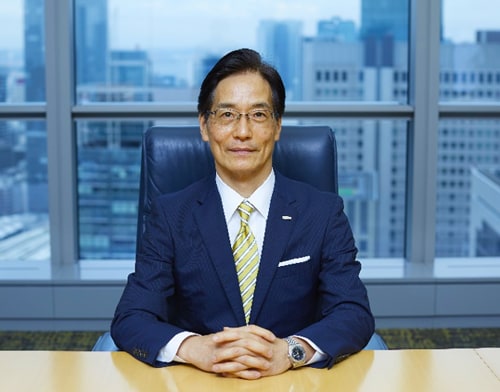 Greetings to NTT Com's many loyal clients, partners and other stakeholders on the start of another new year.
On behalf of everyone at NTT Com, please allow me to start by extending our very best wishes for a speedy recovery to anyone who has contracted COVID-19 and our sincere hopes for the fastest-possible end to this worldwide pandemic.
The spread of COVID-19 triggered dramatic changes in global society in 2020. Under the new normal, connecting people, things and activities remotely—such us working at home and online classes—gained new importance, and both services and solutions for remote communication and collaboration became absolutely essential. In addition, increased natural disasters emphasized the need for greater resilience to enable societies to recover quickly. Events in 2020 strengthened our resolve to fulfill NTT Com's mission of advancing digital society through ICT.
Meanwhile, I again express my sincere apology for the inconvenience and concern caused by unauthorized access to our facilities last year. Since then, we have strengthened our information-security measures, recognizing that safe, secure services are the basis of what we offer.
To better fulfill our mission with respect to the new normal in 2021, we have established a new medium-term vision, named Re-connect X, with "X" referring to everything capable of connection. Thanks to digitalization achieved through digital transformation (DX), individuals, regions, industries and societies will be connected as data, with practically endless possibilities. We will collect, accumulate, analyze and return these data via our safe, secure and flexible connections, thereby contributing to a more sustainable future together with our clients and partners.
This will be a particularly important year for us because both NTT Com and NTT COMWARE will become subsidiaries of a new group under mobile operator NTT DOCOMO. Leveraging these new strengths, NTT DOCOMO group will be transformed into a comprehensive ICT provider with services and solutions for mobile and fixed-line communications.
NTT Com will continue to be responsible for global-scale business for enterprises. In addition to fixed communications, we will support clients' speedy DX with solutions enhanced with mobile communication services such as 5G and IoT.
We also will continue to deploy our ICT services and solutions for the co-creation of new value in collaboration with clients and partners. For example, through our Open Innovation Program with startups, we are creating highly promising new services. We are also working with manufacturing partners on co-creation projects, including a joint venture to deliver cloud-platform solutions for DX in the manufacturing sector.
Such efforts, as well as our Smart World initiatives to address pressing issues in modern society, will now be greatly enhanced by connecting clients and partners with the robust resources and knowledge of the new NTT DOCOMO group and the overarching NTT global group.
The Tokyo 2020 Olympic and Paralympic Games have been rescheduled to be held this summer. Although the impact of the COVID-19 will continue to be felt in 2021, the hope is that remedial measures will come together as soon as possible and turn 2021 into a year of hope and promise. NTT Communications will do everything in its power to help make this happen by contributing to the business of its clients.
Very best wishes for a healthy and prosperous 2021!

Toru Maruoka
President & CEO
NTT Communications