NTT Communications Renews Mission, Core Beliefs and Message and Tagline as Part of Transformation Initiated in 20th-anniversary Year
NTT Communications Corporation (NTT Com), the ICT solutions and international communications business within the NTT Group (TYO: 9432), announced today that it has renewed its corporate mission, core beliefs, corporate message and tagline in connection with the corporate transformation initiatives it enacted earlier this year, the company's 20th anniversary.
The corporate mission, "Creating communication methods that open up new possibilities for people and our world." reflects the new value that NTT Com is proudly offering all clients in its diverse customer base. Together with the company's new core beliefs—"Take the Initiative," "Inspire Each Other," and "Respond to Society's Needs"—it will serve as the beacon guiding NTT Com as it moves forward.
The new corporate message, "Connecting into Tomorrow," and new tagline, "Go the Distance." also express the new value that NTT Com will offer to society.
Our Mission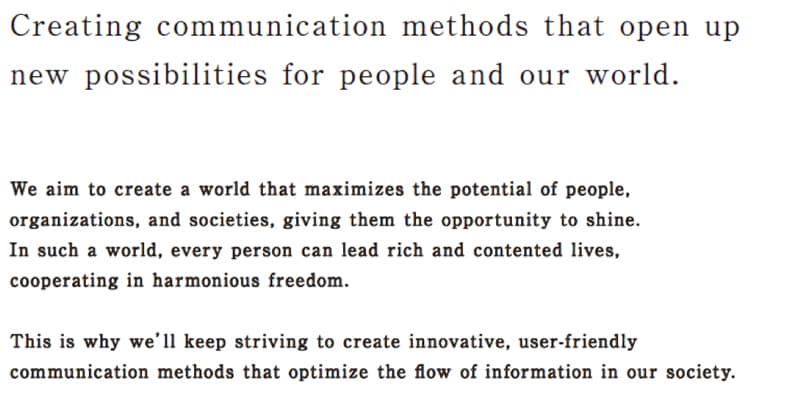 Our Core Beliefs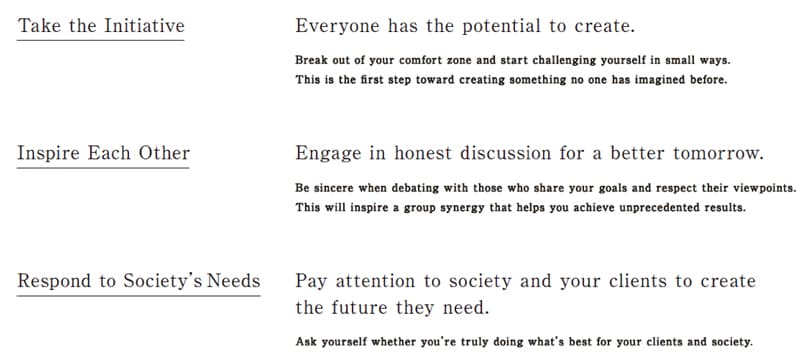 Corporate Message

This message expresses our intention to constantly mediate between today and tomorrow, to continually create a desirable future while contributing to society today.
The term "tomorrow" expresses our determination to spearhead into the future by creating innovative and unprecedented communication methods.
Tagline

This Tagline expresses our commitment to seek out and offer new value by going beyond time and distance and creating innovative and unprecedented communication methods.
There is also an underlying meaning to persevere, alluding to our resolution to surpass the expectations of our clients and society, be true to our core beliefs, and realize our mission with the integrity that we have embraced for a long time.

NTT Com was established in 1999 as the NTT Group's long-distance international communications company. Over the past 20 years, NTT Com has steadily transformed its business to keep pace with rapidly evolving information and communication technology. The company has successfully launched ISP and other Internet businesses, communication infrastructure and enterprise solutions to enable clients to overcome diverse business challenges through ICT.
Technological evolution and societal change continue to unfold with astonishing speed, which is requiring every company to reassess its core value in order to ensure sustainable growth in today's fast-changing environment. Accordingly, NTT Com has now refocused its core value—its employees and their capabilities—under a renewed corporate mission.
Going forward, NTT Com will promote its new tagline and message throughout its global business as it takes on new challenges to advance communication and digital transformation.
About NTT Communications
NTT Communications solves the world's technology challenges by helping enterprises overcome complexity and risk in their ICT environments with managed IT infrastructure solutions. These solutions are backed by our worldwide infrastructure, including industry leading, global tier-1 public and private networks reaching over 190 countries/regions, and more than 450,000m2 of the world's most advanced data center facilities. Our global professional services teams provide consultation and architecture for the resiliency and security required for your business success, and our scale and global capabilities in technology world are unsurpassed. Combined with NTT Ltd., NTT Data, and NTT DOCOMO, we are NTT Group.
www.ntt.com | Twitter@NTT Com | Facebook@NTT Com | LinkedIn@NTT Com