NTT Communications launches Media Pipeline Factory
Offering easy connectivity of voice & video data to cloud services, will be tested by RareJob as a means of evaluating English conversation proficiency
TOKYO, JAPAN — NTT Communications Corporation (NTT Com), the ICT solutions and international communications business within the NTT Group (TYO:9432), announced today that it has developed the Media Pipeline Factory, a toolkit allowing easy expansion of its Enterprise Cloud WebRTC Platform Skyway (Skyway) functionality. The new Media Pipeline Factory offers real-time connectivity of Skyway's voice and video data with a variety of cloud services, including voice recognition artificial intelligence (AI), machine-translating AI and live transmission.
NTT Com is launching a free trial of the Media Pipeline Factory from today. Initially, the trial will offer six kinds of built-in components that can process recording, voice recognition and machine translation without the need for programming. For more information, please see [Attachment]. For a list of applications, please see https://webrtc.ecl.ntt.com/m-pipe/en.
The Media Pipeline Factory integrates Skyway's voice and video data services with AI and cloud offerings such as NTT Com's natural language analysis AI engine COTOHA Virtual Assist, which enables those without knowledge of Japanese to communicate in the language. This kit simplifies the expansion of WebRTC functionality and extends the areas in which voice and video data can be leveraged, allowing clients to accelerate their digital transformation.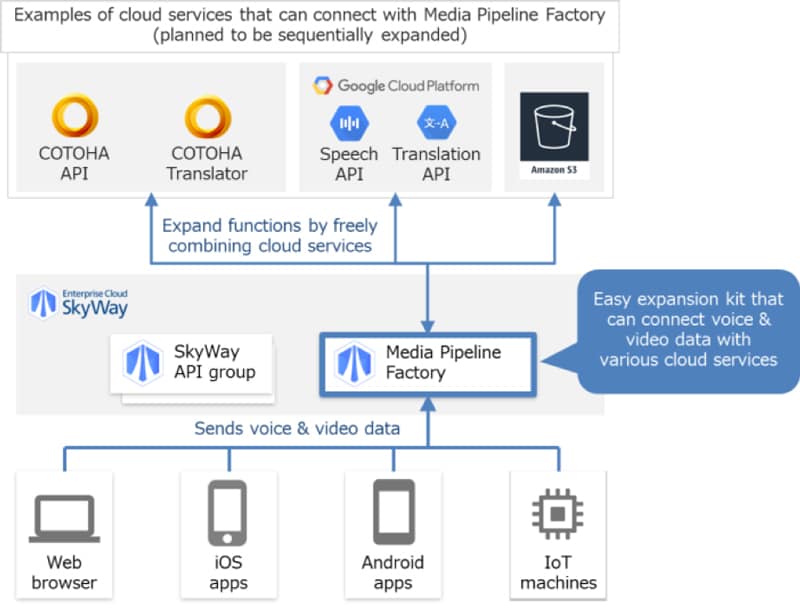 Features of Media Pipeline Factory
1. Versatility
Allowing integration with various AI and cloud services, the service incorporates functionality supporting digital transformation in various industries and usage scenarios. Example use cases include:
voice recognition, machine translation and image recognition through integration with AI services
voice and video recording and storage
VoIP and two-way communication
low latency live transmission
2. Easy development
The service enables clients to develop simple applications without the need for programming by the simple rearrangement of components on a graphical user interface.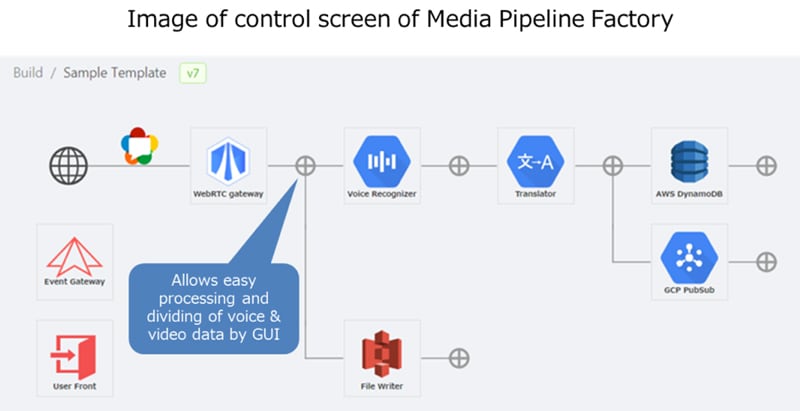 It also deploys a micro service architecture structured according to the available components, facilitating agile and flexible development even when processing is complex. The service also delivers component-level orchestration, enabling clients to manage log and service status in a unified manner. This makes debugging easier and improves efficiency.
3. Scalable service delivery
The service adopts a server-less architecture, so it can be delivered in a stable manner even during times of huge demand or a spike in accesses.
Leveraging the new service, NTT Com and online English conversation service provider RareJob Inc. will conduct verification of English conversation proficiency testing during RareJob's online lessons. The companies will accumulate and store the voice data from these lessons using a storage service connected using the new Media Pipeline Factory, and an AI-based speech-analyzer will rank the speakers' English conversation proficiency. By means of these tests, the companies aim to realize the visualization of an individual's English conversation proficiency by analyzing the number of English words used during their lessons. Going forward, the companies aim to improve students' motivation by securing their feedback and using this to enhance the service. RareJob pursued various initiatives to visualize students' proficiency in the past, but encountered a number of issues, including the difficulty of storing and analyzing the large amounts of voice data generated by its online English conversation lessons using its own systems.
Analyzing outcomes using AI-based system (image under development)


Going forward, NTT Com will continue developing built-in components and deliver recording, image recognition and live distribution functionality, including low-latency transmission capabilities. In addition to expanding the functionality of the kit, NTT Com will sequentially launch joint tests with other clients with the aim of expanding use cases.
Recent years have seen the launch of a number of cloud services and cloud-based AI solutions, particularly in the fields of voice recognition, machine translation and image recognition. However, separate system development was needed to allow the transmission of the resulting voice and video data to cloud-based services using WebRTC capabilities, incurring significant cost and additional workload. The new Media Pipeline Factory addresses these challenges in a simple and easy-to-use manner.
Company names and logos mentioned in this release are the trademarks or registered trademarks of their respective owners.
Related link:
Enterprise Cloud WebRTC Platform SkyWay Portal Site
https://webrtc.ecl.ntt.com/en/
NTT Com Launches Enterprise Cloud WebRTC Platform Globally (press release on September 7, 2017)
https://www.ntt.com/en/about-us/press-releases/news/article/2017/0907.html
About NTT Communications
NTT Communications solves the world's technology challenges by helping enterprises overcome complexity and risk in their ICT environments with managed IT infrastructure solutions. These solutions are backed by our worldwide infrastructure, including industry leading, global tier-1 public and private networks reaching over 190 countries/regions, and more than 400,000m2 of the world's most advanced data center facilities. Our global professional services teams provide consultation and architecture for the resiliency and security required for your business success, and our scale and global capabilities are unsurpassed. Combined with NTT Data, NTT Security, NTT DOCOMO and Dimension Data, we are NTT Group.
www.ntt.com | Twitter@NTT Com | Facebook@NTT Com | LinkedIn@NTT Com