McLaren Technology Group / NTT Communications
McLaren and NTT Com to Deploy New SDx Technology at the Formula 1 Japanese Grand Prix 2018
New NFV infrastructure to be verified for high-speed cloud access
TOKYO, JAPAN — McLaren Formula 1 (F1) Team and its technology partner NTT Communications Corporation (NTT Com), the ICT solutions and international communications business within the NTT Group (TYO:9432), announced today plans to launch on October 5 a new software-defined-everything (SDx) technology on a temporary basis for deployment during the F1 Japanese Grand Prix 2018. The "Suzuka Special" network will speed up trackside communication for faster, more flexible in-race strategizing, including cloud-based telemetry data analysis, a key to successful F1 racing. The network will be deployed at Suzuka Circuit, Japan and the McLaren Technology Centre in Woking, UK as well as in the team's cloud infrastructure network in Europe.
New NFV infrastructure and uCPE for faster, more flexible network
The new network functions virtualization (NFV) infrastructure will comprise a software-defined wide area network (SD-WAN), WAN accelerator, unified threat management (UTM) and web proxy. The virtualized network functions will be connected with service-chaining technology for fast, flexible network settings. Also, NTT Com will deploy universal customer premises equipment (uCPE) at both Suzuka Circuit and the McLaren Technology Centre by utilizing a white-box CPE base, which will facilitate flexible installation of required software. NFV infrastructure, namely UTM, web proxy and uCPE, including SD-WAN and WAN accelerator software installed in the white-box CPE, will be used to establish an Internet gateway and SD-WAN at the F1 race track for an extra-fast network for solving network latency.
Optimized routing via Microsoft cloud infrastructure
When a public cloud is connected via the Internet and passes through multiple ISPs, ISPs farthest from the cloud infrastructure typically slow the network and lower performance quality. The Suzuka Special network, however, will optimize direct routing to Microsoft's Azure and Office 365 by connecting the NFV infrastructure and Microsoft's cloud network, bypassing the Internet. Consequently, the McLaren garage at Suzuka Circuit will have high-speed, route-optimized connection to the cloud. In addition, the NFV infrastructure and uCPE will benefit from high-speed connection to a multi-cloud, including NTT Com's Enterprise Cloud, a hybrid cloud environment supporting traditional and cloud-native ICT for highly secure and stable operations with designed-in flexibility and agility.
Suzuka Special Network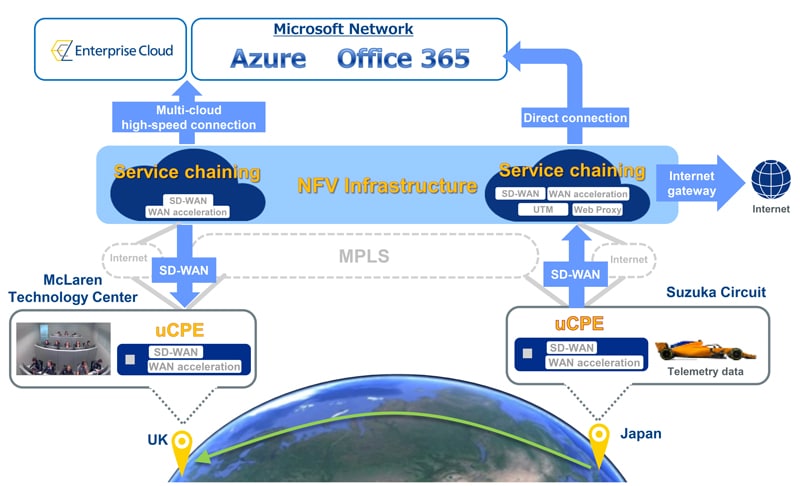 Tatsuya Yamashita, Head of NTT Com's Technology Development Division, said: "McLaren has been using NTT Com's SD-WAN service with zero downtime for the entire 2018 season, beginning at the Australian Grand Prix. We are now delighted to introduce our new NFV infrastructure for the Japanese Grand Prix. The superior ICT solutions NTT Com is providing as a trusted technology partner are not only giving McLaren a competitive edge in F1 racing, but also are providing us with invaluable insight into potential solutions for our general enterprise customers' digital transformations."
McLaren utilizes cloud services such as NTT Com's Enterprise Cloud and Microsoft's Microsoft Azure and Office 365 to analyze in-racing data of up to 100GB. McLaren had been using cloud infrastructure at the McLaren Technology Centre and across Europe, but network latency was a challenge for connections from race tracks outside the region. For the 2018 season, McLaren is adopting NTT Com's broadband networks utilizing SDx technology at all 21 F1 events. During the F1 Japanese Grand Prix 2018, NTT Com will test cloud utilization via diverse circuits worldwide with NFV infrastructure and uCPE.

For more about NTT Communications SD-WAN, or to contact us: ntt-sdwan.com
Notes: Microsoft, Azure, Office 365, are trademarks or registered trademarks of Microsoft Corporation.
About McLaren Formula 1 Team
New Zealand racing driver Bruce McLaren founded the McLaren racing team in 1963. Since 1966, when it entered its first Formula 1 race, McLaren has won 20 world championships and over 180 grand prix. It has also won the Le Mans 24 Hours and the Indy 500 the two biggest races in the world. Since those early days, the McLaren Technology Group has developed into one of international sport's most successful competitors, become a globally renowned automotive manufacturer, and earned recognition as one of the most illustrious high-technology brands in the world. The McLaren team campaigns the 2018 FIA Formula 1 World Championship with double-world champion Fernando Alonso and Stoffel Vandoorne. They drive the McLaren-Renault MCL33.
About NTT Communications
NTT Communications meets global technology challenges by offering managed IT infrastructure solutions to help enterprises overcome complexity and risk in their ICT environments. The solutions are backed by worldwide infrastructure, including industry-leading, global tier-1 public and private networks reaching over 190 countries/regions, and more than 400,000m2 of the world's most advanced datacenter facilities. NTT Com's professional services teams provide consultation and architecture backed by unsurpassed scale and global capabilities for network resiliency and security crucial to business success. NTT Com is part of the NTT Group, which also includes NTT Data, NTT Security, NTT DOCOMO and Dimension Data.
www.ntt.com | Twitter@NTT Com | Facebook@NTT Com | LinkedIn@NTT Com