NTT Named a Leader in IDC MarketScape: Asia/Pacific Managed Security Services 2018 Vendor Assessment
Tokyo, Japan; 8 August 2018 – Four companies of the NTT Group (Dimension Data, NTT Communications, NTT DATA, NTT Security) today announced that it has been recognized as a "Leader" in both execution capabilities and strategies in the latest IDC MarketScape: Asia/Pacific Managed Security Services 2018 Vendor Assessment.
In the IDC MarketScape report, 19 organizations in 2017–2018 that offer managed security services (MSS) in Asia/Pacific including NTT Group were assessed against their existing capabilities and responsiveness to prevailing market demands and expected buyer needs, as well as preparedness for cyber threats. The latest accolade marks the 3rd consecutive time NTT Group has been identified as the top industry leader among Asia/Pacific MSS providers.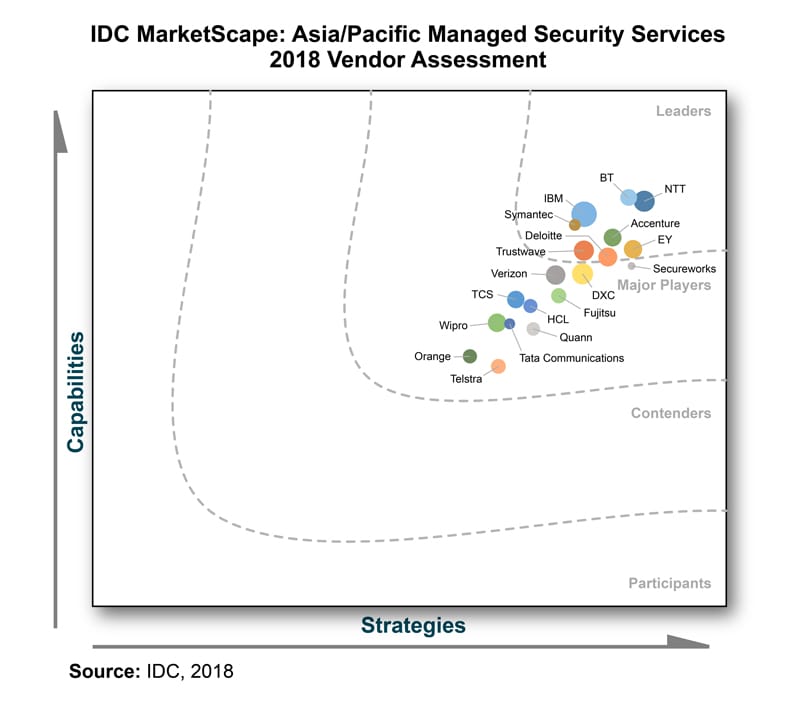 IDC MarketScape: Asia/Pacific Managed Security Services 2018 Vendor Assessment (doc #AP42609818e, June 2018). The report can be viewed here.
The IDC report cited the integrated yet effective touch point NTT customers have as a key strength. In addition, excellent customer experience also includes a smooth setup process, dedicated delivery operation, providing industry benchmark.
NTT's threat detection capabilities are highly praised, especially around the accuracy level by its customers. In addition, the cloud-based, searchable raw data logs that can be used to assist with incident investigations and compliance queries are a highly regarded functionality that NTT has.
The proprietary MSS platform closely connects with its threat intelligence database to protect organizations and ensure service delivery consistency across multiple regions which IDC noted was particularly important for enterprise wide security monitoring and management, vulnerability lifecycle management and custom managed detection and response. The MSS solution also provides optimized security through NTT Group's unique insight, advanced analytics and applied threat intelligence over and above what can usually be done in-house.
In addition, four companies of the NTT Group (Dimension Data, NTT Communications, NTT DATA, NTT Security) added the following comments.
Neville Burdan, General Manager for Security, Dimension Data:
"As part of the NTT Group, we are delighted to be recognised as a 'Leader' in the latest IDC Marketscape. This is a clear demonstration of the combined strength we have as a Group in delivering trusted, agile security solutions which mitigate the growing proliferation of cyber risks and the ever-increasing sophistication of cybercrime in today's hybrid environment. The Group's broad cybersecurity capabilities and consulting-led approach helps our global client base navigate this complex environment, whilst supporting them in enabling digital transformation and minimising risk."
Fumitaka Takeuchi, Vice President of the Managed Security Service Taskforce, Corporate Planning Department, NTT Communications:
"Considering how greatly digital transformation is altering the businesses environment and how broadly company needs are diversifying, ICT has become a key business factor and its strategies have become as important as core business strategies. To assure all-important business continuity, it is crucial for companies to manage both foreseen and unforeseen risks in their ICT environments, including risks due to external attacks as well as internal wrongdoing. NTT Com spares no effort to serve as a reliable partner to help companies succeed in their digital transformations. NTT Com will continue striving to deliver solutions that enable customers to leverage their data with ease and to create new value."
Hiroshi Honjo, Head of Cyber Security and Governance, Technology and Innovation General Headquarters, NTT DATA:
"As digital business grows, dramatic changes are taking place in the environment surrounding applications and infrastructures. Security is an extremely important agenda in managing business in order to securely provide diversifying services. NTT DATA will continue to work closely with NTT Group and various partners and help clients provide their services safely and securely by providing trusted security services encompassing consulting, application development, solutions and operations. "
Martin Schlatter, CIO and Regional CEO, APAC, NTT Security:
"The global economy is becoming increasingly interconnected with the digital landscape. Organizations become lucrative targets to cyber criminals, making cyber security a critical part of any organization's risk management strategy. The lack of internal resource to keep pace with a growing cyber security challenge means that it's no longer possible for many organizations to tackle all aspects of information security management in-house."
NTT Group enables organizations to accelerate their digital agenda through securing the foundation of a connected society. With a large resource base of certified security experts and global R&D activities to respond to the changing threat environment, brings wider benefits to provide our customers unique capabilities for risk mitigation.
Notes for editors:
[Source]
IDC MarketScape: Asia/Pacific Managed Security Services 2018 Vendor Assessment (doc #AP42609818e, June 2018)
About IDC MarketScape:
The IDC MarketScape presents a vendor assessment of 19 managed security services providers in the context of the Asia/Pacific region. The assessment reviews both quantitative and qualitative characteristics that define current market demands and expected buyer needs for MSS. The evaluation is based on a comprehensive and rigorous framework that assesses how each vendor stacks up to one another, and the framework highlights the key factors that are expected by technology buyers when selecting a managed security services (MSS) partner.
About Dimension Data
Dimension Data's security business supports organizations in creating an adaptable and predictive security posture across their network, data assets, cloud, applications, and the digital workplace. With our end-to-end portfolio of security capabilities including consulting, a suite of technical, support and managed security services, we help our clients through the full security lifecycle. Founded in 1983, Dimension Data is a USD 8 billion global leader in designing, optimizing, and managing today's evolving technology environments. This enables its clients to leverage data in a digital age, turn it into information, and extract insights.
Dimension Data is a proud member of the NTT Group. Visit us at www2.dimensiondata.com
| Twitter@DimensionData | Facebook@DimensionData | LinkedIn@DimensionData
About NTT Communications
NTT Communications solves the world's technology challenges by helping enterprises overcome complexity and risk in their ICT environments with managed IT infrastructure solutions. These solutions are backed by our worldwide infrastructure, including industry leading, global tier-1 public and private networks reaching over 190 countries/regions, and more than 400,000m2 of the world's most advanced data center facilities. Our global professional services teams provide consultation and architecture for the resiliency and security required for your business success, and our scale and global capabilities are unsurpassed. Combined with NTT Data, NTT Security, NTT DOCOMO and Dimension Data, we are NTT Group.
www.ntt.com | Twitter@NTT Com | Facebook@NTT Com | LinkedIn@NTT Com
About NTT DATA
NTT DATA is a leading IT services provider and global innovation partner headquartered in Tokyo, with business operations in over 50 countries. Our emphasis is on long-term commitment, combining global reach with local intimacy to provide premier professional services varying from consulting and systems development to outsourcing. For more information, visit www.nttdata.com/
About NTT Security
NTT Security is the specialized security company and the center of excellence in security for NTT Group. With embedded security we enable NTT Group companies to deliver resilient business solutions for clients' digital transformation needs. NTT Security has 10 SOCs, seven R&D centers, over 1,500 security experts and handles hundreds of thousands of security incidents annually across six continents.
NTT Security ensures that resources are used effectively by delivering the right mix of Managed Security Services, Security Consulting Services and Security Technology for NTT Group companies – making best use of local resources and leveraging our global capabilities. NTT Security is part of the NTT Group (Nippon Telegraph and Telephone Corporation), one of the largest ICT companies in the world. Visit nttsecurity.com to learn more about NTT Security or visit http://www.ntt.co.jp/index_e.html to learn more about NTT Group.