2018 New Year's Message from the President
Continuing to "Move forward! Go further! Get out there!" in 2018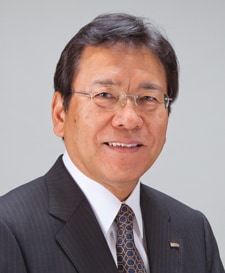 Happy New Year! I am delighted to extend my warmest greetings as we start another year.
In 2017, we successfully supported the digital transformation of our customers' businesses, enabling us to "Move forward! Go further! Get out there!" under our corporate slogan "Transform. Transcend." This year, we will extend these initiatives even further.
Last April, after announcing our "Transform. Transcend. Service Strategy 2017," we began strengthening services by integrating them more closely with our infrastructure. In 2018, we will focus on expanding our ICT infrastructure from a long-term perspective, such as adding new data centers in the U.S. and India and launching the construction of a new submarine cable between the U.S. and Japan. We are determined to move forward by continuously increasing the quality of our world-class infrastructure and delivering even more convenient and reliable services.
Last year we made great progress with our B2B2X businesses by collaborating with partners to deliver services and demonstrate proofs-of-concept (PoCs). We also announced plans to combine our IaaS capabilities with those of Dimension Data and to acquire Secure-24, a U.S.-based leading provider of comprehensive managed services. In 2018, we will go further by accelerating such initiatives through diverse partnerships and collaborations, as well as strengthening our NTT Group's overall capabilities in global business.
Technological innovation in the ICT world continues to progress beyond imagination, giving birth to emerging businesses and industries. Last year, we launched a wide range of PoCs and new services that incorporate AI, IoT and other cutting-edge technologies. This year, we will commercialize additional new technologies, specifically by leveraging AI for detection, analysis, prediction, language translation and Virtual Everything Functions (VxF). We aim to get out there (into the market) with increasingly advanced value propositions.
2018 is an important year to prepare for Japan's hosting of two iconic sporting events — the 2019 Rugby World Cup and the Tokyo 2020 Olympic and Paralympic Games. NTT Communications is committed to leveraging its ICT expertise for the success of these global events and the realization of a society where people truly enjoy full and productive lives.
I am very pleased to extend my New Year's greetings to all of you and wish you a wonderful year.