NTT Communications' New Connectivity Service Offers Industry's Lowest-level Latency between JPX & Financial Market in Chicago
One-stop service offers improved convenience and agility for U.S.-Japan trading
TOKYO, JAPAN — NTT Communications Corporation (NTT Com), the ICT solutions and international communications business within the NTT Group (TYO: 9432), announced today that it has launched an ultra-low-latency connectivity service, JPX-Chicago Co-Location Direct, between financial markets of Tokyo operated by Japan Exchange Group (JPX), including the Tokyo Stock Exchange, and Chicago, U.S.A., effective immediately. This new connectivity service offers the telecom industry's lowest-level latency for connecting JPX's colocation center, a base for major financial institutions, and the Cermak data center used by Chicago's financial market. The new connectivity service offers investors and financial institutions increased agility in conducting high frequency trading between Japan and the United States.
Service overview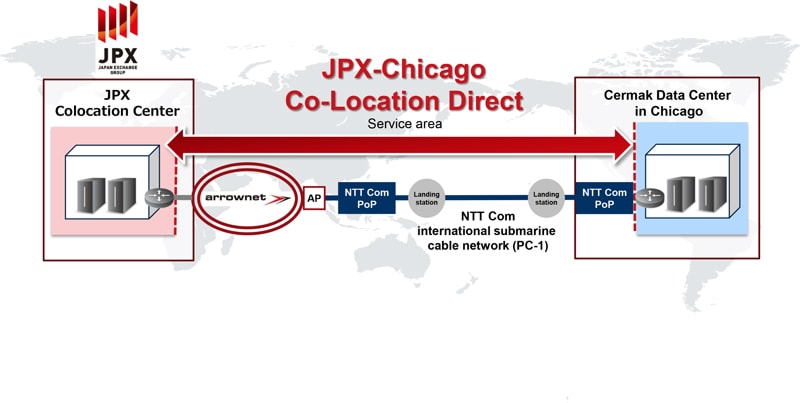 Features
Industry's lowest-level latency
NTT Com's point of presence (PoP) in the JPX colocation center uses the service to connect directly to the PC-1, NTT Com's submarine cable linking Japan and U.S. in the shortest route available. By connecting the exchanges with the industry's lowest-level latency, the service supports high frequency trading between Japan and the United States.
One-stop service for improved convenience
NTT Com's one-stop service enables customers to seamlessly use cross connections in both the Cermak data center and the JPX colocation center to ensure that trades are implemented as quickly as possible.
For details on applications and fees, please contact the NTT Com sales team. (Contact Us)
NTT Com also delivers connectivity services between JPX and financial markets in Hong Kong and Singapore, providing ICT infrastructure for reliable, ultra-high speed connections that help customers deal with the increasing burdens of high frequency algorithm trading. Chicago's financial market is home to major exchanges involved in trading derivatives, including futures, so JPX-Chicago Co-Location Direct provides customers with easy access to a key derivatives market. It also is expected to facilitate increased trading between Japanese and U.S. exchanges, including for products such as Nikkei 225 Futures.
Related link:
NTT Communications Launches New Ultra-low-latency Connectivity Service between JPX & SGX
About NTT Communications Corporation
NTT Communications provides consultancy, architecture, security and cloud services to optimize the information and communications technology (ICT) environments of enterprises. These offerings are backed by the company's worldwide infrastructure, including the leading global tier-1 IP network, the Arcstar Universal One™ VPN network reaching over 190 countries/regions, and over 140 secure data centers worldwide. NTT Communications' solutions leverage the global resources of NTT Group companies including Dimension Data, NTT DOCOMO and NTT DATA.
www.ntt.com | Twitter@NTT Com | Facebook@NTT Com | LinkedIn@NTT Com