NTT Communications Expands Presence in India to Meet Growing Digital Demand
Company launches international data network services and plans to invest more than 160 million USD for data center expansion in India.
Mumbai, July 27, 2017 -- NTT Communications Corporation (NTT Com), the ICT solutions and international communications business within the NTT Group (TYO: 9432), today announced the launch of international data network services in India through its affiliate NTT Communications India Network Services (NTTCINS). The acquisition of this licence in India follows the initiation of construction of the Company's two new data centers in Mumbai and Bangalore, through Netmagic, a subsidiary of NTT Com and one of the leading managed hosting and cloud service providers in India.
This reinforces the Company's commitment to enable customers with high-quality infrastructure services as well as the management and security services to meet their Information and Communications Technology (ICT) outsourcing needs.
NTT Com acquired Virtual Network Operator - International Long Distance (VNO-ILD) network licence in March this year. NTT Com has been providing Arcstar Universal One services as its international network services, by partnering with local carriers. The Company implements its own value-added services such as Network Virtualization Functions (NVF), while utilizing the infrastructure of its partner carriers in India.
NTT Com is the first Japanese ICT provider of VNO-ILD network licence in India.
On top of this move, NTT Com has decided to invest more than 160 million USD on the two data centers, which will become operational by April 2018. These data centers will add nearly 500,000 square feet of gross floor space at full build. This brings NTT Com's total gross footprint to 1,100,000 square feet in India.
"India has been a key strategic market for us with the accelerating shift of IT services from traditional enterprise data centres into the cloud-based services," said NTT Com President and CEO Tetsuya Shoji. "For the past few years, our business in India has consistently grown over 35 percent annually. With further expansion of data center foot print and addition of international data network services to our service portfolio, we aim to meet the growing market needs for Mobility, e-Commerce, Internet of Things (IoT), Cloud and Big Data."
"There is a continuous demand for a resilient and scalable IT Infrastructure backbone in this digital era. And, our Company has a rich history of evolving itself ahead of the curve to meet the dynamic requirements of our clients' businesses," said Sharad Sanghi MD & CEO of Netmagic (An NTT Communications Company). "Our strategy is to accommodate this demand and ensure that our network service offering and data centres enable our ICT clients with rich IT infrastructure for maximum connectivity and enhanced productivity. With this two new data centers, Netmagic becomes one of the largest data center service providers in India."
Built to the exacting global design standards of NTT Com, the new data centers in Mumbai and Bangalore will be accommodating 2,750 racks / 22 MW power and 1,500 racks / 15 MW power respectively. With NTT Com's high-speed, high-volume Internet backbone and network services, customers can accelerate their business development to meet the increasing demand of Cloud services.
Netmagic provides Colocation service with a global network of data centers operated by NTT Com under the Nexcenter™ brand, as well as Managed Hosting, Cloud, Network, Managed Security, Disaster Recovery and Software-Defined Storage services to more than 2,000 customers globally, across banking and financial services, insurance, e-commerce, healthcare, manufacturing, media & entertainment, IT & ITeS, logistics, hospitality, and education. The Company was the first in India to launch services – Cloud Computing, Managed Security, Disaster Recovery-as-a-Service (DRaaS) and Software-Defined Storage.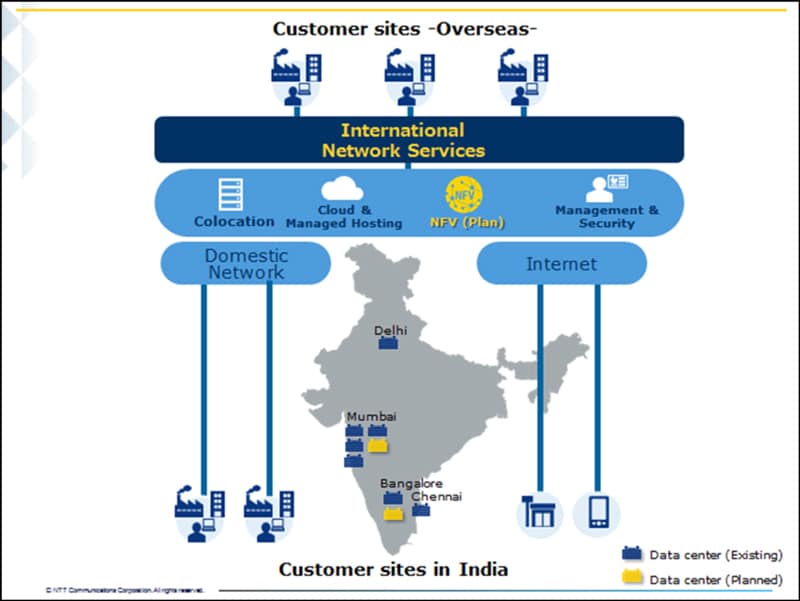 About NTT Communications Corporation
NTT Communications provides consultancy, architecture, security and cloud services to optimize the information and communications technology (ICT) environments of enterprises. These offerings are backed by the company's worldwide infrastructure, including the leading global tier-1 IP network, the Arcstar Universal One™ VPN network reaching 196 countries/regions, and over 140 secure data centers worldwide. NTT Communications' solutions leverage the global resources of NTT Group companies including Dimension Data, NTT DOCOMO and NTT DATA.
www.ntt.com | Twitter@NTT Com | Facebook@NTT Com | LinkedIn@NTT Com
About Netmagic (An NTT Communications Company)
Netmagic, an NTT Communications company, is India's leading Managed Hosting and Cloud service provider, with 9 carrier-neutral, state-of-the-art data centers and serving more than 2000 enterprises globally. Headquartered in Mumbai, Netmagic also delivers Remote Infrastructure Management (RIM) services to various Enterprise customers globally including NTT Communication's customers across Americas, Europe and Asia-Pacific region. The Company was the first in India to launch services – Cloud Computing, Managed Security, Disaster Recovery-as-a-Service (DRaaS) and Software-Defined Storage. NTT Communications and Netmagic have been ranked 3rd and 5th respectively in Asia among the top global data center operators by Cloudscene in their Q1 & Q2 Leaderboard reports. This effectively makes Netmagic the top-most data center operator in India. Netmagic has been recognized with 5 awards at the CIO Choice Award 2016 and Frost & Sullivan India Digital Transformation Awards 2017. To learn more, visit us at: www.netmagicsolutions.com
For more information
Mr. Yujin Kume, Mr. Shintaro Chiba, Mr. Ryohei Hashida
Global Business (about network)
NTT Communications Corporation
Tel:+81-3-6733-0018

---
Ms. Sikta Samantaray
Marketing
Netmagic (An NTT Communications Company)
Tel: +91-9619038730
Mail: Sikta.S@netmagicsolutions.com