NTT Communications Launches World's Largest SD-WAN Footprint Covering Over 190 Countries with Industry's Most Comprehensive End-to-End SD-WAN Service Portfolio
Achieves critical industry milestone, becomes the world's first provider to deploy a global 100% software defined network enabling overlay SD-WAN services
Key Enterprise Benefits:
Unrivaled performance and connectivity options via NTT Com's 1,000+ local ISP partners
Global cloud-based SD-WAN Secure Web Gateway and application acceleration services
Dynamic, optimized network utilization at every branch office
Optimized and reliable access to major cloud and SaaS platforms
Real-time network analytics – unmatched ability to visualize the end-user experience
TOKYO and DENVER -- NTT Communications Corporation (NTT Com), the ICT solutions and international communications provider within NTT Group (TYO:9432), announced today the launch of NTT SD-WAN Service Portfolio, the world's first SD-WAN platform with coverage spanning over 190 countries. In another first, NTT Com sets a new industry benchmark by becoming the world's first global provider to deploy a 100 percent software defined network that provides the framework for NTT Com to offer a rich suite of overlay SD-WAN services for global and regional enterprises, along with industry leading SD-WAN network performance for enterprises and end-users. The global software defined network provides NTT Com with unprecedented flexibility and speed to launch new services designed to assist enterprises in transforming their businesses and responding to their competition. NTT Com is expanding its Software-Defined Network Service and now has more choices to offer customers by launching these SD-WAN services.
NTT SD-WAN platform is based on a groundbreaking architecture that is locally distributed around the world via 75+ local cloud centers (LCCs), optimized for network, mobility, and security services. NTT SD-WAN real-time streaming network analytics offers CIOs and their IT staff deep insight into application performance, network security, and the end-user experience. The platform also supports the delivery of services from customer premises equipment located at customer branch offices.
"Digital transformation is at the heart of every modern enterprise today, fundamentally changing companies' business model," said Mr. Shuichi Sasakura, Senior Vice President Network Services of NTT Com. "The global NTT SD-WAN Service Portfolio is an end-to-end solution that provides organizations with a highly flexible and agile network that is fully tailored to their specific requirements and enables them to better compete in today's digital economy."
NTT Com is leveraging software defined technology and platform acquired via the Virtela acquisition in 2014. Virtela, a leader in software defined networking, was offering software defined network services to enterprises for over 12 years at the time of acquisition. Together, the NTT Com and Virtela teams continue to accelerate the development of NTT Com's "SDx+M Solution Strategy."
"NTT SD-WAN Service Portfolio is backed by our employees' unmatched passion for customer support," says Ron Haigh, President of Virtela, NTT Com's global enterprise network business unit. "NTT Com would like to thank our customers, partners, and employees for helping us achieve this software defined networking industry milestone."
"We've leveraged NTT Com services as part of Dimension Data's Managed Hybrid WAN solution for numerous customers with great success," says Rob Lopez, Group Executive Networking, Dimension Data, an NTT Group Company. "We're excited by the enhancements that NTT Com has made to its SD-WAN portfolio, and we look forward to working together to bolster the value we offer our joint customers."
"CIOs are increasingly interested in software defined networking technology, NTT DATA is a frontrunner in offering innovative solutions and is looking forward to helping clients take advantage of NTT's SD-WAN Service Portfolio," says Marv Mouchawar, President, Strategic Business Units, NTT DATA, an NTT Group Company.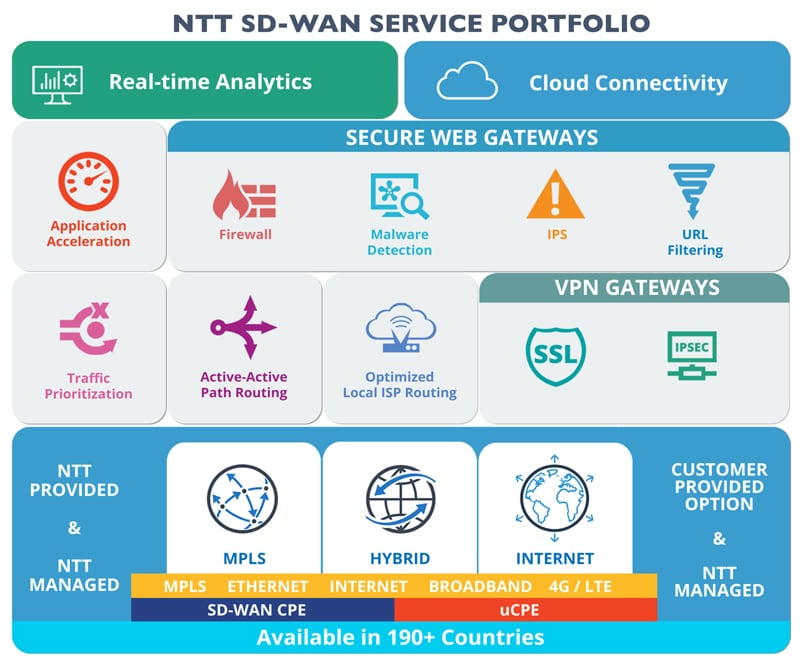 NTT SD-WAN Service Portfolio Highlights:
Real-Time Streaming Network Analytics: The NTT SD-WAN Service Portfolio features real-time streaming network analytics based on NTT Com's application visibility reporting & analytics tool, allowing enterprise customers to better manage network workload and performance. The platform's industry-leading analytics enables enterprises to keep a real-time pulse on the health of their network and continuously monitor traffic flows. NTT SD-WAN platform also provides multi-dimensional visualization with replay functionality of application performance, network security, utilization, and end-user experience, enabling organizations to analyze issues at the site level, application dimension, or individual IP address.
Enterprise Connectivity Flexibility: NTT Com offers customers many choices when it comes to selecting network connectivity for enterprise locations. The NTT SD-WAN Service Portfolio supports all types of network connectivity: Local ISP, Internet, Broadband, Wireless, MPLS, LTE, etc. giving customers the option to mix and match different types of connectivity at every branch office. NTT SD-WAN customers benefit from NTT Com's optimized cloud connectivity to major SaaS and Cloud service providers. NTT Com uses a proprietary database of 1,000+ local ISPs to select the best local network providers for each customer location. Alternatively customers can provide their own network connections via local ISPs. NTT Com also manages customer provided ISP or local broadband provider network connections, eliminating a major pain point for clients in managing multiple ISP relationships around the world.
Customer Premises Equipment (CPE) Flexibility: NTT Com offers customers the choice of selecting NTT provided or Customer provided SD-WAN devices at their branch offices. NTT Com has the knowledge and expertise to manage SD-WAN technology available from both established and emerging SD-WAN technology vendors in the market, and currently supports 10+ SD-WAN and uCPE vendors including white box options.
Optimized Local ISP Selection & Routing: NTT's global SD-WAN overlay network has optimized connectivity to 1,000+ local network providers that connect customer locations in over 190 countries. NTT's globally distributed SD-WAN platform enables an end-to-end SD-WAN solution that optimizes SD-WAN Internet connectivity, bypassing Internet peering and congestion points.
Enhanced Quality of Service (QoS): Standard SD-WAN offerings have an inherent limitation when it comes to QoS policy enforcement. Since most local ISPs do not offer or enforce QoS policies for inbound traffic destined to customer branch offices, traffic cannot be prioritized causing poor performance and a lower quality end-user experience. NTT's global SD-WAN platform enables the application and enforcement of QoS policies solving these challenges enhancing performance and improving end-user experience.
Secure Web Gateways and Application Acceleration: As customers adopt direct Internet connections at branch offices, new security challenges emerge. Protecting enterprise assets is a critical requirement, and suddenly enterprises find themselves having to purchase and support local security infrastructure for each branch location, increasing risk and costs. As part of NTT SD-WAN Service Portfolio, NTT Com offers a fully integrated SD-WAN security solution via its Secure Web Gateways located at globally distributed LCCs where customers can enable web URL filtering, firewall protection, and intrusion prevention services. NTT Com also offers application acceleration services via its LCCs to accelerate applications and optimize the end-user experience. These services can be activated in minutes via a web portal and can be self-managed or managed by NTT Com, and customers can take advantage of flexible pay-per use models. Customers also have the option to enable these services on uCPE devices located at their branch offices.
In addition, NTT Com's software defined network enables malware detection reporting to help enterprises deal with the persistent threat of botnets and malware without requiring any on-premises hardware or software. The service provides CIOs and their IT staff with advanced malware detection and reporting analytics to identify infected devices within the enterprise, which can dramatically reduce the time to act and to mitigate the impact of these security threats.
Customer Support: NTT Com acts as a single point of contact for its customers for SD-WAN network design, delivery and installation of network and CPE devices, implementation, and 24x7 proactive monitoring and management worldwide. NTT Com's advanced predictive analytics helps proactively identify and isolate customer network issues.
Customer and Analyst Quote:
"Inteva's business is dependent on our network performance and NTT's global SD-WAN network services provide us with high network reliability and performance. NTT Com's customer support team is highly proactive and responsive which allows us to focus on running our core business," says Dennis Hodges, CIO, Inteva Products, LCC.
"NTT Com is raising the bar in the telecom industry by reaching a global, 100 percent software defined network milestone and in offering a ubiquitous overlay of SD-WAN network, application acceleration, and security services for enterprises around the globe," states Michael Suby, Stratecast VP of Research at Frost & Sullivan. "Among the most innovative and globally flexible solutions available in the market today, NTT's SD-WAN Service Portfolio delivers the reach, performance, and adaptability organizations need to meet today's business demands and transform their enterprise networks.
About NTT Communications Corporation
NTT Communications provides consultancy, architecture, security and cloud services to optimize the information and communications technology (ICT) environments of enterprises. These offerings are backed by the company's worldwide infrastructure, including the leading global tier-1 IP network, the SD-WAN Service Portfolio reaching 196 countries/regions, and over 140 secure data centers worldwide. NTT Communications' solutions leverage the global resources of NTT Group companies including Dimension Data, NTT DOCOMO and NTT DATA.
www.ntt.com | Twitter@NTT Com | Facebook@NTT Com | LinkedIn@NTT Com
For more information
[About America]
Mr. Christopher Davis
Sr. Director Marketing, Americas
NTT Communications
Tel: +1 (214) 915-1354

>

---
Amy Farrell
Email: NTTGlobal@FinnPartners.com
Tel: +1 (617) 366-7149