MinebeaMitsumi's NTT Com-supported Wireless LED Streetlight System Awarded as Smart-city Initiative by Cambodian Environment Minister
High-efficiency system utilizes network and cloud services from NTT Com
TOKYO, JAPAN — NTT Communications Corporation (NTT Com), the ICT solutions and international communications business within the NTT (NYSE: NTT) Group, announced today that a high-efficiency system of LED streetlights constructed by MinebeaMitsumi Inc. and supported by global network and cloud services from NTT Com received a special award from the Cambodian environment minister in February 2017. The award recognizes the project's contributions to Cambodia in terms of environmental protection by reduced energy consumption.
MinebeaMitsumi's LED streetlight system is wirelessly connected for smart functions, such as parking sensors and electricity meters, which are supported by NTT Com's global network and cloud services. The extra-efficient system cuts greenhouse gas emissions by 70% compared with conventional High Intensity Discharge (HID) lighting thanks to the reduced power consumption of LEDs and smart functions such as the wirelessly controlled shut-off and dimming of streetlights.
The project was selected in June 2015 as the first of its kind to be supported under Japan's Financing Program for Joint Crediting Mechanism (JCM) Model Projects. The program provides financial support to projects that help to reduce CO2 emissions in developing countries by introducing low-carbon technologies from Japan for energy savings or renewable energy use.
NTT Com continues to support the growing worldwide IoT environment by providing Arcstar Universal One global networks to 196 countries and Enterprise Cloud unified, high-quality cloud services to 14 bases in 11 countries.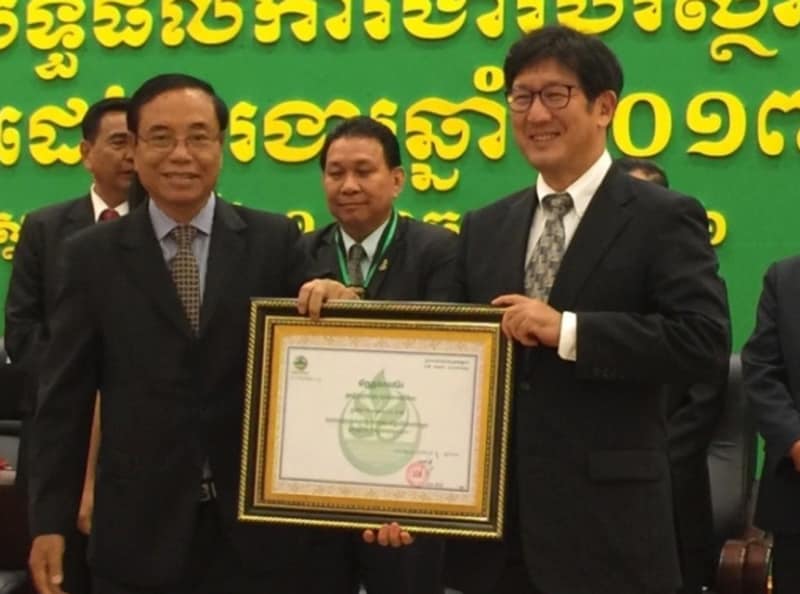 (from left, in front) Cambodian Deputy Prime Minister Bin Chhin and MinebeaMitsumi Executive Officer Hiroyuki Akatsu
Services and products mentioned in this release are the trademarks or the registered trademarks of each company.
About NTT Communications Corporation
NTT Communications provides consultancy, architecture, security and cloud services to optimize the information and communications technology (ICT) environments of enterprises. These offerings are backed by the company's worldwide infrastructure, including the leading global tier-1 IP network, the Arcstar Universal One™ VPN network reaching 196 countries/regions, and over 140 secure data centers worldwide. NTT Communications' solutions leverage the global resources of NTT Group companies including Dimension Data, NTT DOCOMO and NTT DATA.
www.ntt.com | Twitter@NTT Com | Facebook@NTT Com | LinkedIn@NTT Com