NTT Communications Named Champions for 3rd consecutive years in APAC Frost IQ: Hosted Telephony and UCC Services Providers, 2016
TOKYO, JAPAN -- NTT Communications Corporation (NTT Com), the ICT solutions and international communications business within the NTT (NYSE: NTT) Group, announced today that it has been named a champion in the Frost Industry Quotient (IQ) – Asia-Pacific Hosted Telephony and UCC Services Providers, 2016.
According to Frost and Sullivan, "NTT Com provides in-depth experience and understanding of Unified-Communication-as-a-Service and total flexibility in implementing tangible value added services such as hybrid cloud and private instances."
Frost & Sullivan has evaluated the 10 major service providers in the Asia-Pacific region and assessed them using the Frost Industry Quotient (Frost IQ) matrix. The matrix comprises four quadrants: champions, challengers, defenders and explorers, based on a combination of market share performance and future growth strategies as determined by Frost & Sullivan research.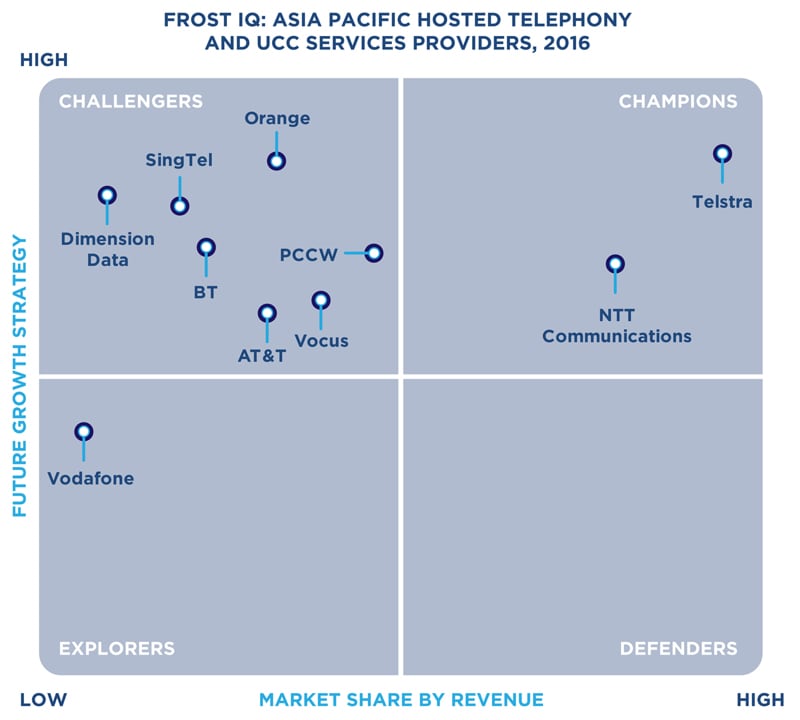 Source: Frost and Sullivan analysis
To view the full report: http://www.ntt.com/content/dam/nttcom/hq/en/about-us/press-releases/pdf/2017/0111.pdf
Related News
NTT Communications Named Champions in APAC Hosted Telephony and Unified Communications Service Providers Frost IQ
NTT Communications and Arkadin honored in Frost & Sullivan Asia Pacific ICT Awards
About Frost & Sullivan
Frost & Sullivan, the Growth Partnership Company, works in collaboration with clients to leverage visionary innovation that addresses the global challenges and related growth opportunities that will make or break today's market participants. For more than 50 years, we have been developing growth strategies for the Global 1000, emerging businesses, the public sector and the investment community.
About NTT Communications Corporation
NTT Communications provides consultancy, architecture, security and cloud services to optimize the information and communications technology (ICT) environments of enterprises. These offerings are backed by the company's worldwide infrastructure, including the leading global tier-1 IP network, the Arcstar Universal One™ VPN network reaching 196 countries/regions, and over 140 secure data centers worldwide. NTT Communications' solutions leverage the global resources of NTT Group companies including Dimension Data, NTT DOCOMO and NTT DATA.
www.ntt.com | Twitter@NTT Com | Facebook@NTT Com | LinkedIn@NTT Com
For more information
Ms. Yuko Miyamoto, Ms. Hana Tsuchiya
Public Relations
NTT Communications Corporation
Tel: +81 3 6700 4010