NTT Communications Launches Digi-Path Premier Internet Service for Enterprises in Yangon, Myanmar
Obtains communication service license to deliver one-stop ICT solutions
TOKYO, JAPAN―NTT Communications Corporation (NTT Com), the ICT solutions and international communications business within the NTT (NYSE: NTT) Group, announced today that it has received a network service license from Myanmar's Ministry of Transport and Communications and has begun offering reliable, high-speed internet connections for enterprises throughout the Yangon area as a first phase, effective immediately.
The service, Digi-Path Premier, provides dedicated circuits from 1Mbps to connect enterprises with NTT Com's global internet network. Optional services include global IP address, web hosting, mail hosting, rental routers, managed firewalls, internet VPN and file transfers.
New connection service in Yangon, Myanmar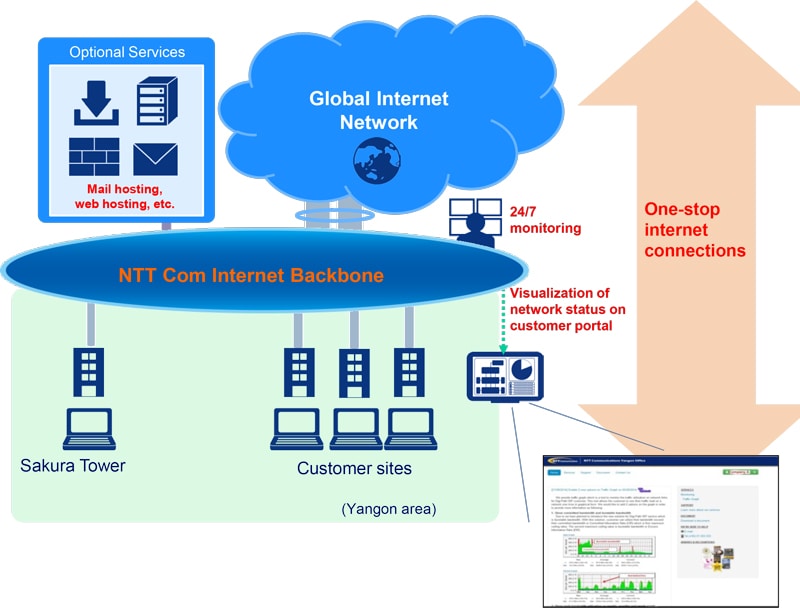 Benefits of NTT Com's new connection service include the following:
Highly reliable communication environment
Digi-Path Premier ensures reliable high-speed communication environments that connect offices with NTT Com's global internet network via dedicated optical-fiber circuits and a redundant backbone network.
Prompt delivery
NTT Com fully manages the delivery of circuits from the customer's office to the global internet network. Delivery can require as little as one month, compared with six months in conventional cases.
Around-the-clock network monitoring
Digi-Path Premier includes 24/7 monitoring of circuits. In the case of any trouble, the service will minimize the influence on enterprise's business by promptly fixing the circuit.
For more information about Digi-Path Premier, including application procedure, optional services and initial/monthly costs, please contact NTT Communications Yangon (in English, Japanese or Burmese) as follows:
NTT Communications Yangon
#1504, 15th Floor, Sakura Tower
339, Bogyoke Aung San Road, Kyauktada Township, Yangon, Myanmar
Tel: +95-1-255-032 / ygn-all@nttc.com.mm
NTT Com is now providing internet connections to enterprises globally as well as in seven Southeast Asian countries, including Singapore, Malaysia, Indonesia, Thailand, Vietnam and Cambodia, as well as Myanmar.
Myanmar has been strengthening its presence in the Mekong regional economy since beginning its transition from military to democratic rule in March 2011. An increasing number of multinational enterprises are entering the market and creating demand for reliable high-quality internet connection services. NTT Communications Yangon was opened in October 2012 to provide ICT solutions that combine global networks, system integration and security throughout Myanmar. The internet connection service, which is now available nationwide, previously had been restricted to tenants in Yangon's Sakura Tower, a high-rise office building serving multinational companies.
About NTT Communications Corporation
NTT Communications provides consultancy, architecture, security and cloud services to optimize the information and communications technology (ICT) environments of enterprises. These offerings are backed by the company's worldwide infrastructure, including the leading global tier-1 IP network, the Arcstar Universal One™ VPN network reaching 196 countries/regions, and 140 secure data centers worldwide. NTT Communications' solutions leverage the global resources of NTT Group companies including Dimension Data, NTT DOCOMO and NTT DATA.
www.ntt.com | Twitter@NTT Com | Facebook@NTT Com | LinkedIn@NTT Com
For more information
(Mr.) Kuroda, (Mr. ) Hayashi
Global Business Department
NTT Communications Corporation
Tel: +81 3 6733 0018
Mail: apacbiz-gl@ntt.com


---
(Mr. )Sakemi, (Ms.)Tamura
Mekong Business Department
NTT Communications (Thailand) Co., Ltd.
Tel: +66 2 236 7227
Mail: mekong@ntt.co.th

---
(Mr.)Watanabe, (Ms.)Ohnmar Min
NTT Communications Yangon Office
Tel: +95 1 255 032
Mail: ygn-all@nttc.com.mm