Mitsui & Co., Chooses NTT Communications as its Globally Integrated IT & Communication Platform Provider
Integrated high-quality platform for 130 offices worldwide
TOKYO, Japan—NTT Communications Corporation (NTT Com), the ICT solutions and international communications business within NTT (NYSE: NTT), announced today that it will launch a next-generation global IT and communication platform for Mitsui & Co., Ltd. A variety of systems and services, internal communications and internet connections will be delivered sequentially via NTT Com's highly stable and flexible platform, which includes cloud services, WAN networks, email and operational support, to 130 Mitsui & Co. offices around the world by September 2016.
The new globally unified platform will enable Mitsui & Co. to deepen collaboration with its partners and newly acquired companies, as well as to strengthen its competitive position and support new business creation by actively leveraging new technologies.
<Newly launched IT & Communication Platform Image>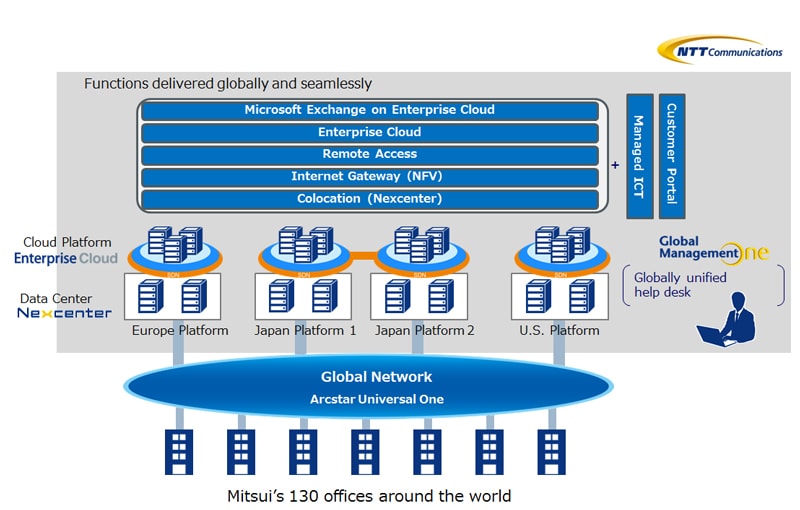 Advantages of the new platform include:
Comprehensive global support
NTT Com's highly reliable network, available in 196 countries, will cover 130 Mitsui & Co. offices around the world, supporting their global operations and ensuring business continuity.
Integrated, globally standardized ICT services
NTT Com's seamless and globally standardized ICT services, including Arcstar Universal One, Enterprise Cloud, Nexcenter and Global Management One, and Microsoft's Exchange Server will be deployed on the new platform. In addition, it will include a partial implementation of Network Functions Virtualization (NFV), a new way to design, deploy and manage networking services that enhances mobility, ensuring Mitsui & Co. can flexibly expand their business while utilizing asset-light business models.
Global help desk service
NTT Com will provide a global help desk servicing the IT departments of each Mitsui & Co. office to support operation and maintenance of the new platform.
NTT Com looks forward to supporting Mitsui & Co.'s innovative initiatives focusing on next-generation technologies. This partnership will drive further innovation and create new business alliances leveraging digital technology in the cloud and IoT fields.
About NTT Communications Corporation
NTT Communications provides consultancy, architecture, security and cloud services to optimize the information and communications technology (ICT) environments of enterprises. These offerings are backed by the company's worldwide infrastructure, including the leading global tier-1 IP network, the Arcstar Universal One™ VPN network reaching 196 countries/regions, and 140 secure data centers worldwide. NTT Communications' solutions leverage the global resources of NTT Group companies including Dimension Data, NTT DOCOMO and NTT DATA.
www.ntt.com | Twitter@NTT Com | Facebook@NTT Com | LinkedIn@NTT Com
For more information
(Mr.) Yamashita, (Mr.) Imae
Public Relations
Corporate Planning
NTT Communications Corporation
Tel: +81 3 6700 4010