NTT Com Expands ID Federation for Enterprises
Simplified ID management service now available in Hong Kong, Taiwan, Malaysia, Indonesia and Vietnam
TOKYO, Japan — March 31, 2016 — NTT Communications Corporation (NTT Com), the ICT solutions and international communications business within NTT (NYSE: NTT), announced today that it will expand overseas sales of ID Federation, an Identity as a Service (IDaaS) that enables diverse business applications to be used conveniently and securely with one ID, from April 1, 2016.
In addition to Japan, Singapore and Thailand, where NTT Com has been offering ID Federation since October 2015, NTT Com will start providing the service in Hong Kong and Taiwan, where the cloud service industry is robust, and Malaysia, Indonesia and Vietnam, where many businesses have manufacturing sites.
Advantages
Enterprises now face the difficult challenge of securely and efficiently managing different IDs and passwords for each employee on a wide variety of cloud and on-premise applications, including Sales Force Automation (SFA), Customer Relationship Management (CRM) systems, Enterprise Resource Planning (ERP) and data storage.
ID Federation enables enterprises to seamlessly sign-on with one ID to over 1,600 Software as a Service (Saas) applications, including Microsoft Office 365, Salesforce, Box, and Google Apps, as well as the customer's on-premises systems. It can also be utilized in environments with multiple Active Directories (AD) or those without.
ID Federation Service Image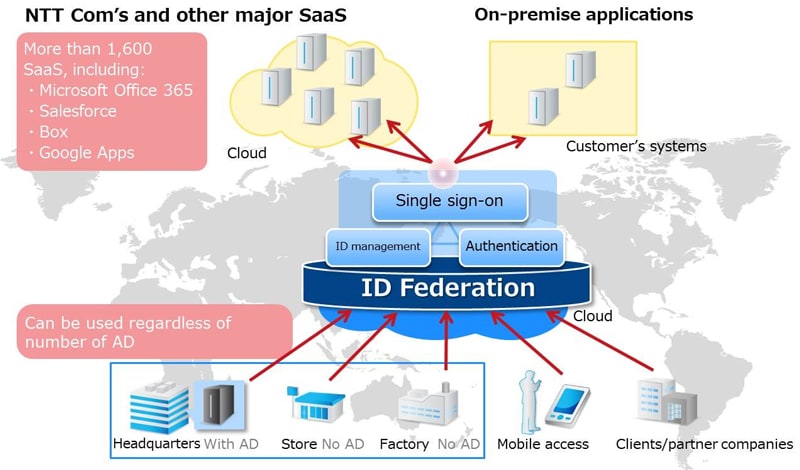 Service Menu
Menu
Contents
Basic

Single sign-on to SaaS offered by NTT Com
ID and password authentication
Standardized risk-based authentication
Active Directory Federation Services (ADFS) sync
ID portal, control panel for administrators
Cloud desktop, SSO portal for users

Optional
Additional applications
One application
Five applications
10 applications
Multi-Factor Authentication (MFA)
Swipe
Device authentication
TOTP (Time-based One-Time Password)
Moving forward, NTT Com is planning to launch the service in Europe and North America.
Use the contact information below for more information on applications and prices for each country.
About NTT Communications Corporation
NTT Communications provides consultancy, architecture, security and cloud services to optimize the information and communications technology (ICT) environments of enterprises. These offerings are backed by the company's worldwide infrastructure, including the leading global tier-1 IP network, the Arcstar Universal One™ VPN network reaching 196 countries/regions, and 140 secure data centers worldwide. NTT Communications' solutions leverage the global resources of NTT Group companies including Dimension Data, NTT DOCOMO and NTT DATA.
www.ntt.com | Twitter@NTT Com | Facebook@NTT Com | LinkedIn@NTT Com