About Us
Press Releases
2016-R014
February 8, 2016
NTT Communications Launches New Ultra-low-latency Connectivity Service between JPX & SGX

—Unprecedented 63.5 millisecond latency will improve investors' agility in high-frequency trading—
TOKYO, JAPAN — NTT Communications Corporation (NTT Com), the ICT solutions and international communications business within the NTT Group (NYSE: NTT), announced today that it has added a new ultra-low-latency connectivity service between the Japan Exchange Group (JPX) and Singapore Exchange (SGX). This new connectivity service will offer the telecom industry's lowest-latency level for international leased lines that directly connect the colocation facilities of JPX and SGX.
This new service connects JPX's Access Point 3-equipped data center (AP3 center), where many financial institutions have their servers, and SGX's data center by just 63.5 milliseconds. This unmatched speed enables investors trading at JPX and SGX to improve the agility of their high-frequency trading and strengthen their competitiveness. The latency level is a round-trip latency measured using a 1Gbps test cable and 1000Base-LX/64-bite packet environment. The latency level may vary depending on network environment.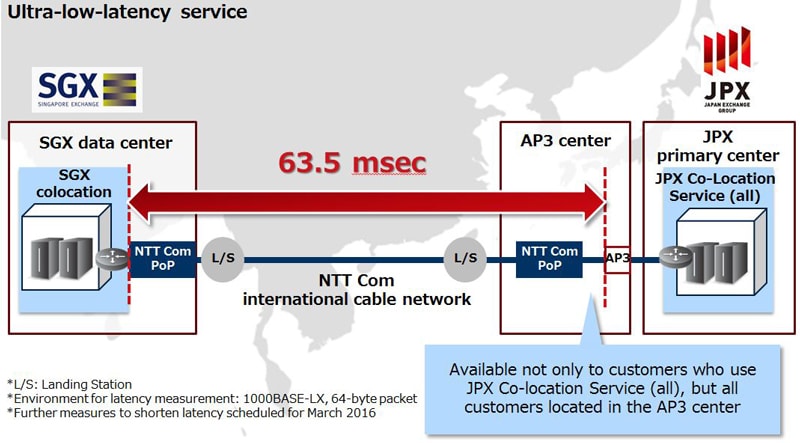 63.5 millisecond latency further shortens the already lowest JPX-SGX latency
Since April 2015, NTT Com's JPX-SGX Co-Location Direct has been providing the lowest-level latency between JPX and SGX at 63.7 milliseconds by leveraging the company's Asia Submarine Cable Express (ASE), the shortest cable route between Japan and Singapore. This new connectivity service succeeds in further shortening that time by adding an NTT Com Point of Presence (PoP) at the AP3 center in a more advantageous location that connects to the landing point via the shortest possible route. Additionally, since the new PoP is directly connected to the structured cable, an external connection is no longer needed, ultimately reducing the lead time.
More flexible options to meet a wider range of needs
NTT Com's JPX-SGX Co-Location Direct provides cost savings and low-latency connectivity for customers using "JPX Co-Location Service (all)", which is offered by JPX. The new ultra-low-latency option will be available not just for those customers but also for those using other colocation and connectivity services. Many customers are expected to reexamine their options ahead of JPX's planned integration of colocation services for its Tokyo and Osaka exchanges and the integration of Tokyo Stock Exchange into the JPX platform, which is scheduled for 2016.
For details on applications and fees, please contact NTT Com sales staff. (Contact Us)
About NTT Communications Corporation
NTT Communications provides consultancy, architecture, security and cloud services to optimize the information and communications technology (ICT) environments of enterprises. These offerings are backed by the company's worldwide infrastructure, including the leading global tier-1 IP network, the Arcstar Universal One™ VPN network reaching 196 countries/regions, and 140 secure data centers worldwide. NTT Communications' solutions leverage the global resources of NTT Group companies including Dimension Data, NTT DOCOMO and NTT DATA.
www.ntt.com | Twitter@NTT Com | Facebook@NTT Com | LinkedIn@NTT Com