About Us
Press Releases
2015-R156
December 10, 2015
NTT Com Receives License to Launch Network Services
in India
TOKYO, Japan — December 10, 2015 — NTT Communications Corporation (NTT Com), the ICT solutions and international communications business within the NTT Group (NYSE: NTT), announced today that it has been granted National Long Distance license in India through NTT Communications India Network Services, a newly established Indian subsidiary. Through this license, NTT Com will be launching India domestic network services by the end of December 2015.
The launch will include IP-VPN and other reliable, high-quality connectivity services to meet the growing demands of companies such as automobile dealers and retailers with distributed sites across India. Customers will be able to use multiple local carriers for carrier-redundant access, one of the many ways NTT Com aims to provide secure, cost-efficient networks backed by strong service-level agreements for the mission-critical systems of its enterprise customers.
NTT Com will combine its new network services with managed-hosting and cloud services currently offered by another NTT Com subsidiary, Netmagic Solutions, which owns nine data centers in India. As a result, NTT Com will offer a comprehensive range of ICT services, including system integration, to support the businesses of Indian enterprises and multinational corporations.
Sharad Sanghi, the managing director and CEO of Netmagic, stated: "NTT Com - Netmagic will now offer world-class ICT solutions comprising secure, high-quality private-network services, including IP-VPN connecting data centers and the cloud to customers' domestic sales or production bases. Netmagic, which launched its largest data center in Mumbai recently, is committed to constantly upgrading its product roadmap for data centers & cloud offerings."
Going forward, NTT Com expects to steadily expand its ICT business infrastructure in India to help customers accelerate their business-development initiatives.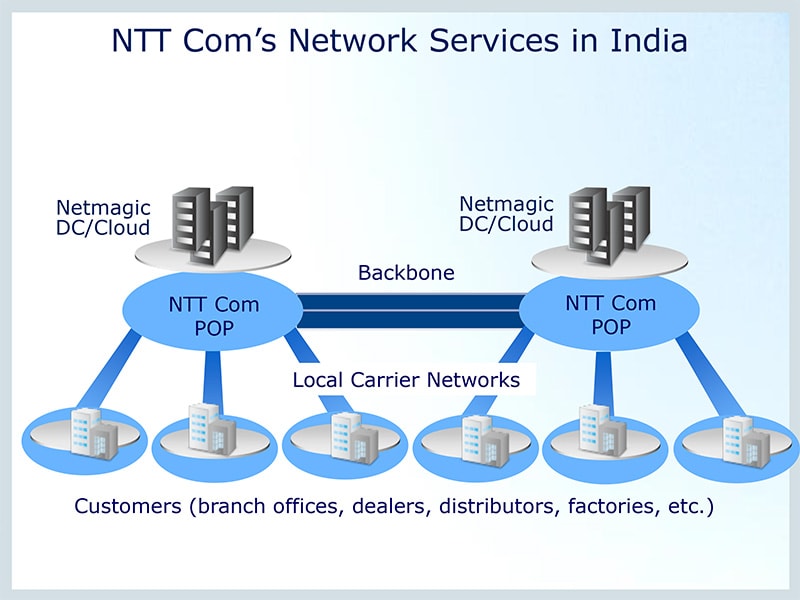 About NTT Communications Corporation
NTT Communications provides consultancy, architecture, security and cloud services to optimize the information and communications technology (ICT) environments of enterprises. These offerings are backed by the company's worldwide infrastructure, including the leading global tier-1 IP network, the Arcstar Universal One™ VPN network reaching 196 countries/regions, and 140 secure data centers worldwide. NTT Communications' solutions leverage the global resources of NTT Group companies including Dimension Data, NTT DOCOMO and NTT DATA.
www.ntt.com | Twitter@NTT Com | Facebook@NTT Com | LinkedIn@NTT Com
About Netmagic Solutions
Netmagic Solutions is India's largest pure-play Managed IT Hosting Services Provider. Netmagic Solutions is ISO 27001, ISO 9001:2008 and ISO 20000-1 certified and its processes are designed as per the ITIL framework. Netmagic Solutions delivers mission critical hosted applications for over 1000 of the world's best-known enterprises from multiple locations and has been awarded the 'Datacenter Service Provider of the Year 2011' by Frost & Sullivan. Netmagic's Chennai Datacenter is the only Gold LEED certified datacenter by the USGBC in India. Netmagic has 9 carrier neutral, state-of-the-art datacenters located in Mumbai, Bangalore, Noida (Delhi-NCR) and Chennai with about 600,000 sq. ft. floor space. http://www.netmagicsolutions.com