About Us
Press Releases
2015-R144
November 11, 2015
NTT Communications and PLDT to Provide Data Center Services in Philippines

– New partnership model will expand global footprint of Nexcenter data centers –
TOKYO, JAPAN --- NTT Communications Corporation (NTT Com), the ICT solutions and international communications business within the NTT Group (NYSE: NTT), and Philippine Long Distance Telephone Company (PLDT, NYSE: PHI), the Philippines' leading information and communications technology company, agreed on a collaboration partnership on November 5 to provide Nexcenter™ solutions in the Philippines and promote cross-selling. Under the agreement, Philippines corporations with international operations will be able to use NTT Com's globally standardized high-quality Nexcenter™ services at some 140 locations in 84 cities of 19 countries, in addition to its Arcstar Universal One private-network service, which is already available in the Philippines.
PLDT, supported by NTT Com, expects to gain Nexcenter™ accreditation for its two main data centers and begin providing Nexcenter™ services by January 2016. In addition, PLDT will incorporate Nexcenter™ standards in a new data center now under construction, which also will be launched as a new Nexcenter™ facility. The additions will strengthen Nexcenter™ as No. 1 data center brand in the Asian region.
Also, NTT Com will use this new partnership model to further expand the Nexcenter™ footprint to other regions where high demand for data center services exists among companies looking to expand and enhance their businesses.
"With this partnership, PLDT will bring its enterprise data center and ICT service offerings to the next level, as we leverage on the world-class expertise and extensive global infrastructure of NTT Communications," said PLDT President and CEO Napoleon Nazareno. "We are confident that this partnership will contribute to the country's development and look forward to giving our local enterprises the much needed ICT boost, as they pursue their respective initiatives to expand locally and/or overseas."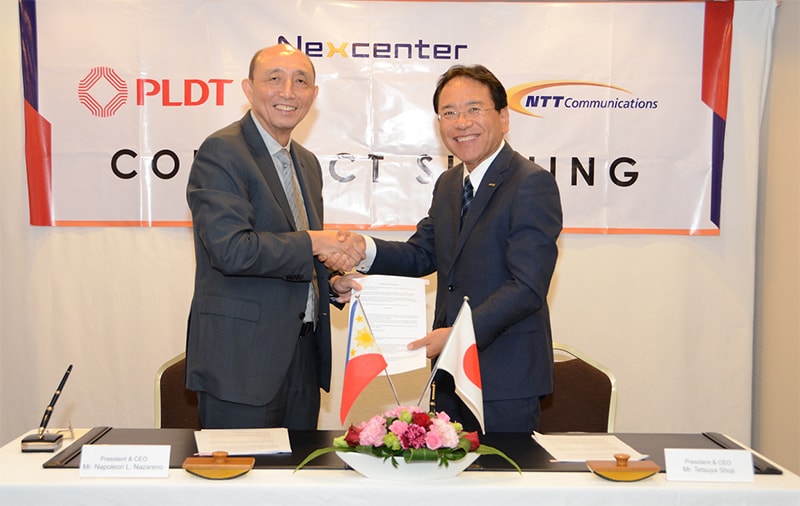 Signing ceremony in Tokyo

NTT Com's Nexcenter™ data centers offers globally standardized service backed by quality, flexibility, and cost-efficiency in over 140 locations worldwide. Going forward, NTT Com will further enhance its global seamless ICT solutions as it continues to expand its data-center business worldwide.
(Please see the following attachments for further details)

<References>
Nexcenter
http://www.ntt.com/nexcenter_j/
Philippine Long Distance Telephone Company(PLDT)
Company:Philippine Long Distance Telephone Company
Place:Manila, the Philippines
Business:Fix and mobile telecommunication business in the Philippines
NTT Communications and PLDT to Provide Philippine Companies with Enterprise Cloud
http://www.ntt.com/aboutus_e/news/data/20140728.html
*1: The brand name of PLDT group's data center which is constructed and operated by ePLDT who is one of the PLDT group companies.
*2: The brand name of PLDT group's data center which is constructed and operated by IP Converge who is one of the PLDT group companies.
About NTT Communications Corporation
NTT Communications provides consultancy, architecture, security and cloud services to optimize the information and communications technology (ICT) environments of enterprises. These offerings are backed by the company's worldwide infrastructure, including the leading global tier-1 IP network, the Arcstar Universal One™ VPN network reaching 196 countries/regions, and 140 secure data centers worldwide. NTT Communications' solutions leverage the global resources of NTT Group companies including Dimension Data, NTT DOCOMO and NTT DATA.
www.ntt.com | Twitter@NTT Com | Facebook@NTT Com | LinkedIn@NTT Com