About Us
Press Releases
2015-R114
September 25, 2015
NTT Communications to Introduce Prepaid SIM Card Vending Machine at Chubu Centrair International Airport
TOKYO, Japan – September 25, 2015 – NTT Communications Corporation (NTT Com), the ICT solutions and international communications business within the NTT (NYSE: NTT) Group, announced today that it will begin operating a prepaid SIM card vending machine at Chubu Centrair International Airport from September 29.
The vending machine will be installed in the arrival lobby of the airport, which serves the greater Nagoya area in central Japan, enabling foreign visitors to easily access low-cost mobile data communications while in Japan. In addition to the short-term "Prepaid SIM for Japan" offered by NTT Com, the machine will sell related items such as smartphones, mobile routers and accessories.
A multilingual touch panel will provide guidance in English and Chinese. Payment via credit card will eliminate the need for arriving customers to prepare Japanese yen cash. After purchasing a card, the user can register required personal information by simply scanning their passport to immediately begin surfing the internet or checking emails.
NTT Com is already operating SIM card vending machines at Narita International Airport and Kansai International Airport for the convenience of foreign visitors entering Japan through these major international gateways. Chubu International Airport is expected to receive some four million foreign visitors annually by 2019.
NTT Com, Japan's largest mobile virtual network operator (MVNO), intends to add additional sites for SIM card sales, including at major electronics stores and travel agencies as well as other airports. The company will also expand its lineup of related mobile data communications products in response to customer feedback.
Prepaid SIM card vending machine (rendition)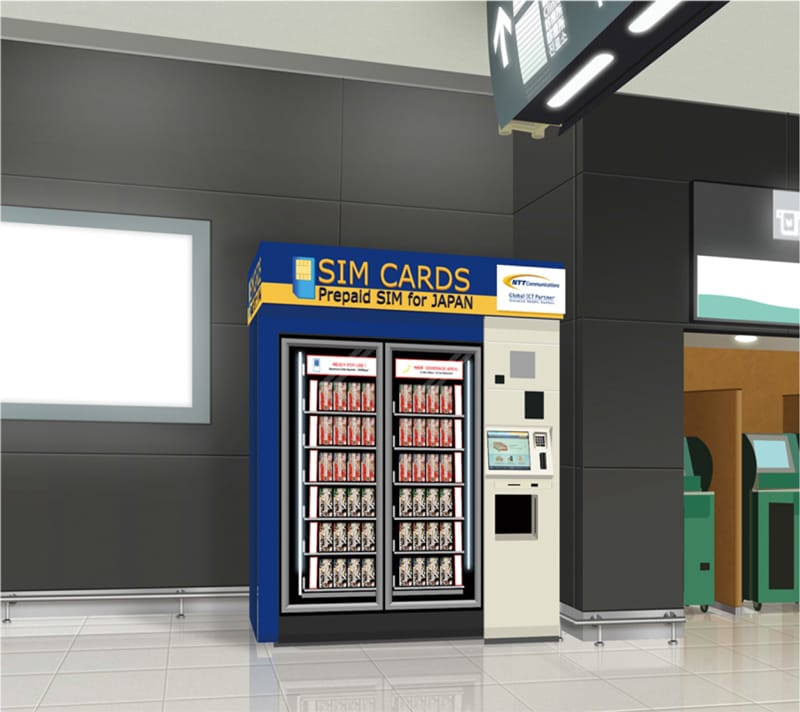 Vending Machine Location
2nd floor, International Arrival Lobby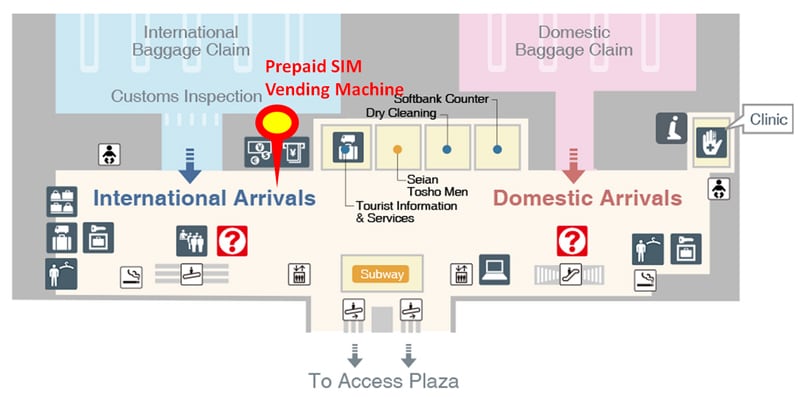 Service Overview
Details
Location
2nd floor international arrival lobby, Chubu Centrair International Airport
(Machines have already been installed at AQUA CITY ODAIBA, Kansai International Airport and Narita International Airport.)
Payment
(by card only)
VISA, MasterCard, JCB, American Express or Diners Club
Languages
English and Chinese
Operating hours
24 hours every day
Size
2,050 (W) × 1,010 (D) × 2,300 (H) mm
Product lineup

"Prepaid SIM for JAPAN - 7 days" (100 MB/per day) for 3,450 JPY (excl. tax)
"Prepaid SIM for JAPAN - 14 days" (100 MB/per day) for 4,950 JPY (excl. tax)
SIM-free smartphones, LTE Wi-Fi routers and AC chargers

Items and prices are subject to change. Prepaid SIM for Japan prices may vary by sales location.
Purchase and Contract Procedure

NOTES: The "Prepaid SIM for Japan" card requires a compatible mobile data device, which can be purchased at Amazon.co.jp or outlets operated by NTT Com. Card users can use apps provided by NTT Broadband Platform Inc. to also access free public LANs at some 130,000 locations in Japan, including airports, train stations, commercial facilities, convenience stores and more (www.ntt-bp.net/jcfw/en.html)
Additional Information
• NTT Communications to Launch Prepaid SIM Vending Machines for Tourists and Business Travelers at Narita Airport
http://www.ntt.com/aboutus_e/news/data/20150717.html
• NTT Communications Launches Prepaid SIM Vending Machines for Foreign Tourists at AQUA CITY ODAIBA and Kansai International Airport
AQUA CITY ODAIBA
http://www.ntt.com/aboutus_e/news/data/20150327.html
About NTT Communications Corporation
NTT Communications provides consultancy, architecture, security and cloud services to optimize the information and communications technology (ICT) environments of enterprises. These offerings are backed by the company's worldwide infrastructure, including the leading global tier-1 IP network, the Arcstar Universal One™ VPN network reaching 196 countries/regions, and 130 secure data centers worldwide. NTT Communications' solutions leverage the global resources of NTT Group companies including Dimension Data, NTT DOCOMO and NTT DATA.
www.ntt.com | Twitter@NTT Com | Facebook@NTT Com | LinkedIn@NTT Com