About Us
Press Releases
2015-R083
July 17, 2015
NTT Communications to Launch Prepaid SIM Vending Machines for Tourists and Business Travelers
at Narita Airport
TOKYO, Japan – July 17, 2015 – NTT Communications Corporation (NTT Com), the ICT solutions and international communications business within the NTT (NYSE: NTT) Group, announced today that it will begin operating prepaid SIM card vending machines for foreign visitors to Japan at Narita International Airport from July 24.
The prepaid SIM vending machines, the first to be installed at Narita International Airport, will give foreign tourists and business travelers access to low-cost mobile data communications while in Japan.
One machine each will be installed in the international arrival lobbies of Terminal 1 and Terminal 2. In addition to NTT Com's Prepaid SIM for JAPAN for short-term use, the machines will offer smartphones, mobile routers, accessories and more.
Touch panel screens in English or Chinese guide the user through the purchase procedure. Payment is via credit card, so there is no need to prepare Japanese yen cash. After making their purchase, the user can register their name, birthday, etc. via either the machine's touch panel or passport scanner to begin accessing the Internet immediately.
Vending machine at Narita International Airport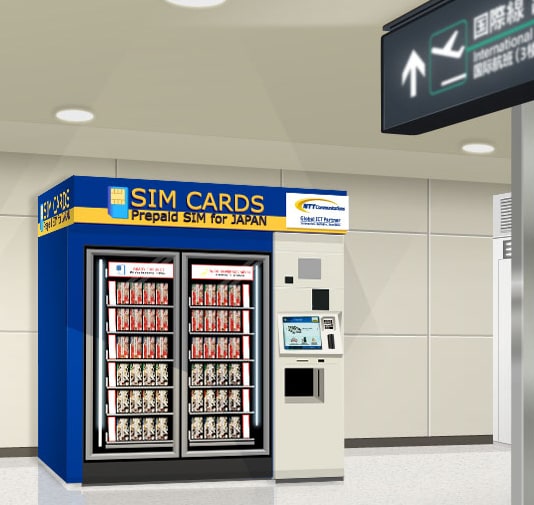 NTT Com already operates SIM card vending machines at the AQUA CITY ODAIBA mall in Tokyo and Kansai International Airport near Osaka. NTT Com's Prepaid SIM cards are also sold at airports, electronics stores and travel agencies.
Given that a record 13 million tourists visited Japan in 2014 and more are expected this year, NTT Com expects to continue adding retail outlets for its Prepaid SIM, mainly at airports, electronics retail stores and travel agents. NTT Com also will gradually expand its range of optional services to support mobile communication experiences for foreign visitors.
Products & Costs
Prepaid SIM for JAPAN (7-day plan)
Prepaid SIM for JAPAN (14-day plan)
Accepted Credit Cards
VISA, MasterCard, JCB, American Express and Diners Club
(Payment is available via credit card only.)
Operating Time
24 hours every day
Note: Information as of July 17, 2015. Products and prices are subject to change without notice. Prepaid SIM for JAPAN prices may vary by retail location.
Purchase and Contract Procedure

Vending Machine Locations
1st floor in Main Building, Terminal 1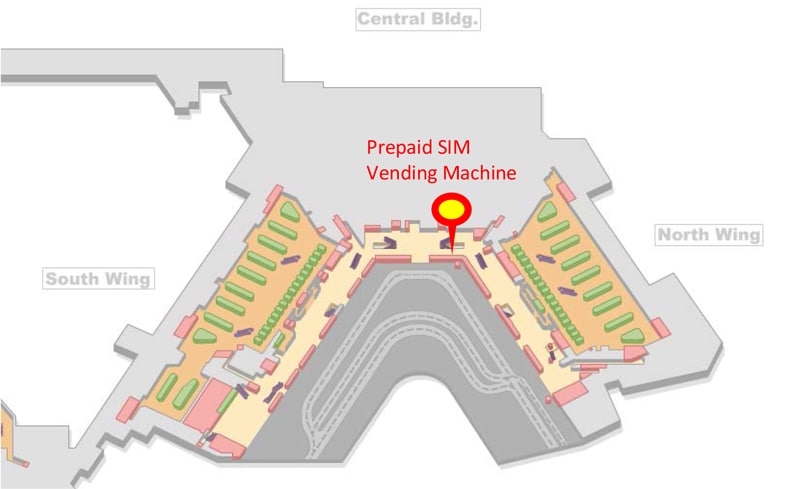 1st floor in Main Building, Terminal 2

Prepaid SIM for JAPAN
Package
Plan
7-day plan
14-day plan
Max. data
100 Mb/day
100 Mb/day
Charges
JPY 3,450 (excluding tax)


[price at these vending machines]

JPY 4,950 (excluding tax)


[price at these vending machines]

Max. speed
Download:150 Mbps; Upload 50Mbps
Max. speed after 100 Mb/day
200 Kbps (until midnight of that day)
Service extension
Neither plan can be extended
SIM card sizes
Regular, Micro and Nano
Service area
Japan (nationwide)
During the purchase procedures, instructions are provided on how users many apply for the no-charge Japan Connected-free Wi-Fi service provided by NTT Broadband Platform Inc. at some 130,000 locations, including airports, train stations, commercial facilities, convenience stores and more. (www.ntt-bp.net/jcfw/en.html).

For service details, visit http://s.ocn.jp/pre1e
About NTT Communications Corporation
NTT Communications provides consultancy, architecture, security and cloud services to optimize the information and communications technology (ICT) environments of enterprises. These offerings are backed by the company's worldwide infrastructure, including the leading global tier-1 IP network, the Arcstar Universal One™ VPN network reaching 196 countries/regions, and 130 secure data centers worldwide. NTT Communications' solutions leverage the global resources of NTT Group companies including Dimension Data, NTT DOCOMO and NTT DATA.
www.ntt.com | Twitter@NTT Com | Facebook@NTT Com | LinkedIn@NTT Com