About Us
Press Releases
2015-R070
June 16, 2015
Box Inc. and NTT Communications to Provide "Box over VPN" via Secure Enterprise Network
TOKYO, JAPAN, JUNE 16, 2015 -- Box Inc. ("Box") and NTT Communications Corporation ("NTT Com"), the ICT solutions and international communications business within the NTT (NYSE: NTT) Group, today announced a plan to jointly launch "Box over VPN powered by NTT Communications" (Box over VPN), a service combining NTT Com's enterprise network and Box's cloud collaboration and content management, which will be distributed by NTT Com beginning within this year. NTT Com will act as Japan's sole provider and Asia's first distributor of Box over VPN, enabling its use on Arcstar Universal One, NTT Com's NFV-enabled, private network service available in 196 countries/regions.
Box expects to gain increased access to a variety of greater organizations including government agencies and financial institutions through its partnership with NTT Com, which offers VPN services for secure, closed network connections.
Box over VPN service scheme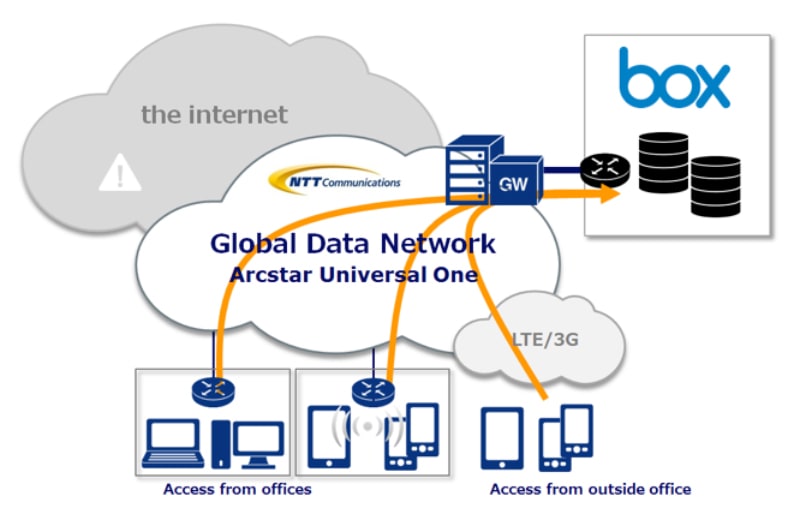 Box services via secure closed networks
Enterprise customers that enforce strict policies on the use of public cloud services will be able to use Box over VPN without any data passing through the Internet, enhancing end-user and end-point protection.
End-to-end, centralized maintenance and agile troubleshooting
NTT Com's continual monitoring of Box over VPN network will enable troubleshooting support to be provided flexibly and as required. Centralized, one-stop maintenance and managed operation will also be available.
Reduced file-management costs
Box over VPN offers unlimited file storage capacity and can be integrated with other systems, including SaaS such as Salesforce, customer-operated on-premises systems and NTT Com cloud services within secure closed networks. Customers will design and operate core systems and big-data systems for IoT purposes without regard for file-storage capacity. Support for the latest browsers and operating systems will free system-management resources for other uses.
Plans and Pricing (planned)
Plan
Fee (monthly, excluding tax)
Business
- Unlimited storage
- File size up to 5GB
- External user license: paid
- Other SaaS linked solution: Up to 1 linkage
From 2,400 yen/ID
Enterprise
- Unlimited storage
- File size up to 5GB
- External user license: free
- Other SaaS linked solution: unlimited
- Security report (e.g. usage log) issuing
From 4,980 yen/ID
Aaron Levie, co-founder and CEO of Box, said: "We're thrilled to partner with NTT Com to help create transformative software for Japanese businesses in every industry. This partnership will help more organizations to benefit from entirely new ways of working by elevating technology to enable secure collaboration and content management across geographical boundaries, while still meeting demands for robust control."
Hidemune Sugawara, Head of Application & Contents Service, Senior Vice President of NTT Com, said: "By delivering added value based on NTT Com's expertise in network security, we look forward to providing Box over VPN to a wide range of Japanese businesses. The partnership will enable Box to be combined with ID Federation1 and Salesforce over VPN2, both of which are provided by NTT Com, which will help to expand our file-collaboration businesses targeting large enterprises."
About Box
Box online services support single sign-on, as well as Microsoft's Active Directory and LDAP. These services have high security, enabling them to be used by enterprises, medical institutions, public services and more. They also conform to the security specifications SSAE16SOC-1, Type II, HIPPA, and SAFEHARBOR. Besides supporting monitoring through file access history management, an ISMS certification prerequisite, these services enable previous file versions to be recovered through file history management if they have been overwritten by mistake. Founded in 2005, Box (NYSE:BOX) is transforming the way people and organizations work so they can achieve their greatest ambitions. As the world's leading enterprise software platform for content collaboration, Box helps businesses of all sizes and industries securely access and manage their critical information in the cloud. Box is headquartered in Los Altos, CA, with offices across the United States, Europe and Asia. To learn more about Box, visit www.box.com.
About Arcstar Universal One
Arcstar Universal One is a global private-network service for low-cost, fast connection to services provided by NTT Com, in addition to SaaS such as Salesforce, and IaaS/PaaS such as Microsoft Azure, and IaaS such as Amazon Web Services.
1 An enterprise IDaaS version supporting single sign-on, enabling a single ID to be used for business applications provided by NTT Com and other companies
2 Launched in 2008 to enable Salesforce to be used via Arcstar Universal One
Other company and product names mentioned in this release are trademarks or registered trademarks of the companies concerned.
Additional Information
About NTT Communications Corporation
NTT Communications provides consultancy, architecture, security and cloud services to optimize the information and communications technology (ICT) environments of enterprises. These offerings are backed by the company's worldwide infrastructure, including the leading global tier-1 IP network, the Arcstar Universal One™ VPN network reaching 196 countries/regions, and 130 secure data centers worldwide. NTT Communications' solutions leverage the global resources of NTT Group companies including Dimension Data, NTT DOCOMO and NTT DATA.
www.ntt.com | Twitter@NTT Com | Facebook@NTT Com | LinkedIn@NTT Com