About Us
Press Releases
2015-R064
June 8, 2015
For Second Consecutive Year, NTT Communications Named Japan Unified Communications-as-a-Service Provider of the Year at 2015 Frost & Sullivan Japan Excellence Award
TOKYO, JAPAN - NTT Communications Corporation (NTT Com), the ICT solutions and international communications business within the NTT (NYSE: NTT) Group, announced today that it received the Japan Unified Communications-as-a-Service Provider of the Year award at the 2015 Frost & Sullivan Japan Excellence Awards held in Tokyo on June 4. The award was presented to the company that provided the best unified communication services in 2014.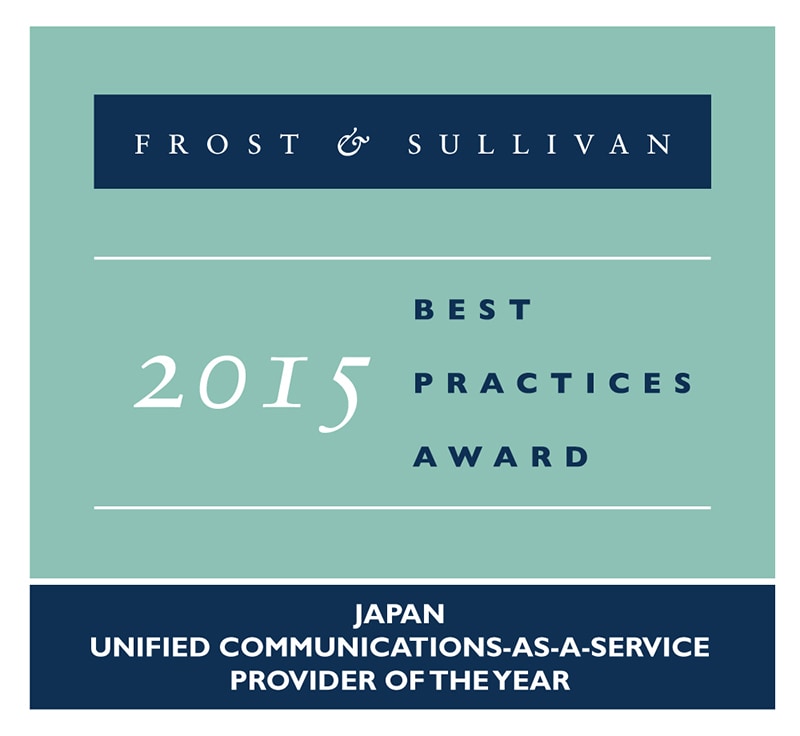 The Frost & Sullivan Japan Excellence Awards, now celebrating their fifth year, recognize outstanding achievements in the past year. The awards are hosted by Frost & Sullivan, which employs 1,800 analysts and provides research and consulting services to over 300 different industries.
The Japan Unified Communication-as-a-Service Provider of the Year award was presented to NTT Com based on a thorough evaluation covering categories such as revenue growth, market share, customer acquisitions and solution innovations.
According to Jessie Yu, Industry Manager, Asia Pacific ICT Practice at Frost & Sullivan, "In recent years, NTT Communications has built a compelling value proposition in offering cloud-based UC services in Japan. Global footprint of network infrastructure, breadth and scalability of service portfolio and customer service & support are the key differentiators for NTT Communications to win customers at the early stage of the market. With the continual enhancement of feature-set and capacity for both Cisco and Microsoft platforms, brand recognition of cloud-based UC services - "Arcstar" - has improved significantly across medium to large Japanese enterprises in 2014. The service provider is also making new investment in SIP trunking area, which becomes one of the key differentiators against its competitors."
"Moving forward, flexibility, mobile connection and recognizable user interface will be the main values for cloud-based UC services to deliver seamless and integrated voice, video and data communications. Global network infrastructure, breadth of service portfolio and SLA (service level agreement) will open up new opportunities for NTT Communications both in Japan and worldwide in the near future."
Links
Arcstar UCaaS
Arctstar SIP Trunking
http://www.ntt.com/a_siptrunking_e/
NTT Communications Launches Arcstar UCaaS MicrosoftR Type as New Unified Communication Service for Global Business
http://www.ntt.com/aboutus_e/news/data/20150330.html
About NTT Communications Corporation
NTT Communications provides consultancy, architecture, security and cloud services to optimize the information and communications technology (ICT) environments of enterprises. These offerings are backed by the company's worldwide infrastructure, including the leading global tier-1 IP network, the Arcstar Universal One™ VPN network reaching 196 countries/regions, and 130 secure data centers worldwide. NTT Communications' solutions leverage the global resources of NTT Group companies including Dimension Data, NTT DOCOMO and NTT DATA.
www.ntt.com | Twitter@NTT Com | Facebook@NTT Com | LinkedIn@NTT Com
For more information
(Ms.) Yuko Miyamoto, (Ms.) Nanae Kawakatsu
Public Relations
NTT Communications
Tel: +81-3-6700-4010