About Us
Press Releases
2015-R033
March 30, 2015
NTT Communications Launches Arcstar UCaaS Microsoft® Type as New Unified Communication Service for Global Business

Seamlessly integrates Office 365, other Microsoft business solutions in NTT Com cloud
TOKYO, Japan - March 30, 2015 - NTT Communications Corporation (NTT Com), the ICT solutions and international communications business within NTT (NYSE: NTT), announced today the launch in Japan of a unified-communication cloud service on April 13, Arcstar UCaaS Microsoft® Type, in partnership with Microsoft Japan Co., Ltd.
Arcstar UCaaS Microsoft® Type leverages Microsoft Lync® for unified communication on the NTT Com cloud platform and via Arcstar Universal One, NTT Com's secure, high-quality, extra-reliable VPN. This will be the first deployment in Japan of Microsoft Lync® (Skype for Business).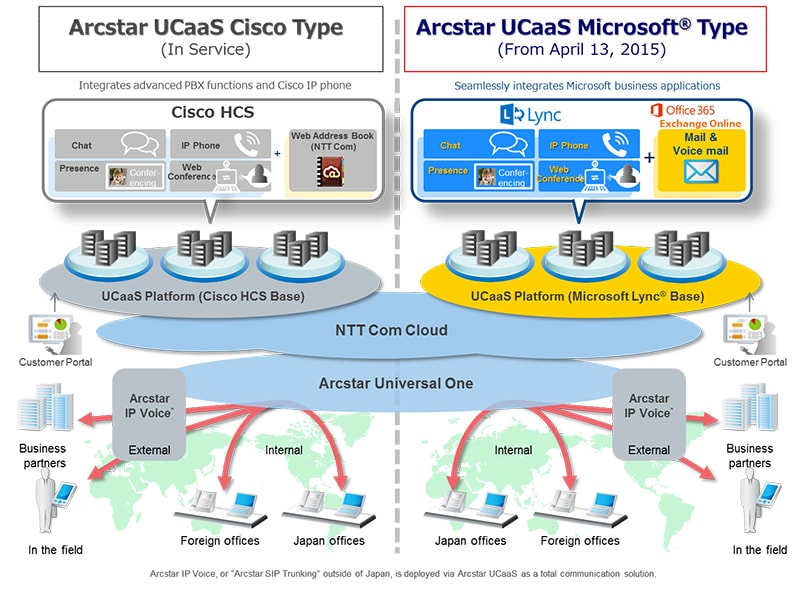 1. Unified communication on secure cloud platform
Arcstar UCaaS Microsoft® Type leverages Microsoft Lync® for integrated telephone, remote conference, chat, presence and other communication services on NTT Com's cloud platform. The benefits include no initial investment, reduced maintenance costs for on-premise servers, control from a customer portal and flexible scalability for system resources, users and content.
2. Total provision of NTT Com networks, IP phone services and more
When provided through Arcstar Universal One, NTT Com's secure, reliable VPN solution, Arcstar UCaaS Microsoft® Type can be used to centralize Arcstar IP Voice for corporate IP calls and Arcstar SIP Trunking for international calls, enabling users to utilize total communication foundations.
3. From consultation to delivery, maintenance and support
Arcstar UCaaS Microsoft® Type is a one-stop service that combines pre-deployment consultation, system design, IP phone and voice gateway hardware, and legacy system migration, as well as ongoing maintenance, operation and support.
4. Seamless integration with Microsoft business applications
Arcstar UCaaS Microsoft® Type integrates Microsoft business solutions quickly and easily. It enables users to search e-mail via Office 365 or Exchange, do presence checks, make calls, send invitations to web conferences, and more.
5. Unified global service provision
Arcstar UCaaS Microsoft® Type incorporates the global unified communication platform and operations knowhow of conference-service global expert Arkadin, which joined the NTT Com group in January 2014.
Fees (excluding tax)
Product
Contents
Unit
Fee
UCaaS Pro
Lync Enterprise Voice Exchange (10G)
1 ID
850 JPY/month
UCaaS for Office 365
Lync Enterprise Voice
(when linked with Exchange Online)
1 ID
600 JPY/month
For more information about service fees, interested companies are requested to contact their nearest NTT Com sales representative for a quote.
According to Ryotaro Kotaki, a Director of Strategic Alliance Operator Business Cloud Services at Microsoft Japan, "Microsoft Japan welcomes the launch of Arcstar UCaaS Microsoft® Type service by NTT Com. Using this cloud service for unified communication based on Microsoft Lync®, customers can achieve faster and more secure global tele-work environments. It is an ideal solution for customers who are looking to upgrade their working processes, and it indeed embodies the very kind of business enhancement that Microsoft Japan is looking to support. Microsoft Japan looks forward to working closely with NTT Communications to help customers strengthen their businesses."
NTT Com's cloud-based unified communication service, Arcstar UCaaS, now renamed Arcstar UCaaS Cisco Type, available in 159 countries (169 from April 1), has been helping customers to globalize, streamline and enhance the productivity of their businesses since 2011. NTT Com is steadily broadening its Arcstar UCaaS lineup, including both Cisco Type Microsoft® Type, to help companies upgrade their business processes by adopting applications, such as Office 365, provided via NTT Com's cloud as well as conventional methods.
Going forward, NTT Com plans to offer Arcstar UCaaS Microsoft® Type in markets outside Japan, including North America, the EU and Asia-Pacific. The service will be further integrated with functions for remote conferencing, Arcstar Conferencing and unified communications.
Microsoft®, Microsoft Lync®, Office 365 and Exchange are trademarks or registered trademarks by Microsoft Corporation in the USA or other countries.
Links
Arcstar UCaaS
NTT Communications Placed Among Champions in APAC Unified Communications-as-a-Service Providers Frost IQ Matrix Frost & Sullivan
http://www.ntt.com/aboutus_e/news/data/20140714.html
NTT Communications Launches U.S. and European Platforms for Arcstar UCaaS Unified
Communications Service
http://www.ntt.com/aboutus_e/news/data/20140203.html
About NTT Communications Corporation
NTT Communications provides consultancy, architecture, security and cloud services to optimize the information and communications technology (ICT) environments of enterprises. These offerings are backed by the company's worldwide infrastructure, including the leading global tier-1 IP network, the Arcstar Universal One™ VPN network reaching 196 countries/regions, and 130 secure data centers worldwide. NTT Communications' solutions leverage the global resources of NTT Group companies including Dimension Data, NTT DOCOMO and NTT DATA.
www.ntt.com | Twitter@NTT Com | Facebook@NTT Com | LinkedIn@NTT Com
For more information
(Mr.) Yasuhiro Kajiki, (Ms.) Yuka Takeuchi
Voice & Video Communication Service
NTT Communications Corporation
Tel. +81 3 6700 9071