About Us
Press Releases
2015-R005
January 20, 2015
NTT Communications to Expand Operations in India
- Will open new office in Ahmedabad and
obtain Unified License for network services -
TOKYO, JAPAN --- NTT Communications Corporation (NTT Com), the ICT solutions and international communications business within the NTT Group (NYSE: NTT), announced today that its wholly owned subsidiary NTT Communications India Private Limited (NTT Com India) will establish a branch office in Ahmedabad, Gujarat to begin offering ICT solutions in June, 2015. Also, NTT Com will acquire a Unified License for national long-distance services (NLD) that will allow the company to begin providing domestic network services in India by the end of this year, via a new group company NTT Communications India Network Services Private Limited, that will be established in May, 2015.
The Gujarat branch office will be NTT Com India's sixth office, following Gurgaon (Delhi), Neemrana, Mumbai, Chennai and Bangalore. Gujarat is centrally located in the Delhi Mumbai Industrial Corridor (DMIC), where large-scale industrial infrastructure, including the Dedicated Freight Corridor between Delhi and Mumbai, is being established. Boasting the country's most advanced electricity and water utilities, Gujarat is attracting attention as a base for multinationals to export to the Middle and Near East, Africa and Europe. In addition, the new rail corridor between Delhi and Mumbai will make Gujarat a key hub for domestic distribution.
Diagram: NTT Com Group bases in India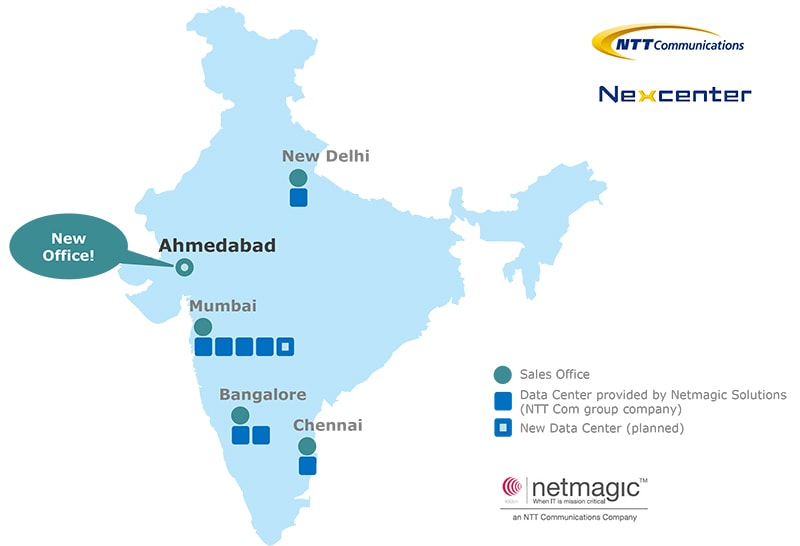 Once NTT Com obtains a Unified License, it will provide a range of network services urgently sought by enterprises that are expanding in India. Specific offerings will include secure, high-quality private network services, such as IP-VPN connecting datacenters or the cloud to the domestic sales or production bases of customers.
By obtaining a Unified License, the NTT Com group will be permitted to offer total ICT solutions to enterprises in India. At present, NTT Com India is providing system-integration services and Netmagic Solutions Private Limited, another NTT Com group company, offers datacenter and cloud services with its eight datacenters in India.
Under the Modi administration, India is expected to achieve renewed economic vitality and attract increased foreign investment, creating greater demand for comprehensive, high-quality ICT solutions among domestic and multinational companies. Going forward, NTT Com looks forward to steadily expanding its ICT business infrastructure in India to help customers further accelerate their business development.
About NTT Communications Corporation
NTT Communications provides consultancy, architecture, security and cloud services to optimize the information and communications technology (ICT) environments of enterprises. These offerings are backed by the company's worldwide infrastructure, including the leading global tier-1 IP network, the Arcstar Universal One™ VPN network reaching 196 countries/regions, and 130 secure data centers worldwide. NTT Communications' solutions leverage the global resources of NTT Group companies including Dimension Data, NTT DOCOMO and NTT DATA.
www.ntt.com | Twitter@NTT Com | Facebook@NTT Com | LinkedIn@NTT Com
For more information
(Mr.) Enoshima, (Mr.) Kume, (Mr.) Yamaguchi, (Mr.) Hayashi
Global Business
NTT Communications Corporation
Tel. +81 3 6733 0017